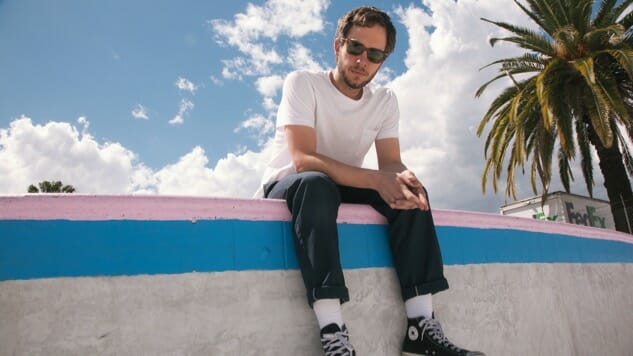 On a late Monday night in Los Angeles, singer-songwriter Nico Yaryan is leading his band through the first of four August residency shows at Bootleg Theater, a warehouse-style venue adjacent to downtown. During the middle of his set, Yaryan and the band ease into "Old Gloria," the opening song on his debut LP, What a Tease, released on Partisan Records in June. "Old Gloria" begins with simple guitar strumming and then a slow drum beat. Yaryan's voice evokes hints of both Jackson Browne and Levon Helm. When a layer of synth comes in, the song gradually builds with anthemic power reminiscent of Van Morrison and Plastic Ono Band-era John Lennon. As Yaryan's voice escalates in volume and emotion, it becomes apparent that this music would translate very well to larger rooms.
"Especially towards the writing of this record, I was going back to a lot of the music my parents listened to when I was growing up," Yaryan says, citing artists such as The Beatles, Cat Stevens and Joni Mitchell. "Just a lot of cool singer-songwriter stuff and getting into the idea of writing a song that didn't rely on what instrument it was played on. You know, you could do it on a guitar, you could do it on a piano, or you could do it with a whole band, or an orchestra, and a song was there that told a story and conveyed some sort of emotion."
The soulful throwback grooves of Yaryan's guitar and piano-based songs—from the gleaming "Just Tell Me" to the wistful, synth-accented title track—also can be traced to his days in high school, when he was more interested in producing than being a musician. During this period, he developed a proclivity for sampling drum breaks from '60s and '70s records.
Lyrically, much of What a Tease is inspired by Yaryan's long-distance relationship with a Dutch student he met in Amsterdam in 2012, while he was touring as a drummer in blues-rock artist Hanni El Khatib's band. After parting ways with the band, Yaryan had to find a job that would allow him to take weeks off at a time to fly overseas and visit her. Visa restrictions limited his stays in Amsterdam. That led him to finding work as a trimmer on a pot farm in Humboldt County, where he worked 12-hour days in the forest without cell phone service, slept in his car, and occasionally wrote music on his acoustic guitar. In return, his girlfriend periodically would visit him in Los Angeles.
"The song 'What a Tease' is about how my girlfriend would come visit me, and then she would leave," Yaryan explains. "It was like a tease of what our life could be like if we lived together. It's this bittersweet thing where you're really excited, and it's so great, but then when it's gone, you realize that you've just been teased with the prospect of this life together. I felt it represented the theme of the record for the most part, that kind of longing and pain of being away from someone you love."
Yaryan lives in the northeast Los Angeles neighborhood of Eagle Rock, and for this interview, he met me at Echo Park Lake near downtown. When I confessed to him that I'd never been in one of the park's pedal boats, he suggested that we take one for a ride. Out on the lake, he reflected on how long-distance relationships are bad for the heart.
"Something about her gave me this hope that we could do a crazy thing, make it work," he says. "I really should have moved there, but I couldn't. When she was younger, she had been a model. And then she decided to go back to school. She was in school when I met her, and she didn't make enough money to sponsor me to stay there."
They talked about marriage but decided that it was too unromantic to get married for the purpose of utility. Earlier that day, Yaryan received a text from her stating that she's been listening to his album and loves it.
"She's just excited," he says. "She's stoked for me. We broke up, but we're still cool."
Nico Yaryan grew up in the Santa Cruz Mountains of California, where he spent his time running around the redwoods and alongside the nearby river. His father worked in LA in the '70s, doing PR for bands. "He was friends with Cameron Crowe," Yaryan says. "There's this picture of him on tour with Led Zeppelin in '73, I think, and Cameron. It's pretty funny." After having his fill of that lifestyle, Yaryan's father moved to Santa Cruz, went back to school and began teaching Environmental History when Nico was in his teens. Now his parents are divorced, and his father lives in Thailand. His mother still lives in Northern California and paints faces at fairs.
As a kid, Yaryan loved the comic strip Calvin and Hobbes, took a liking to drawing, and for a time considered going to art school to become an illustrator. That was about the extent of his academic ambition.
"I wasn't a really good student in high school," he says. "I was just fuckin' off. I really liked learning stuff, but I didn't like being told what to learn, which is a little bit immature. I enjoy writing. I enjoy doing a lot of things that seem like they would lend well to being a good student, but for various reasons I wasn't a good student, so I didn't want to go. I guess it's not too late; I could always go back to school."
He took an interest in drums through a friend whose father was a drummer and eventually bought his friend's kit. He'd play with other kids, but no one was committed. He wanted to create his own music but didn't know how to play other instruments. Then a friend showed him how to make beats on a computer.
"I ended up getting an MPC, which is one of the original rate samplers, and I started buying old records," Yaryan recalls. "I started with my dad's record collection, and then I ended up digging for weird records, trying to find cool drum breaks, looping those, chopping those. You could just put a bunch of things on top of each other. I didn't know how to do any chords, but I could sample an electric guitar chord and throw that over some drums, and then I have a song. I could change the pitch, manipulate it. So I found that really interesting in high school."
He also identified with skateboard culture, which, importantly to him, ran counter to jock and mainstream circles.
"I was a diehard skater," Yaryan remembers. "Watching skateboard videos, you get exposed to music. A lot of kids were into punk rock, and I liked that a bit, but I connected more to the hip-hop stuff for some reason. I grew up in not a very urban place, so I think I found it very interesting, all the videos of people skating in San Francisco and big cities where there are all these spots with ledges and stairs. I think I was drawn to that allure of music of the big city. It was so different from where I came from."
Yaryan took a liking to socially conscious rap by artists such as Nas, Common and Gang Starr, particularly the duo's Moment of Truth album. He wanted to make beats for rappers but hit a wall and got bored. When he was 17, he met San Francisco native Hanni El Khatib through a mutual friend. Years later, in 2009, Yaryan joined El Khatib's band as a drummer, and the project prompted them to relocate to Los Angeles in 2010. After three years, their musical partnership reached a crossroads.
"At some point, I realized that I didn't just want to be a drummer," Yaryan recalls. "I wanted to make my own songs, and I wasn't totally satisfied with my role … I needed to have that thing that was mine, for my own well-being."
El Khatib recognized the conflict and, during a 2012 tour stop in Barcelona, suggested that they part ways. Yaryan agreed.
"Me and Hanni, at the time, we weren't really getting along very well," he recalls. "I think I was a little jealous. What the job was doing for him was more than what it was doing for me. He was getting to create more and getting the satisfaction of doing something on his own, and I felt like I was a hanger-on, and I knew I wanted to do my own songs. So I think that was getting between us."
Dating back to when he played Daddy Warbucks in an eighth-grade production of Annie, Yaryan knew that he could hold a note. But it wasn't until he was singing backup for El Khatib that he realized he might be able to do it on his own. A demo for "You Belong to Me" found its way to Partisan Records, and that kickstarted the process of building the What a Tease album. He credits his friends—El Khatib, producer Kevin Agunas (Lumineers, Cold War Kids), supporters at the label—for pushing him when it became difficult to work his musical ideas to completion.
"I'm really self-critical, and I can get down on myself," Yaryan confesses. "I need some encouragement to help me. I think I'm getting better at feeling confident with what I make … A lot of people, they go a very different route. They're more DIY, and I wish I was that way sometimes, but you can't always get what you wish for. You have to deal with what you have."