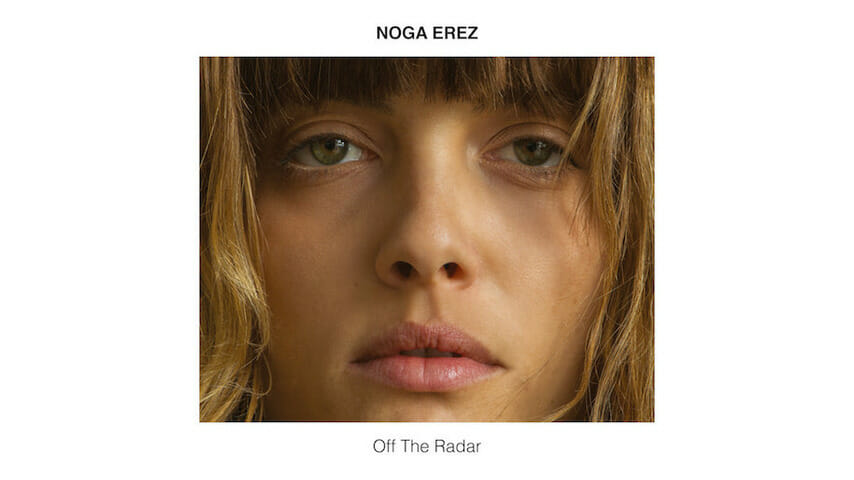 I first heard Israeli producer and electronic musician Noga Erez's song "Global Fear," during the moments that news networks started confirming Trump's missile launch at Syria in April and its ghostly, hypnotic chanting was eerily perfect for the moment. I felt disembodied, absorbing what it really means to exist today as a global citizen, recognizing the mighty ability that Erez's music has to voice the experience of living amidst terror and turmoil.
On her explosive new debut record Off the Radar, Erez, who grew up in Tel Aviv enmeshed in sociopolitical tumult, delivers confrontation and release through urgent dance music that dives headfirst into sonic conflict and flirts bravely with the forces of chaos and strife. The result is a provocative work that personalizes the political and uses sound, rhythm and her remarkable voice to craft visceral commentary.
There is a link that brings fear and seduction together; in some instances, seduction can be seen as equal parts invitation and threat. Erez's music seizes on the opportunity to play with the sensations and tones of enticement, juxtaposing them with ominous sirens or cacophonous crashing and clanging to bring a sense of physicality to her deeply political and often intimate observations. Single "Dance While You Shoot" is a furious and irresistible dance hit about the ineffectual and destructive actions of those in power, and, on it, she is sultry and direct. For "Pity," which Erez wrote as a response to a horrific case of a woman's rape being broadcast on social media, she drops into an almost atonal, bored timbre, sounding like a woman who knows too much and has seen too much. It's a recognizable and significant distinction that comes up throughout the album, contrasting with a teasing, magnetic delivery elsewhere.
The production on Off the Radar is a bold breath of fresh air. The album is replete with clean, adventurous sound mixing decisions that could easily have gotten murky and chaotic if not for the exacting precision of their implementation. Hundreds of analog sounds and synth effects are thrown out over these 15 tracks, and the placement and impact of each of them feels extremely intentional, from the spare, militaristic snare drum beat of "Hit U" to the typewriter taps on "Off the Radar." I've grown weary of what I'm perceiving as a growing "more, louder, more, louder" approach to music, and Erez and collaborator Ori Rousso pile sounds on top of sounds without the final product ever sounding cluttered or muddled, the mark of really talented production.
Meanwhile, the dark, brutal "Toys," which yields suspense and gunshots to drop you right in a contemporary horror show, and the shattering closer "Junior," which builds up to a swirl ringing chaos and reverberating echoes, reveals Erez's razor-sharp instinct for orchestrating an entire scene: wielding a beat, an effect, a vocal manipulation in order to construct a clear mood and atmosphere.
Her lyrics, as Erez told Jezebel, are typically improvised on the spot after every other element of the song has been built, and they indeed possess the power of immediacy and urgency. On tracks like "Off the Radar" and "Hit U," this results in mantras of sorts—"hear me no one sees me no one, I'm off the radar"—that can serve as repetitive vocal talismans. On "Pity," the stream of consciousness style borders on therapeutic free association, with words sharing sonic similarity and thematic significance to produce something dizzying and gutting: "Smart, sharp, witty/But oh so weary/skinny, skinny, skinny, skinny/skinny cat in a dog's land."
Erez has delivered a record filled with hits that remains at all times vital. In its cohesion and crispness, its innovative approach, and perhaps most significantly the astuteness and clarity with which it engages in the frantic, threatening, vibrant world that surrounds Erez, Off the Radar is galvanizing.