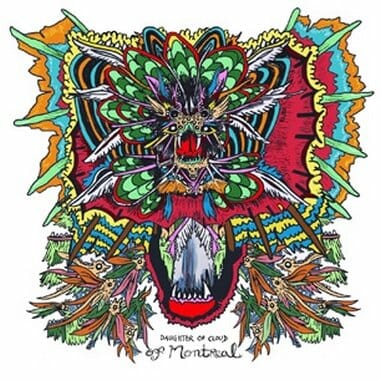 Back when the Athens, Ga., rockers were dropping tracks like "Disconnect the Dots" and "Oslo in the Summertime," of Montreal led the march into the land of mind warbling, catchy psych rock—adding just enough structure to woo the ears of first-time listeners, while satiating devoted fans of the group's kaleidoscopic jams. That was almost a decade ago and, if the band's recent releases mark the start of a trend, Kevin Barnes is on track to make of Montreal's innovative but crowd-pleasing sound a distant memory.
In the interviews since stellar releases like Satanic Panic in the Attic and The Sunlandic Twins, Barnes—the outfit's gifted and primary songwriter—has said that his newest efforts could turn off a chunk of listeners. From 2010's False Priest to this year's Paralytic Stalks, the group has largely ditched the joyful verse/chorus song structure, trading it for an erratic journey into the darkest corners of the bandleader's psyche. But throughout it all, Barnes has proven himself as a creative force to be reckoned with—ensuring that no new release is exactly like the last.
Enter Daughter of Cloud. Touted as a compilation for the diehard of Montreal fan, the 17-track effort is comprised of unreleased tracks and rarities recorded between 2007 and 2012. While it's easy to look at Daughter of Cloud as a collection of throwaways from a strand of "meh" albums, the record does offer a handful of winners that shine a light on Barnes at his best.
Kicking things off is "Our Love is Senile," a disco-infused track that presents the group in its sweet spot, meshing tongue-in-cheek lyrics—"Our love is senile, unlike a blind child bumping into walls"—with a funky bassline. Later, after a few all-over-the-place offerings, i.e. the unsettling and distorted talk/sing vocals of "Steppin' Out" and "Obviousatonicnuncio," the gorgeous instrumentals of "Noir Blues to Tinnitus" deliver a change of pace. Heartfelt and brimming with lush keys, Barnes's croons craft a pearlescent soundscape that almost overshadows the record's misses.
Still, Daughter of Cloud is a staggering 17 tracks, so it takes a few hit-or-miss listens to locate its gems. In this vein, the record would be better served to ditch a majority of its so-so offerings and stick to its successes—those that show Barnes as willing to channel his creativity into a focused direction.