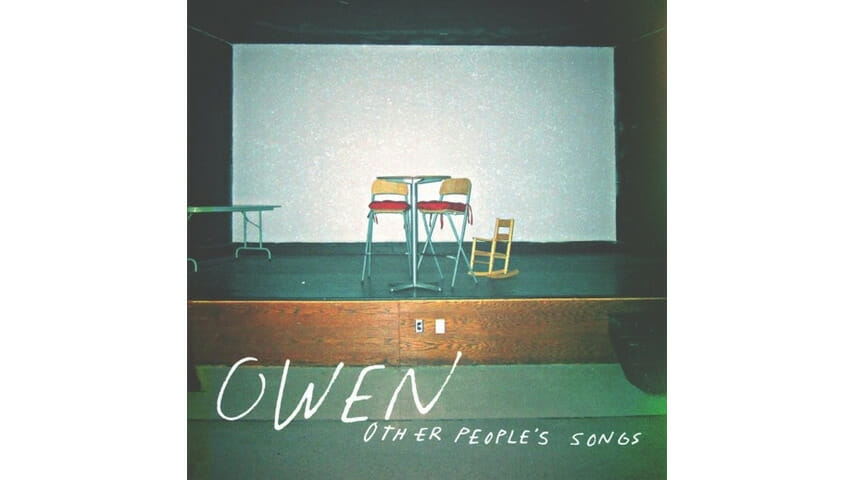 Cover albums are generally pretty hit-or-miss, with the misses outweighing the hits 90 percent of the time. Some are packed with butchered versions of classics; others consist of straightforward and boring interpretations, and most seem to lose sight of the original songs' substance. Thankfully, Mike Kinsella's latest release as Owen steers clear of all of the above.
Stripped-down and intimate, Other People's Songs is a gorgeous collection of punk favorites that, when paired with Kinsella's relaxed tone and restrained strums, take on a fresh and organic feel. The album, which includes covers of songs by Lungfish, Depeche Mode, and Against Me!, among others, is a prime example of why Owen has remained one of Kinsella's most popular projects to date. The singer/songwriter's other, more electrified, vehicles (Cap'n Jazz, Owls, and American Football, to name a few) also boast a loyal fanbase, but as Owen, Kinsella's knack for making even the most brazen lyrics come across as poetic is intoxicating.
It would be easy for Other People's Songs to fly under the radar. Kinsella announced the album by quietly stating, "I recorded some covers of other people's songs this year and Polyvinyl Records is releasing it on Dec. 2." That was it. But the low-key reveal is fitting for the album that, with its eight tracks clocking in at around 30 minutes, provides a brief wash of image-rich compositions, inducing just the right amount of emotion before coming to a close.
Other People's Songs opens with Kinsella's take on Lungfish's "Descender." Instead of the original's snappy vocals and electric guitars, Kinsella opts for delicate acoustic fingerpicking and hushed synths. Similarly, the Smoking Popes' "Under the Blanket" is transformed from an explosive combo of charging guitars and rapid-fire drums, to a bouncy, romantic pairing of keys and laid-back strums. Against Me!'s "Borne on the FM Waves of the Heart" adopts the same mellow feel, thanks to ethereal strings and soft female vocals via Sarah Mitchell.
Earnest and lush, Owen's original material boasts hypnotic qualities, lulling listeners into a dreamlike state, while still dishing out raw, painfully honest lyrics. On Other People's Songs, Kinsella does more of the same, but, well, with other people's songs. The formula works just a well, perhaps allowing listeners to really listen to tracks whose lyrics had originally gotten lost in the mix.