Parquet Courts Take on Neil Young's Synth Phase with Amazon-Exclusive Cover of "We R In Control"
The song is off Young's much-maligned 1982 album Trans
Photo by Ebru Yildiz
Music
News
Parquet Courts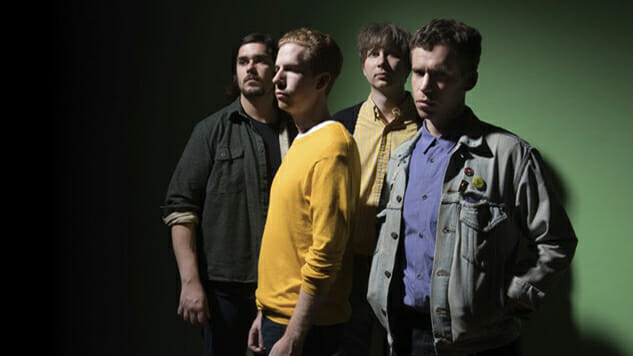 Parquet Courts have shared a cover of Neil Young's synth-y anthem "We R In Control" for Amazon Music's Originals series. The song is available exclusively through Amazon's music streaming platform.
"We R In Control" is off of Young's most controversial album, 1982's Trans. The album found Young abandoning the acoustic-guitar-and-harmonica approach that had come to define his solo work in favor of Krautrock-indebted synths and repetitive, mantra-like melodic lines that were inspired by Young's daily exercises with his son Ben, who has cerebral palsy. The album was such a departure from Young's previous work that it formed the basis of a lawsuit by Young's label, Geffen, against him on the grounds of producing deliberately uncommercial work.
It's only natural, then, that Parquet Courts would choose this album as the fodder for their contribution to the Amazon covers canon. The band has consistently found comfort in the angular corners of popular music, and this track is about the most angular and out-there you could get from a legend like Neil Young. "I'm a big fan of whenever an artist does something different from what they're known for," Austin Brown says of the song choice in a statement. "We actually started ["We R In Control"] during the Human Performance sessions where we were trying to do something different as a band, too, so it seemed kind of appropriate."
The original is too vocoder-ed to really hear what Young is saying, but Parquet Courts strip away some of the mechanization and let the message ring loud and clear. It's kind of a hilarious song choice, really—"We control you floor to floor / we control you door to door / we're controlling how you sleep" reads as a poke at technocrat Jeff Bezos and the home-invading tendrils of the Amazon machine. "We will prevail, and perform our function!" goes the chorus. Alexa, define "futility."
Parquet Courts will be continuing their national tour through the remainder of the year and into 2019. Find a full list of dates here.
Listen to "We R in Control" via Amazon Music here and see a 1997 Young performance from the Paste archives below.