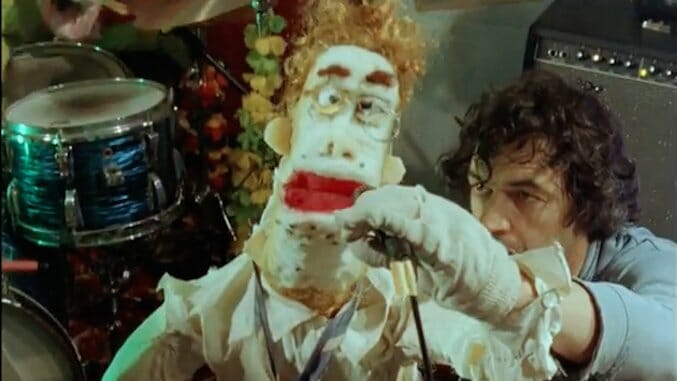 Parquet Courts have released the video for the title track off their acclaimed album that dropped earlier this year, Human Performance.
The video, directed by Phil Collins (not that one), features the band using cartoonish puppets to "play" the song, intercut with real people doing various activities with the scariest human-like puppets. Get it? "Human Performance"! Ironic! The unsettling puppets suit the psychedelic garage-y song, adding a definite trippiness.
Collins, an English visual artist and Turner Prize nominee, conceived the idea for the video. "A puppet is a complex beast, animated by a human but which also, conversely, brings the puppeteer to life," he said. "I thought this kind of dialectics could work well with Andrew's lyrics, and also found it funny to give starring roles to puppets in a track called 'Human Performance.'"
Said Courts frontman and writer Andrew Savage to Purple:
I was focusing on the malfunctions of my own humanity, in relation to a specific series of events in my life, which could not be ignored. It's meant to be a bit self-evident by the way puppets are used in the video. As I see it, humanity is something that's partly performed and partly instinctual. Like puppets, we sometimes are controlled by parts of ourselves that we never really become acquainted with, but are always there. This song is me confronting that shadow.
Parquet Courts formed in 2010 and have dropped five albums since 2013, gaining a following while being pretty adamantly against social media. We recently named Human Performance one of the best albums of 2016 so far, while its title track ranked among our favorite songs of the year so far, as well. Watch the "Human Performance" video above.