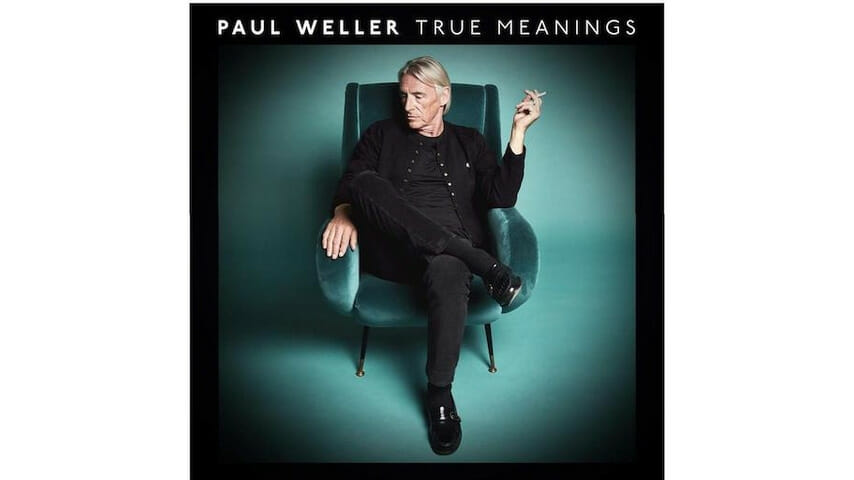 Maybe it's inevitable that British singers with a penchant for sharp suits will eventually make a crooner album. Elvis Costello did it twice with Burt Bacharach, and Rod Stewart has mined five volumes in his Great American Songbook series. Now it's Paul Weller's turn with True Meanings, a surprisingly tender collection of songs from a guy who is sometimes thought of as brusque.
He's certainly restless: Weller has demonstrated wide-ranging musical taste on 13 previous solo albums, plus six with mod-revivalists the Jam in the '70s and '80s, and another five (and a mini-LP) with his sophistipop outfit the Style Council in the '80s. All told, Weller has spent 45-plus years pushing himself forward, dabbling in punk, pop, R&B, blue-eyed soul and, of all things, deep house. The modfather manages to keep his fidgety energy mostly in check on True Meanings, a collection of 14 songs with elegant musical arrangements that never fully dilute his intensity.
Weller is a picture of patience on "Glide," his voice smooth and low over acoustic guitars before giving way to pastoral strings on the instrumental break. His vocals are gently buoyant on "Gravity," floating through rich orchestrations. There's a disconcerting air on "Wishing Well" as Weller plays up contrasts: his voice is airy on the verses, and turns deep and resonant on the refrain as he sings with a quiet forcefulness about peeling away layers in search of something honest. He's on the make on "Come Along," wondering "what is going on underneath that dress" as his narrator attempts to talk someone into coming home, or at least somewhere private, with him.
Though Weller wrote most of these songs himself, his collaborative side is in evidence throughout: True Meanings is full of guest musicians who span eras, including Rod Argent of the Zombies, singer-songwriter Lucy Rose and Noel Gallagher, along with the venerable English folk musicians Martin Carthy and Danny Thompson. Weller also co-wrote four of the songs. Villagers singer Conor O'Brien penned lyrics for the alluring acoustic opener "The Soul Searchers," while Erland Cooper from Erland & the Carnival set words to Weller's melodies on "Wishing Well," "White Horses" and "Bowie," a low-key, if lush, song that evokes the late Thin White Duke.
Though this is probably Weller's most distinctive album—he's never made one like it—True Meanings is not necessarily his most memorable. The songs here are frequently gorgeous in their arrangement and production, but they're not the kinds of tunes you're likely to find stuck in your head. Rather, Weller's 14th album is a striking display of his range as a writer and performer. If it was inevitable that he would someday end up here, it's also no surprise that he arrived in style.
Listen to Paul Weller perform in 1992 via the Paste vault below: