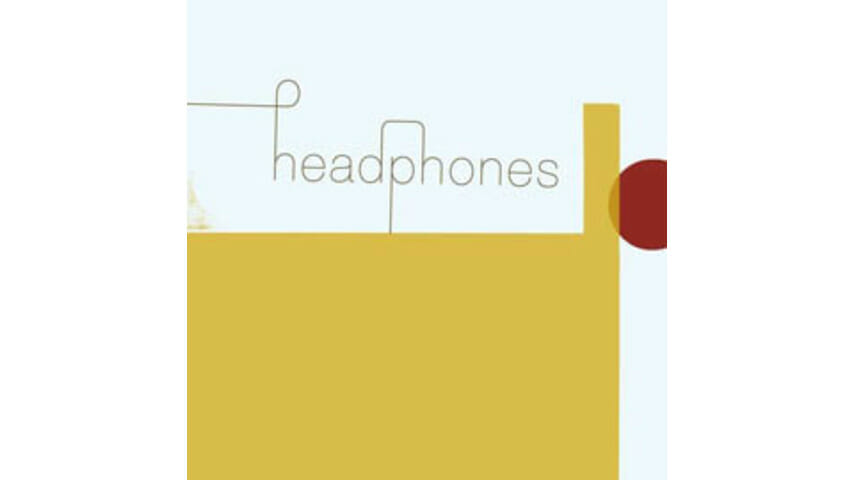 There's really no reason why this album couldn't have been released under singer David Bazan's best-known alias, Pedro the Lion. Perhaps Bazan merely wanted to lay claim to what must've been a hotly contested band name. Perhaps he's concerned that the all-synths-and-drums instrumental gimmick behind these songs would somehow violate Pedro's guitar-rock cred. Or maybe he's just tired of every Pedro the Lion review making unnecessarily prominent mention of his Christian beliefs. Oops, see what I mean.
Anyway, Headphones is essentially the touring band for recent Pedro the Lion jaunts, composed of Bazan, singer/songwriter TW Walsh and keyboardist/bassist Frank Lenz. And while the press kit and cellophane stickers might have you believe this Korg-heavy affair catches Bazan letting a secret obsession with Daft Punk overwhelm his trademark mopishness, the mood of the disc is no less overcast than his usual material; it just makes more use of the celesta setting.
All the same, the 8-bit-Nintendo tones add more ballast to the already-strong disconnect between Bazan's voice and message, a lilting lullaby delivery that tricks lyric avoiders into overlooking the bleak world he narrates. "Shit Talker" might recycle the same church-organ hymn sound-alike he's used frequently on Pedro the Lion albums, but elsewhere ("Gas and Matches," "Pink and Brown") the layers of roller-rink keyboard-gloss coat grim short-story songs about Bazan's favorite subject: human failing.
So while Headphones' eponymous debut neglects taking the form of a concept album—the lost art of which Bazan is one of our few remaining competent practitioners—it does fit well within the greater tapestry of his work, with protagonists back-stabbing, stalking and committing Olympian feats of deception. Yeah, he's got some vitriol for the President and his evangelical fan base, too, the chirping melody of "Natural Disaster" framing a smackdown where I don't think "the rapture" refers to a dance-rock band. Amidst these weighty moral issues, the sell-out accusations of "Hot Girls" sound a little trivial by comparison, a can-you-guess-the-subject puzzle where Bazan (or his character) accuses a companion of selling his soul to the pop devil.
Perhaps that's a funny stance to be taking on an album that, instrumentally, sounds like the depression to They Might Be Giants' mania, but nobody will mistake the cruel harmonized punchline of "Hello, Operator" or the slo-core Casio of "Slow Car Crash" for a chart burner. Nevertheless, keyboard duels and high-mix drums aren't an ineffective way of administering Bazan's glum worldview. It may have been to Bazan's benefit to veer a bit further away from his usual format, taking a vacation more complete than just holding himself to a palette restriction he's never shied away from in the past, but an album full of synth-sugar does make the bitter pills easier to swallow.