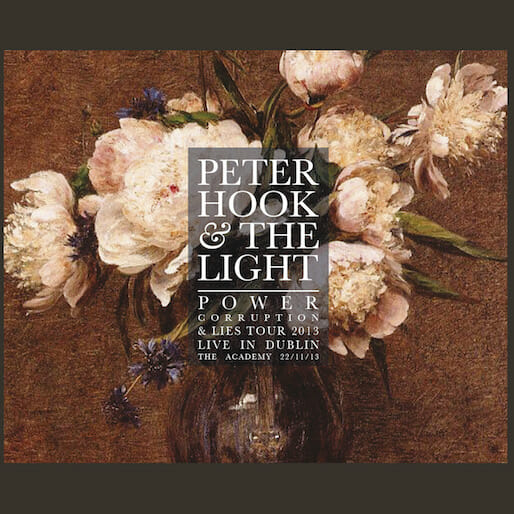 Peter Hook tends to speak out of both sides of his mouth when it comes to the legacy of his former bands New Order and Joy Division. In the recently released memoir Substance: Inside New Order, amid the sniping and shit talking, he insists that he considers himself "a custodian of the back catalogue." But Hook has also sued his ex-bandmates Bernard Sumner, Stephen Morris and Gillian Gilbert for at least £2.3 million and told Gigwise, "It's really nice to be able to do what I'm doing without having to compromise with another musician. Now twatto has gone back to New Order and their greatest hits, so he must be having to compromise."
All of this casts a weird glow on his current endeavor, which is touring the world with a new band, performing Joy Division and New Order albums in their entirety. On the one hand, it feels justified and welcome. New Order's current lineup tends to do really focused tours, hitting only large markets and festivals. Why not give their old school fans and fresh converts in smaller cities a chance to hear the classics that Hook co-wrote on the regular? On the other hand, the ever-irascible Hook is on record saying that these tours are his chance "to fuck over New Order in any possible way I can." And isn't he doing the same thing he slammed Sumner and co. for: retreating to the "greatest hits"?
That's a metric ton of baggage to bring into something simple like listening to four live recordings that Peter Hook & The Light are releasing on Record Store Day. Were it not for the verbal volleys these former colleagues keep firing in the press, it wouldn't even be an issue. But it does force the listener's hand a little bit. I found myself concentrating more deeply on the 2011 recording from the Closer tour, captured at Hook's venue FAC251 in his longtime hometown of Manchester.
The performances of the album and many other Joy Division favorites are exemplary. The quintet (including Hook's son Jack Bates and his Monaco bandmate Paul Kehoe) ably handle the rapid evolution of the band from their jagged punk-inspired early singles to the far more textured material of their final years. Hook also proves to be a fine vocal substitute for the late Ian Curtis, if a little more gruff with his delivery. And he wisely steps aside and lets guest vocalist Rowetta (ex-Happy Mondays) handle two of the most aching songs in the catalog ("Atmosphere" and "Colony").
Compared with the other recordings in this batch, though, Hook sounds subdued. He doesn't cut completely loose until near the end as he barks out the opening numbers of "Warsaw" and afterwards rips into the bass line of "Transmission." Considering how audibly gregarious and goofy he is on the other three, I can't help but feel that there might have been a spot of nerves about playing this material to an audience of peers, friends and fellow Mancunians.
What is never in question is the appreciation that this band has for the music. Even if it does feel strange to hear Hook shouting through "Love Will Tear Us Apart" ("HERE WE GO, DUBLIN!"), there's reverence on display throughout. But it's also clear that, with Hook's vocal timbre much closer to Curtis than Sumner, the Joy Division material and the songs from New Order's first album Movement have a slight advantage. The latter album, recorded in Dublin in 2013, is particularly sharp, split evenly between the two bands in a manner that helps emphasize how Hook, Sumner and Morris struggled at first to escape the shadow of Curtis following his suicide in 1980.
Power Corruption and Lies, and the concurrently released 12" single for "Blue Monday" worked to help New Order finally step out on their own by letting the softness of Sumner's vocals work with and against their still-agitated, electronically-enhanced post-punk. Try as he can, Hook has never been that subtle or pliable. So while they were recorded on the same night in Ireland, the renditions of the material from the first two New Order albums couldn't feel more different. The raw nerves and sharp edges of Movement are right in The Light's wheelhouse and are given a fresh coat of ice on this live recording. They just can't thaw fast enough to bring out the necessary warmth that exudes from Power.
The biggest question regarding these releases, and any live LPs of their ilk, is whether they even need to exist. Seeing these performances in person were likely bracing, enjoyable experiences. That feeling is dulled by the remove of a live recording. And outside of the contributions of Rowetta, the Light don't do anything radically different with the songs. These are loving re-creations made for the fans. Those same acolytes will probably snap these four albums up this coming Saturday, but I don't expect them to get pulled out of the library with any regularity. With the original articles widely available, why bother with these facsimiles?