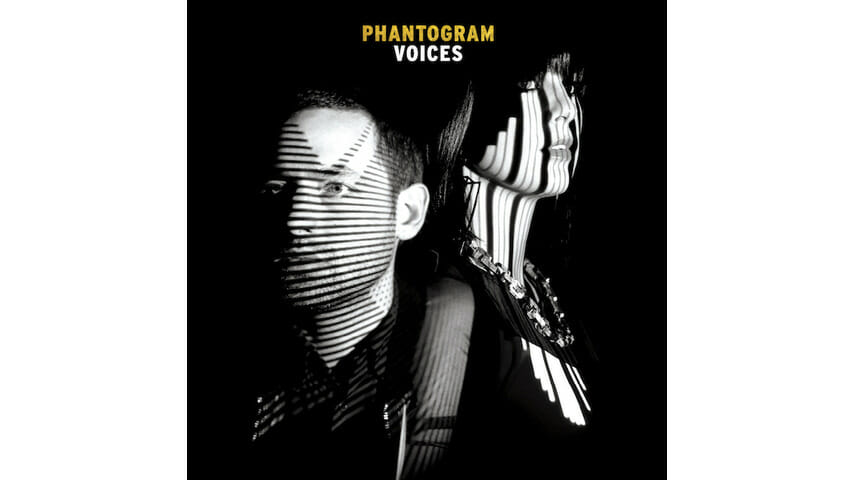 The upstate New York duo Phantogram was made for these times. "Bad dreams never affect me," Sarah Barthel sings on the titular track. "I'm just a scene in a movie." It's a coy trick, this cool indifference, because the wounds of Barthel's heart peek around nearly every corner on Voices, Phantogram's major label debut. That duality is omnipresent in the production of nearly every song too: With the exception of a few slower, moodier tracks, Voices would hit just as hard in the club as it would in the bedroom of, say, a misunderstood teenager who gazes deeply at stars in a shroud of anger or melancholy. Voices conveys our era's lingua franca, with its knowing postures and veiled identities, by puffing its chest first before it reveals any vulnerability. Behind every sly, surgical deadpan on Voices—or, in the passive aggressive, subtweeting world outside it—often lies a bit of hurt or jealousy or confusion. Like Drake or 808s-era Ye, Phantogram have discerned an acute way to emote in front of an increasingly large audience while also seeming like the coolest kids in the room. Voices is emotional, not emo.
Successfully walking that fine line isn't enough, though, especially not when listeners enjoy a nearly unmitigated surplus (or burden, depending on tolerance or patience levels) of music to consume or ignore entirely. That's especially true for a band like Phantogram, who, despite their nascent crossover attempt—as of this writing, the duo's single "Fall in Love" is at No. 14 and rising on Billboard's Alternative Songs chart—are still loosely affiliated with the indie pop/rock underground, where male/female duos who make dreamy music haven't exactly been in short supply recently. And breaking through is only half the battle: Leaving us with something memorable is by far the more taxing endeavor. As a critic and devoted nerd-fan, I consciously battle music listening ADD, and even I struggle to remember what I loved three years ago. When's the last time you listened to Tennis?
In my more cynical (or is it practical?) moments, this dynamic makes me wonder if bands like Phantogram or even indie powerhouses like Vampire Weekend wouldn't be better served to be more singles-conscious when they make records, just so they have the hope of sticking around for more than three or four albums. And could we blame them? How depressing would it be if, after a remarkable run in Grizzly Bear, we had to be OK with any of those dudes mindlessly pushing buttons in cubicles or serving us coffee? (I understand the class implications here, but the hypothetical I'm describing would be a loss for fans regardless.)
Suffice it to say, then, the stakes for Phantogram were perhaps even higher than Barthel and Carter realized when they huddled up in a barn to write Voices and subsequently tracked it in an LA studio with the producer John Hill (P!nk, Rihanna, Santigold). But if there's a better projection of the current pop/indie/hip-hop zeitgeist, I'm unaware of it. (OutKast's Big Boi was, of course, prescient on this point.) Voices thrums with a shapeshifting wistfulness and defiance from its outset, scooping up our loneliness and tossing us headfirst into a sea of same-feeling, party-going revelers. Throbbing, asymmetrical beats in the lineage of J. Dilla (we haven't reached the tipping point of his influence yet) and Portishead are aimed at the body; chopped and screwed samples are aimed at the mind; and everything else—the chilly, angular guitar riffs, the enveloping synths—are, as I suggested earlier, aimed directly for the heart and its bluer quarters. Voices is one of the most exciting sad albums I've encountered in a while. And it triumphs in that space in between. I'd draw you a Venn diagram if I was a remotely competent illustrator, highlighting the shared football shape of loss and attitude conveyed here.
Take the opening three songs, which, like any good writing intended for a wide audience, present a clear thesis from the top. "Nothing But Trouble," "Black Out Days" and "Fall in Love" fold Barthel's pained longing within a vibrant mixture of nuanced hip-hop and rock production. Synths buzz and slip, guitars cascade and lash out in minor key sheen and secondary voices are spliced high in the mix, echoing in layers. The "eh eh eh"s of "Fall in Love," in particular, remind me of "Stay Fly"'s memorable "ah, ah ah ah, ah ah, ah ah"s. Except the characters in Phantogram's songs are having a much more difficult time than those in Three Six Mafia's: The forsaken lover of "Fall in Love" gets a hole cut into his eyes and burns alive in a car crash. Like the mercurial poet Robert Frost, Phantogram is, of course, "at home in the metaphor," but still, one doesn't have to look far to find lost love and pain between nearly every pulsating thump or tweaked sample here.
Barthel and Carter's poetic-romantic sensibilities are easier to spot in "Never Going Home," sung plaintively and powerfully by Carter; "Bill Murray" and the ghostly closer "My Only Friend." Personally I prefer Phantogram's more revved-up postures, but these songs are key if for no other reason than that they re-affirm the duo's versatility, which first caught the attention of fans and critics in the late '00s. Indeed, it's not a stretch for me to imagine Phantogram releasing a minimalist, dubbed-out space record (or something weirder or more evocative) at some point—the two seem more interested in the granular details of production, songwriting and atmosphere than being tied to a specific sound, though undoubtedly Phantogram built a reputation on a definitive aesthetic. Voices, though, shows us that Barthel and Carter are capable of embodying and changing what Now means. I just hope they're able to stick around long enough to bear the fruits of that potential.