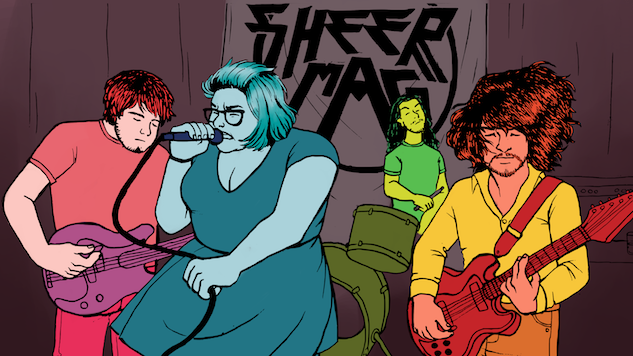 It comes as no surprise that the music scene in "The City of Brotherly Love" is inclusive, tight-knit and diverse. Philly, though it boasts strong ties to punk and R&B, welcomes exports from all over the country across genres who move to the city for its thriving music community. Philadelphia is famously the birthplace of groups like The Roots and Hall & Oates, but today it's renowned for its live music scene, which, from the looks of it, is extremely healthy. Touring bands flock to Philadelphia to play venues like Union Transfer, The Filmore and the more dive-y Boot & Saddle, and there's local music, too, happening all week long. In the last 10 years or so, punk and, specifically, indie rock have exploded in Philadelphia: Kurt Vile, along with Adam Granduciel, founded rock group The War on Drugs there in 2005 before launching his solo career, and other veterans like Dr. Dog, Modern Baseball and Japanese Breakfast, plus beloved niche acts like Swearin' and Low Cut Connie, all hail from Pennsylvania's largest metropolis. So rock has a history there, but hip hop, R&B and experimental outfits have a stable home in the city, as well. We rounded up 15 on-the-rise bands and artists from Philly who should be on your radar, if they're not already. Read on for our Phavorites from Philly:
1. Cayetana
Philly rock trio Cayetana have been on the circuit for a while, but they're still worth mentioning as one of the most influential indie groups to come out of the city in recent years. They released their debut record, Nervous Like Me, back in 2014 before opting to start their own label, Plum Records, a few years later, a decision that was "born out of our realization that we thrive when we trust our instincts, and take decision-making and creative control into our own hands," per their website. Cayetana's excellent sophomore album, New Kind of Normal, was the first to debut on the label in the spring of last year. Cayetana make the kind of chirpy, energized indie rock you'll want to dance to or run to. One of their most listened-to songs, though, isn't even their own: Cayetana's cover of New Order's 1983 classic "Age of Consent" is their most-streamed song on Spotify, and—though we know this will sound blasphemous—their version rivals the original. It's that good.
2. Palm
Though Palm's four core members actually met while at college in Upstate New York, they've called Philly home since 2015, the same year their first album, Trading Basics, was released, and even played the Philly Music Fest ("All Philly Bands") in September. Their tireless rock sound, which you can experience at full blast on their recent album Rock Island, fits right in among Philly's indie rock ranks. Rock Island came out in February, and one of the first singles from the record, "Composite," is still one of the most fun to listen to. It's replete with artful singsong while still maintaining Palm's pop-rock leanings.
3. The Spirit of the Beehive
Philadelphia rockers The Spirit of the Beehive released their third full-length record, Hypnic Jerks, in September. The follow-up to last year's Pleasure Suck, Hypnic Jerks is named for the involuntary spasms that occur as someone drifts off to sleep. Listening to their music, however, evokes a contrasting sensation: Their spirited rock is more likely to grab your attention, rather than induce yawning. The album's title track is a twisting path of disjointed, choppy guitar and thrashing drums. The song takes on several different lifeforms as the path winds, though—the first 10 seconds sound nothing like the last 10. The lyric delivery is delightfully deadpan, the synth lines are live wires and the bridge is an explosion of unexpected sounds. "Hypnic Jerks" sounds a bit like an indie-rock science experiment, but one that yields a satisfactory ooze.
4. Sheer Mag
We named Sheer Mag one of the best new artists of 2017, the same year they released not one but two full-length records: a compilation of their three previous EPs and an LP, Need to Feel Your Love. The title track from the latter is a punk's tribute to blues-rock: It's groovy, rowdy and just a little bit lo-fi. Frontwoman Tina Halladay sings with a soulful grit unlike that of anyone else in modern indie rock, one of the reasons Sheer Mag is one to watch.
5. Orion Sun
Tiffany Majette is the singer, producer and multi-instrumentalist behind Orion Sun, her solo songwriting project that focuses on smooth singing and crispy, mellow production. Most of Orion Sun's social media bios simply read "becoming" or "becoming through music," and those feel like appropriate summaries of Majette's realized (or, in the process of "becoming" realized) music. "Antidote," from Orion Sun's 2017 full-length LP A Collection of Fleeting Moments and Daydreams, is a warm, exploratory R&B tune with a groovy beat and some surprise synth. Fans of Ravyn Lenae and Empress Of will really dig Orion Sun's pop-forward soul.
6. Hop Along
Much like Cayetana, Hop Along could have been on a list of "15 Philadelphia Bands You Need To Know in 2017" or 2015, or even 2012. They've been around for a while, but it just so happens that we named Hop Along's 2018 album, Bark Your Head Off, Dog, as the 10th best album of the whole dang year (read the full list here). Though their first two records, 2012's Get Disowned and 2015's Painted Shut are truly great rock albums, Hop Along get better with age: Bark Your Head Off, Dog is lyricist and vocalist Frances Quinlan at her most creative, impassioned and powerful.
7. Yowler
Maryn Jones is a jack-of-all-trades in the music world. She was most recently a member of two beloved indie bands, All Dogs, a pop-rock outift, and Saintseneca, a freak-folk group. But she also flies solo: Black Dog in My Path is her second album, following 2017's The Offer, under the name Yowler, and it's also her first record since her move from Columbus, Ohio, to Philly. She enlisted Philadelphia-based producer and engineer Kyle Gilbride (of Swearin') to help with the album, which is the sonic equivalent of a much-needed hot shower: It's a dense, rock cleanse benefitting from Jones' thoughtful lyrics, the occasional synth and Gilbride's expert guitar. "Where Is My Light?" sounds like what you'd expect: It's a search for beauty in the darkness and, by song's end, it really does feel like you've found it.
8. Rosali
Philly-based singer/songwriter Rosali, a.k.a. Rosali Middleman, recently performed a session for Folkadelphia, a Philadelphia folk music organization and radio show airing on local station WXPN. You'd be hard-pressed to think of a place more perfect for Middleman to air her sunny, Philly-born acoustics than a show called "Folkadelphia." Rosali played the session in favor of her new album, Trouble Anyway, which features the song "I Wanna Know," a loose, folk-pop tune with easy-going country vibes.
9. Kur
Rapper Kur accumulated some clout in the hip-hop world back in 2015 when he collaborated with fellow Philadelphian Meek Mill for Kur's mixtape, How It Never Was. Fast-forward a few years, and Kur is a familiar face in Philly's active hip-hop scene. He released his debut full-length record, 180, last year, and it's sure to please fans of classic trap and hip hop.
10. Empath
Philly rockers Empath have yet to release a full-length LP, but they did drop a number of singles and EPs this year, and they toured with fellow Philadelphians Swearin' in October. Empath's sound is colorful and loud and hyperactive, like if a typical Philadelphia punk band was on fast-forward function. The speed is enjoyable, though, especially on their song "The Eye," from their Liberating Guilt and Fear EP. "The Eye" is the song you'd remember hearing at a show, even if you couldn't recall the name of the band and were only halfway paying attention. It's crashing and maximalist, plucking from a host of different sounds while still acting as a cohesive piece of rock music.
11. Kingsley Ibeneche
Chances are you've never heard of experimental noisemaker and Philadelphian Kingsley Ibeneche, but you should probably take note of him now. He pairs frenetic, electronic beats with warm, honeyed R&B-fueled vocals, and the result is an oh-so-cool, afro-futurist take on neo-soul. He has already shared the stage with veterans like James Blake, Travis Scott and Halsey, but he'll no doubt be commanding his own shows soon. "Numb," from his 2017 album Chi, is a funky, electro-groove number reminiscent of something like Sampha's "Plastic 100 100°C," or maybe even a left-field Moses Sumney track, and it's representative of some of the most interesting sounds coming out of Philly in 2018.
12. Kississippi
Another one-woman show from Philadelphia is Zoë Reynolds' Kississippi, which originally started as a duo back in 2014 before Reynolds became the band's sole frontwoman in 2016. She released her debut album under the moniker, Sunset Blush, in April of this year, and it's a really delightful, scrappy rock record with hints of pop and emo. Unfortunately, Kississippi was forced to cancel all the year's remaining tour dates due to a family emergency (per a Facebook post), but here's hoping they'll hit the circuit again next year. Listen to "Cut Yr Teeth" from Sunset Blush:
13. Hurry
Hurry frontman Matthew Scottoline has been on the Philadelphia scene since before many of the bands on this list even existed. Before starting the Hurry project in 2012, Scottoline was the bassist for Philly band Everyone Everywhere throughout the 2000s and early 2010s. He founded Hurry when he realized he wanted to do his own songwriting, which supports a distinctly twangy brand of guitar pop. Hurry released their fourth full-length record, Every Little Thought, in February of this year.
14. Great Time
Thanks to a successful Kickstarter campaign, Great Time constructed their own recording studio on a farm outside of Philadelphia where they produce both their own music and that of other bands. They recorded their debut LP, smugly titled Great Album, there and released it in April of this year. Great Time can't seem to decide if they want to be a dance pop band or a raging rock band—Great Album ranges from ambient charm to thrashing rock. But it doesn't really matter. Great Time are here for just that: a great time.
15. Hardwork Movement
Hardwork Movement is a nine-piece hip-hop collective who call Philly home. Their revolving-door lineup may be a little tricky to keep track of, but if you can hold on, you might find yourself falling for Hardwork Movement's easygoing hip hop. They make music "that is inclusive, original, and inspires all listeners to strive towards uniqueness in all that they do," according to their website. Indeed, their jubilant rap is approachable, and their 2017 album, For The People, reflects that ideology. They also released an EP, Playing With Fire, earlier this year.