Preoccupations Had Their Gear Stolen for the Second Time in One Week
They've set up a GoFundMe so fans can help the band continue their tour
Photo by Pooneh Ghana
Music
News
Preoccupations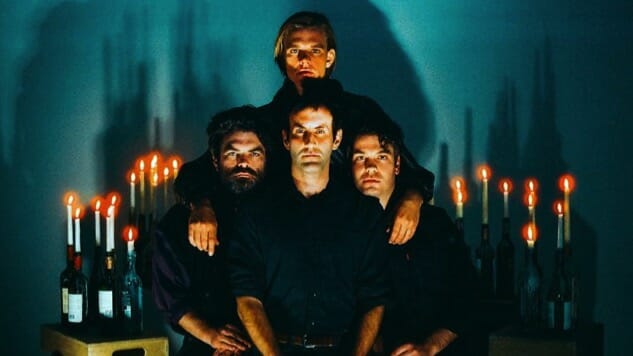 For the second time in one week, Canadian post-punk band Preoccupations have been robbed on the road.
Currently on tour with Moaning to promote their latest album New Material, the band's trailer was broken into and looted on May 9 at a show in Vancouver, Canada. Half their gear was stolen, forcing the band to quickly replace it before their next show in Seattle, Wash. on May 11. In an Instagram post following the first break-in, the band joked that they hoped "whoever's hands [their gear is] in now is shredding some serious fucking gnar."
The jokes ended yesterday when the band woke up to find their van, trailer, and every piece of gear and sound equipment they owned stolen outside a Travel Lodge in San Francisco, Calif. The band intends to perform their next two upcoming shows in Los Angeles, Calif. (on May 17 and 18 at the Echo) using borrowed equipment.
In a statement, Preoccupations described the double whammy as "devastating," adding that "as [the robbery] sunk in yesterday, [because of] the timeline and logistics, as well as financially, it seemed literally impossible for us to continue this run."
It is not clear whether the band will be able to complete their U.S. tour as scheduled, though their U.K. and European shows won't be affected. "The rest of the tour is still feeling very up in the air. We are taking each day in stride," said the band. "[W]e want to publicly announce a gofundme has been set up in response to so many amazing people offering donations. We love you already and will forever [be] and are beyond thankful."
One bright spot from the incidents? Bassist and vocalist Matt Flegel did not lose his Fender Precision Bass. "Flegel has the P Bass," said the band. "He was spooning it in the hotel room and now keeps it handcuffed to his right wrist."
A complete listing of Preoccupation's upcoming tour dates is available here. The band's GoFundMe is available here and their most recent album New Material is available to stream here.