Listen to Priests Turn Danzig into Disco on New Cover Of "Mother"
Photo by Ebru Yildiz
Music
News
Priests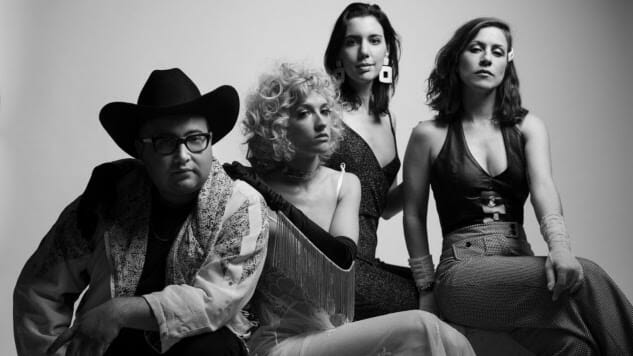 Post-punk rules. No other genre could get away with half of what it does, and if you need any proof, just look to Priests' new cover of Danzig's "Mother" for Amazon Music.
The D.C. rockers turn the formerly metal tune into a goth dance track, flipping the original's riffs into a sensual four-on-the-floor disco groove. Over heavily processed horns, singer Katie Alice Greer absolutely owns Glenn Danzig's vocals on this, starting soft and building to the all-out wails found on the original track.
The band explain in a statement how they conceived of their version: "We thought we'd tease this out a little more in our cover by re-imagining it with a 'Let's Dance' era Nile-Rogers-producing-Bowie kind of glamour." Well, that's definitely what came through here. If you're wondering more about the thought process behind the cover, the band lay it out nicely here:
I made a diagram on the back of this cvs receipt. For science pic.twitter.com/HDIVPCf2E7

— P R I E S T S (@PRIESTS_TWEET) June 7, 2019
Priests are about to go on tour in support of April's great The Seduction of Kansas. Check out what we had to say about that album here, and find their tour dates just below. You can listen to "Mother" via Amazon Music here.
Priests Tour Dates:
June
15 – Washington, D.C. @ 9:30 Club
16 – Durham, N.C. @ The Pinhook
17 – Atlanta, Ga. @ Drunken Unicorn
18 – New Orleans, La. @ Gasa Gasa
20 – Houston, Texas @ White Oak Music Hall
21 – Austin, Texas @ Barracuda
22 – Dallas, Texas @ Club Dada
24 – Albuquerque, N.M. @ Sister
25 – Phoenix, Ariz. @ Valley Bar
26 – San Diego, Calif. @ Soda Bar
27 – Los Angeles, Calif. @ Teragram Ballroom
29 – Oakland, Calif. @ Starline Social Club
July
01 – Portland, Ore. @ Polaris Hall
02 – Vancouver, B.C. @ The Bitmore
03 – Seattle, Wash. @ Neumos
06 – Salt Lake City, Utah @ Kilby Court
07 – Denver, Colo. @ Lost Lake
09 – Kansas City, Mo. @ The Record Bar
10 – St. Louis, Mo. @ Off Broadway