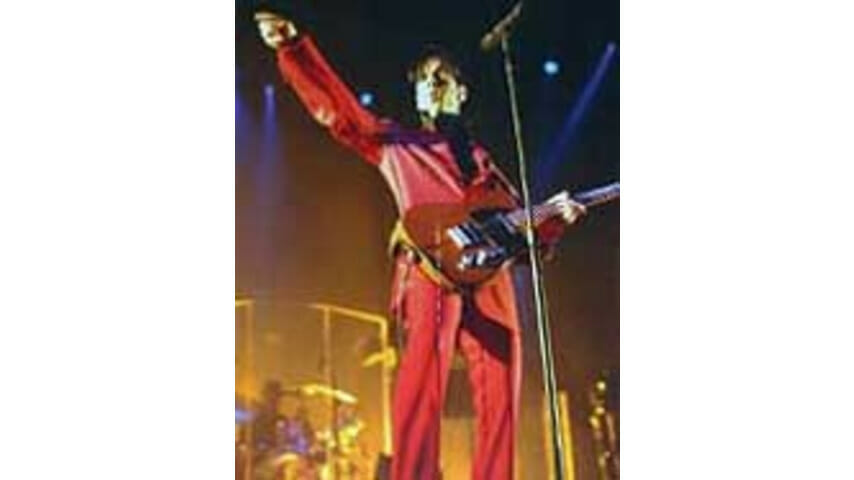 "Whenever I have a bad day, I just sing this in the mirror."
Prince is sitting on a tall metal stool, strumming his acoustic guitar and slowly turning in circles to face every corner of the arena. He's alone onstage, and when he dishes out the aforementioned aside, he's right in the middle of his 1991 hit "Cream."
Sporting a freshly shaven face (no sign of his signature goatee), Prince looks incredibly untouched and enthusiastic for a 46-year-old artist who has endured over-scrutinized fame and sometimes anguish for more than two decades.
The Philips Arena crowd sings every word with him—including the background vocals—with wild enthusiasm. For most the night, Prince is backed by a solid, meticulously chosen band, but right now he's strumming and picking along to some of his best-known tunes all by his lonesome, armed only with his six-string acoustic guitar.
Kicking things off with "Little Red Corvette" and cruising through classic tunes like "Raspberry Beret" and, of course, "Cream," the artist showed he can master any instrument he picks up, and that he still sounds phenomenal.
The night was a sweet mixture of stirring renditions of forever-ingrained hits and also some experimentation with new tracks from Musicology. The balance was striking, songs flowing seamlessly from "Musicology" to "Let's Go Crazy" and "I Would Die 4 U."
At the end of the show, Prince returned for a final encore. Dressed head-to-toe in a stunning deep blue suit, complete with sparkly heels, the artist proceeded to wrap up a stellar night with an equally stellar rendition of the epic rock ballad "Purple Rain." And I for one cannot deny that a few flakes of that floating ticker tape got in my eye. Either that or "Purple Rain" actually brought me to tears.