Public Enemy Part Ways with Flavor Flav
Photo by Frazer Harrison/Getty, Scott Legato/Getty
Music
News
Public Enemy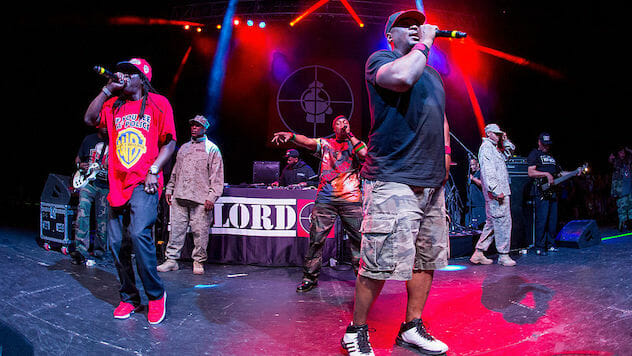 Just days after Flavor Flav issued a cease-and-desist over Public Enemy performing at a March 1 Bernie Sanders rally, Public Enemy have announced that the rapper's 37-year run with the group has effectively come to an end. "We thank him for his years of service and wish him well," read a statement from the group.
The main reason behind Flavor Flav's cease-and-desist was the Sanders campaign's alleged "unauthorized use of [Flavor Flav's] likeness, image and trademarked clock in promotional materials" for the rally.
But according to founding member Chuck D, the core of the issue is that Flavor Flav has no interest in using the rap group in order to support political agendas, especially when performances by Public Enemy won't be making a profit. This has been a longtime topic of contention for the members, whose ethos is entrenched in liberation and rallying against systemic oppression, and often finds them supporting grassroots and charity organizations.
Chuck D took to Twitter on Sunday before the rally to clear up exactly why Flavor Flav was asked to leave Public Enemy, chronicling a history of conflict between the two when it comes to benefit shows.
… last final note the last final note was my last straw was long ago. It's not about BERNIE with Flav… he don't know the difference between BarrySanders or BernieSanders he don't know either. FLAV refused to support @Sankofa after @harrybelafonte inducted us. He don't do that pic.twitter.com/5Ky9dTnzmd

— Chuck D (@MrChuckD) March 1, 2020
So I don't attack FLAV on what he don't know. I gotta leave him at the crib so y'all trying to fill his persona with some political aplomb is absolutely'stupid' Obviously I understand his craziness after all this damn time. Duh you don't know him from a box of cigars or me either

— Chuck D (@MrChuckD) March 1, 2020
Spoke @BernieSanders rally with @EnemyRadio. If there was a $bag, Flav would've been there front & center. He will NOT do free benefit shows. Sued me in court the 1st time I let him back in. His ambulance lawyer sued me again on Friday & so now he stays home & better find REHAB

— Chuck D (@MrChuckD) March 2, 2020
I heard I'm trending, like I care . I built @EnemyRadioRS so it does benefits & fundraisers … He said he never gonna do them. So his refusal to do @HarryBelafonte#ManyRiversFestival in Atlanta 2016 was my last time. I built Enemy Radio to get far away from that ridiculousness.

— Chuck D (@MrChuckD) March 2, 2020
In response to the cease-and-desist letter, Sanders' campaign stated that the performance at the March 1 rally would instead feature Public Enemy Radio, which is an offshoot of Public Enemy created by Chuck D that does not include Flavor Flav. The lineup consists of Chuck D, DJ Lord, Jahi and the S1Ws.
In a statement to Rolling Stone, Chuck D made it seem that Flavor Flav's exit might not be so final—with the caveat that the hype man get his act together when it comes to the charitable duties of the band: "Flavor chooses to dance for his money and not do benevolent work like this," he wrote. "He has a year to get his act together and get himself straight or he's out."
Chuck D's lawyer also clarifie to RS that technically, the Public Enemy trademark is solely owned by Chuck D, meaning that the rapper has license to take the group in whatever direction he sees fit: "From a legal standpoint, Chuck could perform as Public Enemy if he ever wanted to; he is the sole owner of the Public Enemy trademark. He originally drew the logo himself in the mid-'80s, is also the creative visionary and the group's primary songwriter, having written Flavor's most memorable lines."
Despite the shake-up, the statement added that Public Enemy Radio have a new album due out in April. You can listen to a 1999 performance of "Rebel Without A Pause" by Public Enemy from the Paste archives below.