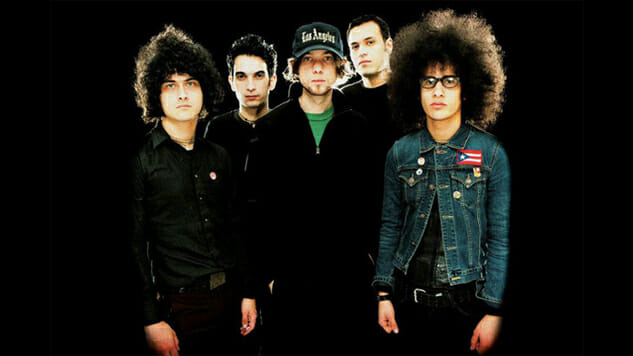 When you think of music from the past 16 years, "punk" isn't typically a word used to describe the mainstream musical landscape. Indeed, as far as a great number of music lovers are concerned, music ceased to exist at exactly midnight on New Year's Eve 1999, and punk is no exception. The '90s saw the success of the post-hardcore and emo genres, but ever since the turn of the millennium, punk has not been nearly as huge in the public consciousness, with many considering Green Day's 2004 album American Idiot to be mainstream punk's death rattle. (Conversely, others consider it a lasting tome of punk's evolution.)
But as is the case with all genres of music, musicians are still making great punk. It just takes a little digging to find and a little broader perspective of the extents of the genre (encompassing elements of screamo, hardcore, dance, and more). Although the cutting satire and political commentary of bands such as The Clash and Dead Kennedys may not be as accessible as it was during their heydays, modern punk makes up for it in sheer passion and emotion, covering topics such as depression and loneliness with 30-minute gut punches and sweeping, epic concept albums. Here are the 25 best punk albums since 2000.
25. The Fall of Troy, Doppelgänger
One of the most quintessential post-hardcore bands of the 21st century, the Fall of Troy provides a crash course on what to expect in the genre with Doppelgänger—Harsh screaming combined with emo-influenced clean singing, sharp riffs and a song named after the star of Home Alone. The band's technical skill shines, even by the standards of post-hardcore, often eschewing traditional song structure in the middle of a song for the sake of a long passage of instrumental freak outs akin to prog rock bands of yore. The band released two more lackluster records before breaking up in 2010 only to reunite three years later, and so far none of their follow-ups have matched up to this great primer into the world of post-hardcore.
24. Against Me!, Against Me! is Reinventing Axl Rose
Though Against Me! has been defined in recent years by frontwoman Laura Jane Grace coming out as transgender, it's worth remembering that they remain one of the most essential bands of the folk-punk movement. Reinventing Axl Rose remains required listening with its stripped-back production and brevity. The album allows focus on the group's blend of folk and punk, as well as Laura's fiery and passionate vocal delivery. Lyrically, the band throws back to punk's politically charged roots with anarchist leanings being a prominent theme, but instead of the sarcasm and irony that charged many of punk's earliest bands, Against Me! throws itself sincerely behind the message of every track on the album. Sincerity is in very short supply nowadays, and Against Me! serves as a constant reminder as to why it is needed.
23. …And You Will Know Us By the Trail of Dead, Source Tags & Codes
Long band name aside, …AYWKUBtToD (even the acronym is too long) had been making waves throughout the Austin music scene for years prior to the release of 2002's Source Tags & Codes. However, it's on this release that they perfectly straddled the already thin lines between indie rock, post-hardcore and noise rock, reaching the sweet spot of commercial acceptability while not alienating the punk fanbase that got them to where they were. Unfortunately, their newfound attention was squandered by their label, who frontman Conrad Keely has gone on record stating that they mishandled the release of their follow-up, but the band still has one of the best albums to be released in the past decade and a half for at least three different genres.
22. The Gaslight Anthem, The '59 Sound
The fusion of punk rock with the heartland rock of Bruce Springsteen is one of those things that it's a bit surprising more bands haven't done. Although punk is steeped in cynicism while unapologetic optimism has always been Springsteen's forte, musically, both are based on triumphant choruses and propulsive rhythms. The Gaslight Anthem gained the support of music publications and the local punk scene with its 2007 debut Sink or Swim, but truly broke into the realm of essential punk with its follow-up The '59 Sound. With its perfect combination of punk and narrative nostalgia, the album propelled the band toward opening gigs for Social Distortion and The Boss, himself. The band is currently on indefinite hiatus following the release of the lackluster Get Hurt in 2014 and frontman Brian Fallon released a solo record last year, but the band ever regroups, it will be to fans eagerly waiting to hear that distinctive '59 Sound again.
21. Pg. 99, Document #8
Much like the emo genre it takes its name from, screamo gets a bad rep among rock fans, mostly thanks to years of misuse. However, screamo has actually produced some of the most cathartic music in modern punk, including one of its most essential releases, 2001's Document #8. Despite clocking in at a mere 20 minutes on the main release, Pg. 99 effectively make the case for the fusion of emo and hardcore punk with furious guitar playing and vocals on the verge of breaking down. It may take some courage to get past the awful album cover, but once you do, you're in for a treat.
20. Thrice, Vheissu
Ever since its inception, Thrice had a perfect understanding of where the progressive part of post-hardcore slices, adding sweeping guitar chords to their punk foundations. Vheissu is the band's most sprawling and impressive release, also marking the first time Thrice experimented with electronic beats and keyboards. Frontman Dustin Kensrue and guitarist Teppei Teranishi, provide some of the largest and most triumphant choruses in recent punk history, giving fans top-tier material to fist-pump and sing along to in a live setting. Thrice came out of a three-year hiatus in 2015 and released a fine comeback album last year, proving that experimental and progressive punk still has more left in the tank.
19. The Blood Brothers, …Burn, Piano Island, Burn
The Blood Brothers are definitely an acquired taste. Instrumentally, the band sounds like an even more extreme version of At the Drive-In with janky guitars and jagged riffs, but Johnny Whitney and Jordan Blilie can sing like an animal being mutilated. However, to the seasoned punk listener used to sorting through walls of seemingly unconnected noise to find the melodies underneath, there is much value to be found in their cacophony. This is exemplified on 2003's …Burn, Piano Island, Burn, where math-core instrumentation blends with deranged vocals to produce one of the most singularly odd post-hardcore albums ever released. The Blood Brothers released two more solid albums before breaking up in 2007, and leave a scorched trail of punk weirdness behind them.
18. The Thermals, The Body, the Blood, the Machine
There's a certain purity to The Thermals that makes this Portland-based trio among the most endearing pop-punk bands out there. Hutch Harris and Kathy Foster's songwriting is direct, punchy and to-the-point, and Harris (aside from having the best Twitter account of anyone on this list), has a loud and clear singing voice that reverberates across the largest stages and can capture the hearts of any casual listener intimidated by the shouts and screams of typical punk and hardcore. On The Body, the Blood, the Machine, which celebrated its 10-year anniversary last year, The Thermals deliver their catchiest and most straightforward record, capable of turning casual fans of mainstream acts like Green Day and My Chemical Romance onto deeper pop-punk scene with songs that are accessible, but not overly so to the point of saturation.
17. mewithoutYou, Brother, Sister
While mewithoutYou is more than capable of delivering potent riffs and memorable choruses, even their biggest fans will not dipute that the band's biggest asset comes from frontman Aaron Weiss' warbling singing and introspective lyrics. Like La Dispute's Jordan Dreyer, Weiss doesn't sing as much as speak and shout over punk instrumentation like a slam poet, adding fire and passion to his Shakespearian words. They have yet to really slip up in their decade-plus career, but 2006's Brother, Sister is the Philly group's most cohesive and musically impressive album, strung together by beautiful interludes and an overarching lyrical theme. The stories Weiss tells are among the most unique in music, and would've been impossible to tell without the evolution of punk to where it was in the 2000s.
16. The Exploding Hearts, Guitar Romantic
Nostalgia is a dangerous crutch to stand on: without the talent to back it up, it can be one of the most insufferably cheesy and manipulative things on the planet. However, on their only record in their short two-year history, the Exploding Hearts show punk rockers aspiring to follow in The Ramones' footsteps how it's done. The fusion of '60s power pop with rock 'n' roll that would go on to define the following decades of punk music back in the '80s makes a comeback on Guitar Romantic, and it sounds just as pristine as it did 20 years before the record was released. Sadly, the band's fledgling career was cut short when frontman Adam Cox, drummer Jeremy Gage and bassist Matt Fitzgerald were all killed in a car accident, leaving their sole album as a reminder of what could've been.
15. Streetlight Manifesto, Everything Goes Numb
Astute readers may notice a distinct lack of ska in this list. This is because, following the genre's heyday in the '90s, most of what has been released since the turn of the century hasn't reached that standard. However, Streetlight Manifesto's debut album Everything Goes Numb challenges that assessment. The guitars take a backseat to the immediately recognizable horns and trumpets that are ska's trademark, providing instantly charming melodies throughout the whole record. Frontman Tomas Kalnoky's vocals convey nostalgia reminiscent of the punk and pop-punk bands of the past, while still retaining a certain edge. Although the band has been embroiled in recent label disputes, leaving its future in question, here's hoping they'll blast through the legal tape with their spirit minimally unsullied.
14. Thursday, Full Collapse
Despite mainly belonging to the post-hardcore genre, Thursday are considered to be one of the groups responsible for the popularization of the emo genre and its definition in the 2000s. This is evident in frontman Geoff Rickly's vocals, which switch from the distinctive screaming to the clean crooning that would become emo's signature over the next decade. Full Collapse was the group's breakout record and the start of what would become its definitive sound. Thursday broke up in 2011 following the release of its then-final album, only to reunite last year. And if the dabbling in art rock that marked its last record showed anything, it was that Thursday still has more experiments to conduct.
13. Fucked Up, David Comes to Life
Sprawling across 18 tracks and 78 minutes, David Comes to Life is an epic punk rock opera telling the story of a man named David who works in lightbulb factory, falls in love, and bombs the factory. As with most rock operas, the album is bombastic and convoluted, but bright, fast guitars and the clean production support it. Even though the lyrics are delivered in frontman Damien Abraham's signature growl, it's a great entry point into the post-hardcore genre for music fans whose only exposure to punk is Green Day and The Offspring. Just don't expect to finish it in one sitting.
12. Gospel, The Moon is a Dead World
Another seemingly unfortunate case of musical one-and-done, Gospel has done very little in the more-than-a-decade since the release of The Moon is a Dead World in 2005. However, that is more than enough to cement their legacy in the screamo and post-hardcore genres. The album is one of the most instrumentally dense and progressive in the screamo genre, featuring sudden speed shifts and performances that are amazingly technical without coming off as pretentious. However, special mention needs to be given to Vincent Roseboom, Gospel's drummer who's constant intensity, complex patterns and blisteringly fast fills serve as the strong backbone to a propulsive, cathartic album.
11. Death from Above 1979, You're a Woman, I'm a Machine
Dance and punk are two genres that may seem impossible to put together, but considering both place emphasis on immediate, catchy hooks to get the listeners attention, the practice of combining them has been surprisingly successful. Look no further than the dance-punk boom of the 2000s, and while LCD Soundsystem are considered to be the movement's headliners, it's Death from Above 1979 that best represents the fusion of danceable melodies and ferocity. The band's debut, 2004's You're a Woman, I'm a Machine, is a mere 35 minutes, but not a single second is wasted, with every song getting straight to the point of making you dance, break things or both. The band went on an extended hiatus after the album's release, but have since reunited and put out a fine sophomore record in 2014, with plenty more hopefully to come.
10. Andrew Jackson Jihad, Knife Man
Though the 2007 release People That Can Eat People Are the Luckiest People in the World was Andrew Jackson Jihad's big breakout LP, it's on 2011's Knife Man that the band—now known just as AJJ—perfected its unique brand of folky punk and neurotic lyricism. The record remains the band's most ambitious to date, with songs that cover topics including white privilege, long-distance relationships and the homeless. Throw in instrumentation that includes guitars both acoustic and electric, church organs and the occasional harmonica and you have Andrew Jackson Jihad's best album.
9. Jeff Rosenstock, We Cool?
Pop punk has always had a somewhat sordid history, but there are several greats within the deeper cuts, and the genre's crowning accomplishment in the 21st century is 2015's We Cool? Former Bomb the Music Industry! frontman Jeff Rosenstock devotes an entire album to describing the life of a depressed slacker, and it's a lot more relatable and emotionally affecting than it sounds. This is helped by instantly memorable riffs and Rosenstock's self-deprecating, sarcastic writing, which perfectly describe the soul-crushing emptiness and loneliness felt by 30-somethings lounging around their apartments in sweatpants. Rosenstock has since gone into more political territory with last year's follow-up Worry to great results, but We Cool? represents an accurate look into the lives of those living without any clear purpose in life.
8. Titus Andronicus, The Monitor
In the more recent history of punk, the words "epic punk rock opera" have been easier and easier to swallow, despite that category seeming like a huge oxymoron during punk's beginnings. However, the words "epic punk rock opera about the Civil War" are definitely new even by today's standards, and they're words that Titus Andronicus take on with reckless abandon on its sophomore release The Monitor. A 65 minute-long concept album loosely about the Civil War, the record doesn't seem to tell a coherent story upon first listen, but the album's themes of fighting a losing battle become clearer and clearer the more it sinks in. The grand and triumphant guitars contribute to an overall sound that is bombastic without coming across as overly so, and the fairly lengthy running time doesn't feel bloated or artificially stretched. The Monitor remains one of the most impressively far-reaching sophomore releases in recent memory, and as Titus Andronicus' subsequent releases show, it was most definitely not a fluke
7. Glassjaw, Worship and Tribute
Glassjaw is credited for single-handedly bringing the post-hardcore genre to semi-mainstream light, mainly thanks to frontman Daryl Palumbo's passionate and unique vocal stylings. Worship and Tribute the band's second and best album boasts post-hardcore instrumentation and Palumbo's bombastic singing that went on to influence a generation of Warped Tour bands.
6. Mclusky, Mclusky Do Dallas
Few bands can balance bizarre and catchy like Mclusky, but with a combination of simple, catchy riffs and frontman Andrew Falkous' strange and panicky vocal delivery, balance it perfectly they do. Though each of the band's three albums they released before their breakup in 2005 are excellent, Mclusky Do Dallas remains the group's most cherished record. With song titles like "Lightsabre Cocksucking Blues" and "The World Loves Us and is Our Bitch," crude and playful vulgarity is to be expected. However, slow moments in "Fuck This Band" and "Alan is a Cowboy Killer," which lean more towards the legendary alternative rock bands of the late '80s and early-to-mid-'90s offer surprise and respite. Still, these moments don't take away from tracks where Falkous repeatedly shouts, "Don't go fucking in the barn 'cause the barn's on fire."
5. La Dispute, Wildlife
Punk in the 21st century has shifted away from snarky, ironic distance towards intense emotional distress, perhaps mimicking the moods of the adolescents and 20-somethings that make up its primary listener base. Yet, few albums in the past decade are as emotionally distressing as La Dispute's Wildlife. A concept album following a writer attempting to write a book of short stories while dealing with tragedy and depression, the record covers a variety of themes ranging from sexual frustration to gang violence to stories that frontman Jordan Dreyer has heard from various people in his life. While the songwriting is impressive, with several songs including multiple phases that transition smoothly to tell a clear story, what makes Wildlife truly special are the emotional and heart-wrenching lyrics delivered by Dreyer in a yelping, slam poetry-esque delivery that sounds extremely close to breaking down in tears at any moment. Listeners beware: you'll want to cuddle with something once you're done listening.
4. Jay Reatard, Blood Visions
While recent musical losses such as David Bowie, Prince and Leonard Cohen may hit harder due to the artists' lasting legacy, few in recent memory have been more shocking than the sudden passing of modern garage punk icon Jay Reatard. Throughout the previous decade, Reatard had established himself as one of the most interesting and off-the-wall personalities in underground rock music, and nowhere is that exemplified more than in his 2006 debut Blood Visions. With only two songs breaking the three-minute mark, Blood Visions relies on instantaneous viscera and emotion, much like the cover of the album itself. His unique vocal style and punchy guitar playing made him an asset to modern punk, and the genre will always be worse off without him.
3. Sleater-Kinney, The Woods
Despite punk's general embrace of social progressiveness, there aren't nearly as many women in the genre's upper echelons as there are men. However, the ones that are there definitely make sure that their voices are heard, especially the women of Sleater-Kinney. Though the band had been putting out amazing albums like Dig Me Out and One Beat before 2005, that year saw the release of their then-final record The Woods, their most sprawling and ambitious effort, yet. The guitar duo of Corin Tucker and future Portlandia co-creator Carrie Brownstein is one of the most formidable in the history of rock, switching between plucky, eccentric melodies and crushing riffs. The Woods represents a winding, expansive journey, one that almost feels impossible to top. However, Sleater-Kinney has since reunited and released a fantastic comeback album 2015's No Cities to Love.
2. Unwound, Leaves Turn Inside You
Since forming in 1991, Unwound defied categorization throughout its career. The band began by mixing hardcore punk, noise rock and post-punk on its early releases, but Unwound's eighth and final studio album Leaves Turn Inside You is the culmination of all those previous releases and influences. The band incorporates drone, strings and keyboards for a lengthy double album that mixes and matches genres, refusing to settle on one style of music for the length of a record. The result is something that belongs to no definitive category even 16 years later. Unwound disbanded shortly after Leaves Turn Inside You, leaving it as one of the most definitive mic drops in the history of music.
1. At the Drive-In, Relationship of Command
The musical saga of guitar freakout maestro Omar Rodriguez-Lopez and maniacal vocalist Cedric Bixler-Zavala is a long and winding one that stretches back to the '90s. But with all the great music the duo has put out together over their various incarnations, Relationship of Command remains At the Drive-In's magnum opus. The fractured, dueling riffs by Rodriguez-Lopez and guitarist Jim Ward provided to be extremely influential for the future of the fledgling post-hardcore genre, with Cedric's paranoid, abstract lyrics propelling you through one of the most intense musical experiences since the turn of the millennium. For a while, it seemed like At the Drive-In had called it quits after releasing one of the greatest post-hardcore albums of all time, but a recent reunion and new single have proved that ATDI has more to share.