Purity Ring Provide a Guiding Hand on WOMB
The Canadian synth-pop innovators perfect a balancing act of bringing their old sound to new horizons
Music
Reviews
Purity Ring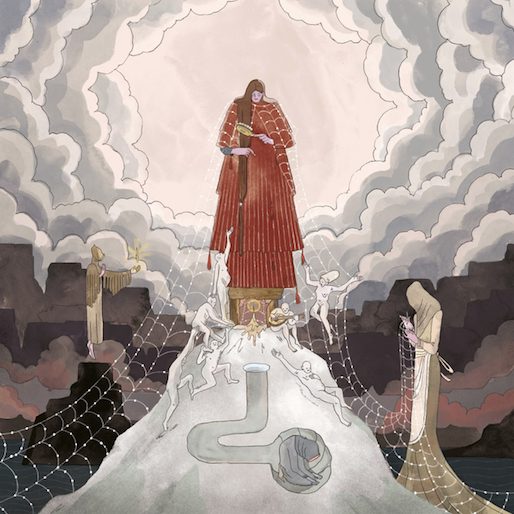 It's been eight years since electronic synth-pop duo Purity Ring released Shrines, which took the blogosphere, critics and the world by surprise. Their music was decidedly delicate, existing on the cusp of both '90s trip hop and futuristic pop with a grotesque twist. Much like their female-fronted contemporaries who exploded onto the scene at the same time, like Phantogram, Grimes and CHVRCHES, the juxtaposition of their delicate voices with uniquely dark lyricism made for a pop revolution.
Purity Ring's almost morbid fixation on the physical body and all of its aches and pains has been a constant throughout their work, and their newest album WOMB feels like a more mature and maternal approach to these pains—and even a course to find healing—while still keeping true to their sound.
Purity Ring sound like their name, as singer Megan James' voice is precisely manipulated in such a way that it almost sounds inhuman, echoing manufactured digital pop star Hatsune Miku or even a baby-voiced Britney Spears. This provokes an unnerving experience of equal parts fascination and revulsion, and James' childlike descriptions of love and female existence give the music an entirely new meaning. WOMB's opening track "rubyinsides" utilizes their signature atmospheric synths to create ebbs and flows of comfort and tension as she croons, "If I could, I would let you see through me / Hold our skin over the light to hold the heat." It's a jarring and erotic fantasy that comes across as blissfully romantic.
Much of WOMB sounds like a beacon of hope on the other side of a tumultuous sea of trauma, acting as a comforting antithesis to the spindly and wide-eyed explorations of mind and body from the duo's previous albums. "sinew," one of the record's more upbeat tracks, is Purity Ring at their best. Through the lyrics "Rest like you belong here / with your damp hair / with your chest heaving / soar out over the long land with your cold hands / to watch the plains receding," it serves as a manifesto beckoning the childlike innocence their older music evoked.
However, it also puts the listener into an awkward position, as this innocent and simple language to describe licking the salt of the hands of a lover ("almanac") or waking up in blood ("femia") also takes on a troubling context of that innocence being warped through an adult lens. WOMB evokes movies such as American Beauty or The Virgin Suicides as these songs unfold, bringing the listener into a tug-of-war with both the anxieties and the emotional complexities that come with growing up and aging.
WOMB is uncomfortable yet poignant as an exploration of suffering and subsequent healing in a multifaceted way. Using fuzzy ambience and watery synths, this album takes listeners on a disorienting, Willy Wonka-like boat ride through a bloody journey of femininity. It blurs the lines between eroticism and suffering, adolescence and maturity. Purity Ring have used this half a decade between their lower-cased sophomore album another eternity and the intentionally upper-cased WOMB to mark a new chapter of blood, sweat and tears. Literally.
---
Jade Gomez is a New Jersey-based freelance writer, dog mom, Southern rap aficionado and compound sentence enthusiast. Her incessant commentary got her suspended from social media, so feel free to shout into the void or follow her on Instagram.