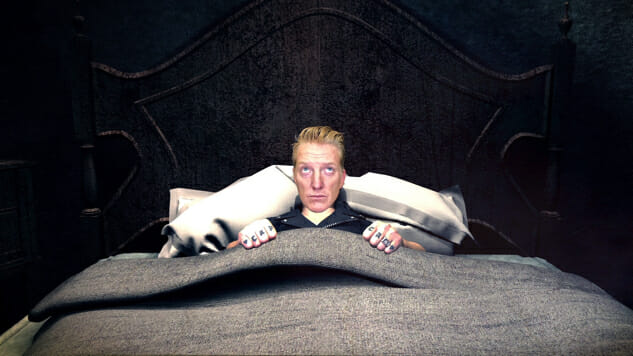 It's Halloween in March, apparently, as Queens of the Stone Age have released a frightful animated video for their Villains ripper "Head Like A Haunted House."
Created, directed and art directed by Liam Lynch, the animated video feels fittingly akin to a haunted house amusement park ride, with a press release describing the fast-paced clip as both "a trip through the eerie and macabre" and "a ghastly … carnival ride through your worst fever-induced nightmares." In it, Joshua Homme and his bandmates—or rather, the uncanny valley avatars to which their faces are affixed—are transported through a revolving door of spooky settings while the song's lyrics are displayed at the bottom of the screen. Homme and company also share the screen with such bizarre beings as a sentient green middle finger, flying coffins and singing cats. All told, the video matches the song's winkingly sinister tone quite nicely.
Villains, the band's seventh album, was released in August via Matador and nominated for Best Rock Album at the 60th Grammys, although it lost to The War on Drugs' A Deeper Understanding. Queens of the Stone Age are currently touring in support of their acclaimed album—you'll find their full itinerary below, beneath their "Head Like A Haunted House" video.
Of course, there remains an elephant in the room when it comes to Queens of the Stone Age: a December incident in which Homme attacked a female concert photographer, kicking Chelsea Lauren's camera into her face mid-show for no apparent reason. The frontman initially claimed to have been "lost in performance" before later offering a sincere apology for his behavior. A contrite Homme said at the time that he would need to "figure out some stuff" and soon after, he was dropped from the BBC show Bedtime Stories as a result of his actions. But beyond that, the incident seems to be residing entirely under the rug. Now that's scary.
Queens of the Stone Age Tour Dates:
March
21 – San Diego, Calif. @ The Observatory North Park SOLD OUT
22 – San Diego, Calif. @ The Observatory North Park SOLD OUT
23 – Tempe, Ariz. @ Innings Festival
25 – Houston, Texas @ In Bloom Music Festival
28 – Honolulu, Hawaii @ The Republik SOLD OUT
29 – Honolulu, Hawaii @ The Republik
April
20-21 – Monterrey, Mexico @ Pal Norte Festival
24 – Austin, Texas @ Austin360 Amphitheater *
25 – Irving, Texas @ The Pavilion at the Irving Music Factory *
26 – Shreveport, La. @ Municipal Auditorium *
27 – New Orleans, La. @ Saenger Theatre * SOLD OUT
29 – Jacksonville, Fla. @ Welcome to Rockville
May
01 – Miami, Fla. @ Bayfront Park Amphitheater *
02 – Saint Petersburg, Fla. @ Mahaffey Theater * SOLD OUT
04 – Memphis, Tenn. @ Beale Street Music Festival
05 – Atlanta, Ga. @ Shaky Knees Music Festival
06 – Concord, N.C. @ Carolina Rebellion
17 – Calgary, Alberta @ Scotiabank Saddledome +
18 – Edmonton, Alberta @ Rogers Place +
20 – Winnipeg, Manitoba @ Bell MTS Place +
22 – Madison, Wis. @ Breese Stevens Field +
24 – London, Ontario @ Budweiser Gardens +
25 – Rochester, N.Y. @ Rochester Dome Arena +
26 – Boston, Mass. @ Boston Calling
June
08 – Aarhus, Denmark @ Northside Festival
09 – Gothenburg, Sweden @ Liseberg
10 – Stockholm, Sweden @ Gröna Lund
12 – Bergen, Norway @ Bergenfest
15 – Luxembourg @ Rockhal
16 – Wiesbaden, Germany @ Open Air Im Kulturpark
19 – Warsaw, Poland @ Torwar Arena
20 – Prague, Czech Republic @ Forum Karlin
21 – Budapest, Hungary @ Budapest Park Open Air
23 – Lucca, Italy @ Lucca Summer Festival 2018
24 – Monza, Italy @ I-Days Festival
25 – Zagreb, Croatia @ Inmusic Festival
28 – Dresden, Germany @ Elbufer
29 – Beuningen, Netherlands @ Down the Rabbit Hole
30 – London, U.K. @ Finsbury Park
June
05 – Werchter, Belgium @ Rock Werchter
06 – Arras, France @ Main Square Festival
07 – Belfort, France @ Eurockeennes Festival
13 – Lisbon, Portugal @ Nos Alive
14 – Madrid, Spain @ Mad Cool
August
18 – Tokyo, Japan @ Summer Sonic
(+ – Royal Blood supports)
(* – w/ Wolf Alice)