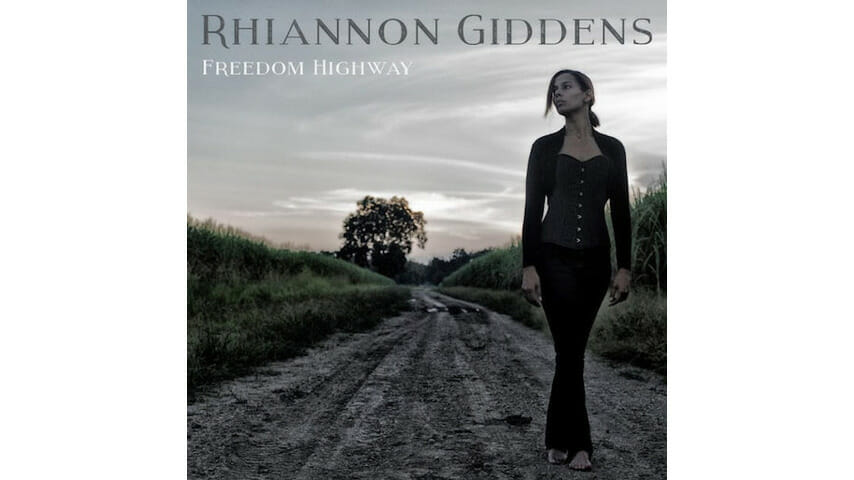 Always ambitious, Americana/traditional folk artist Rhiannon Giddens uses Freedom Highway, her second solo album, for a contemporary end: tracing the roots of the #BlackLivesMatter movement from plantation property to today. Joined by two protest songs (Richard Farina's "Birmingham Sunday" and Pops Staples' title track) and one old blues cut (Mississippi John Hurt's 1928 murder ballad "The Angels Laid Him Away"), the Carolina Chocolate Drop weaves a song cycle from slavery's pain and abuse, the jolt and reality that drove the Civil Rights movement and our current epidemic of young black men shot by police.
Opening with "At the Purchaser's Option," she establishes a first person narrative to explore the crimes against human decency white owners extracted from black women. Over minstrel banjo plinking, she intones, "You can take my body, take my bones, take my blood, but not my soul," as she realizes the child she's borne – the byproduct of the master having his way with her as a young teen – can, and most likely will, be sold away.
That lack of sovereignty echoes throughout Freedom. Invoking the African folk narrative of slipping one's physical constraints in the gently strummed "We Could Fly," the resistance and refusal of human bondage ripples as a refuge for African Americans throughout history. Indeed the slave in the urgent acoustic reel "Julia" hears her mistress' distress as the union soldiers close in, knowing the woman has sold her children for profit.
That tension permeates the low-slung shuffle "Better Get It Right The First Time." With horn punctuations, Giddens sings of a young black man growing up, going to college, walking the straight path…only to be at the wrong house party where, as he flees, he's shot down. One of Highways most electric and modern tracks, Giddens and co-producer Dirk Powell introduce a rap from her nephew Justin Harrington to inject life and truth into the tale of this dead youth.
Humanity trumps degradation. Recorded in an antiquated Louisiana Cypress house, the floors and walls hold the pain of slaves and sharecroppers, which permeates the tracks. But as "Get It Right" suggests, the pain and prejudice remains current.
Like most activists, Giddens embodies a reality that beyond travesty, the best revenge is love. The minor-keyed slink "Come Love Come" sees a young slave girl lose both parents to venal masters, yet triumphs through finding a man of her own, who would stand by her side in freedom.
Whether she shuck'n'shimmies through the flirty trombone-laced "Hey Bebe," the bowed cello and moan lullaby "Baby Boy" or the staccato romance denied "Love We Almost Had" (featuring fellow roots journeyer Bhi Bhiman), the emotions of desire and elation run strong. Giddens' earthy, opera-trained soprano maintains not just dignity, but savors the world around her.
It culminates with a roiling boil on "Freedom Highway," a low impact James Brown revel. Brass pumping, hands clapping, blasts of Wurlitzer and a needlenose electric guitar buzzing, Giddens' and Bhiman's voices rise up in triumph, the shackles of abuse cast aside. They're joyously resolved, "marching that freedom highway, and aren't gonna turn around."