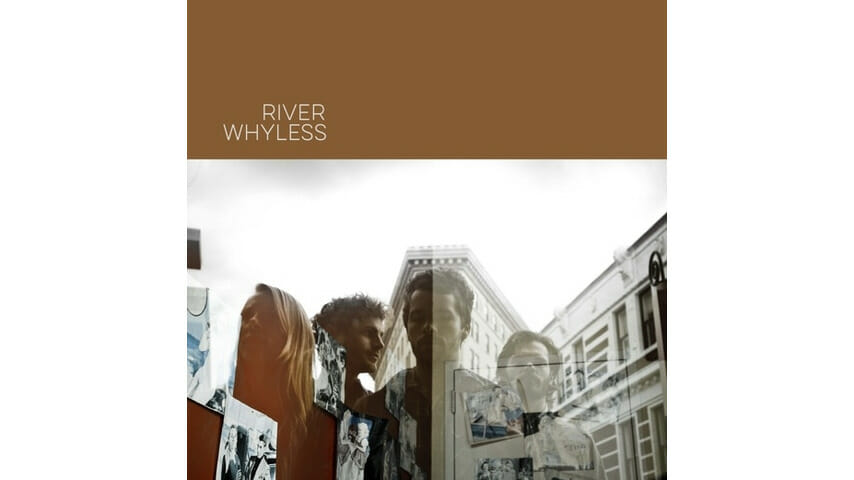 Sometimes it can be hard to stand out in the crowd when you're producing experimental folk rock. Plenty of groups are capable of harmonizing well and turning simplistic rhythms into infectious anthems, but it's rare to find artists who can evoke as much emotion as River Whyless. This Asheville, N.C.-based quartet crafts songs that immerse the listener into a time and place with well-defined emotional arcs. River Whyless EP is the band's first release since their 2012 debut, A Stone, A Leaf, An Unfound Door, and the past three years of touring have clearly given the band a powerful sense of self-confidence. River Whyless' eponymous EP showcases the band's willingness to shy away from expectations and explore its sonic horizon with compelling results.
The EP begins with "Life Crisis," a song filled with driving percussion, bouncing melodies and an ever-evolving musical background. "Life Crisis" serves as an excellent introduction to River Whyless for first-time listeners; between the soaring harmonies, emotionally gripping lyricism and dazzling violin work from Halli Anderson, there's plenty to fall in love with. While tracks like "Life Crisis" will suck you in, ones like "Maple Sap" help you comprehend the brilliance behind the band's work. River Whyless is an act that's capable of tugging at your heartstrings with little notice, leaving you reeling before their next words come out. One minute vocalist Ryan O'Keefe is singing of making maple syrup in the woods, the next he's contemplating the years he's spent going through the same process, growing closer to being alone as he works his way through life.
Another thing that makes River Whyless stand out so much is that they've got four members capable of creating their own unique sounds, crafting rich songs all with distinct musical voices on display. Halli Anderson's whimsical voice glides through the mix on "Bath Salt," floating atop skittering drum beats while "Miles of Skyline" finds bassist Daniel Shearin taking over vocal duties, bringing a bright falsetto to the tight syncopated rhythms that flesh out this track. The sheer diversity on this EP is reason enough to give it a listen, but the talent on display is why listeners will continue to stick around for more.
River Whyless is a band capable of seamlessly slipping between soft, serene ballads and heart-wrenching, foot-stomping anthems at the drop of a hat. There's an excellent sense of dynamism found within the tracks on the River Whyless EP. Anderson frequently plucks her violin to flesh out acoustic chords; Shearin contributes subtle bass riffs and dreamy glockenspiel lines while Alex McWalter provides a powerful percussive foundation for these tracks to grow upon. With such an immense musical landscape set forth, these songs' vibrant stories are what makes this such an enjoyable release. Each track feels as if it's from a different narrative standpoint, loosely tied together with rustic themes and passionate, visceral content.
Releases like this are what makes artistic growth exciting. It's clear on River Whyless EP that the band has yet to find a niche to crawl into like so many of their genre. It's easy to find a formula and stick to it, and when your debut is as impressive as River Whyless' was then it's probably very hard not to. But the River Whyless EP proves that it pays to be a band filled with curiosity and a willingness to explore your comfort zones. Although the EP clocks in at under 30 minutes, it's a fulfilling experience that shows that River Whyless is on the verge of a very exciting musical journey that you'd be foolish to miss out on.