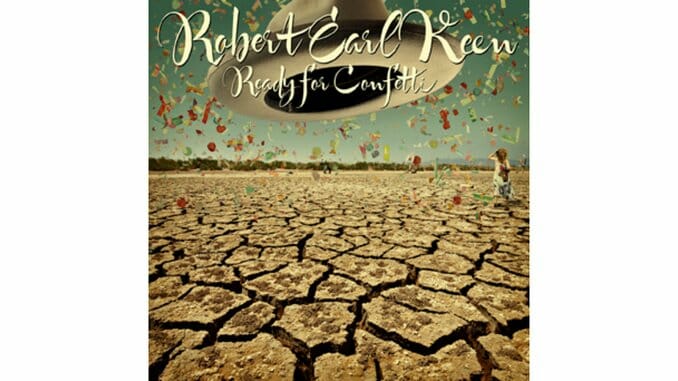 Somewhere in the gulf between Guy Clark, Townes Van Zandt, Rodney Crowell and Lyle Lovett and next wave Lone Stars Pat Green, Jack Ingram, Stoney LaRue, Randy Rogers and Hayes Carll, Robert Earl Keen put down roots—and was slightly less visible for the lack of a scene. But the journeyman troubadour, a Lone Star fixture for more than three decades, took his energy and applied it to his craft. Instead of bitching about not being famous, he crafted 16 albums that stand as a measure of what a split rail songwriter/artist can be.
With Ready for Confetti—produced by steel player and Texas legend Lloyd Maines—the man who penned "The Road Goes On Forever" and the wry "Merry Christmas from the Family" delivers an album that can only be quantified as classic Keen. With influences ranging from the swing-driven "Top Down" to the reggae-undertowed "Waves on the Ocean," Confetti demonstrates the diversity that is Texas music at its core.
For Keen, whose voice is solid as a plank and instantly evokes a masculine sense of knowing, these are tales from a world he makes his own. Having seen much, measured more and considered the possibilities, he's now a demi-institution in a world where songwriters are gauged by the mettle of their tales and the conviction with which they're told.
Embracing bitter invective, Keen leans unapologetically into "The Road Goes On and On," then seamlessly turns to the sweet ache that's country at its purest for the classic-feeling "Paint The Town Beige." That ability to slip in and out of attitudes, truths, genres gives the 55-year-old Houston-raised, Kerrville-living songwriter both his intrigue and his staying power.
To drift, to ramble, to repel off the small details has always marked the former newspaper writer's tales of losers, those existing at the margins and Lone Star heroics that are both larger and smaller than life. The finger-picked "I Gotta Go," with its hand-jive rhythms and dobro coloring, works that reality to perfection: a thrown-away child grows up unrepentant in his swagger and honest about the need to ramble, moving from orphanage to card game to death by misadventure—ultimately gunned down in cold blood, professing "I gotta go somewhere/ I gotta go/ Wasting time standing here/ I gotta go."
Ready for Confetti creates that bridge between the romance of gone and the reality of knowing what one does well. For fans of picking, straight-up story-telling and that dusty Texas roadhouse folk, Keen creates an album that works on its own terms.