Watch Robert Ellis Play Songs from New Album Texas Piano Man in the Paste Studio
Image via YouTube
Music
Features
Robert Ellis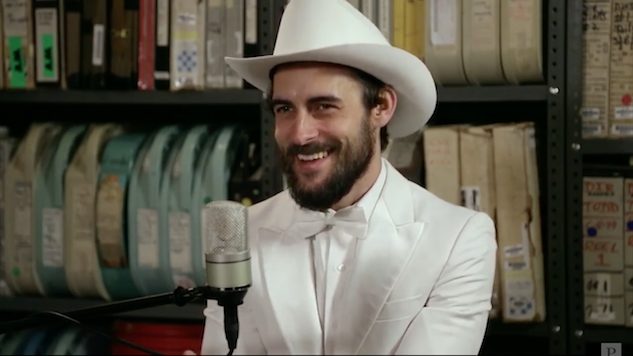 Robert Ellis is the one and only "Texas Piano Man," and he's got the suit to prove it.
Appearing suave as ever in an all-white getup and cowboy hat, the fast-talking Texan troubadour arrived at the Paste Studio in New York City today (Feb. 20) with a piano he hauled through a snowstorm and up to the seventh floor of the Manhattan Center in two separate pieces, marking the first time acoustic keys have appeared in our tape room. "We got a rental car that it doesn't quite fit in, so we have to leave one of the windows open," Ellis said before his set.
He then proceeded to sit at said portable piano and play four songs from his great new album, Texas Piano Man: the cheeky "Passive Aggressive," longing ballad "When You're Away," nostalgic jam "Nobody Smokes Anymore" and roundabout love song "Fucking Crazy."
In the past, Ellis has favored the guitar, but on Texas Piano Man he goes full-on Harry Nilsson for a collection of snazzy piano-pop numbers about being "crazy" in love, missing the smoky good ol' days and choosing sparkling water over beer. The album is out now via New West Records.
Again, you can watch Robert Ellis' Paste Studio session below. Read a 2016 interview with him here. Further down, watch an entire Robert Ellis concert from 2011 via the Paste vault, and keep scrolling for his 2011 Daytrotter session.