Robert Plant Turns 70; Revisit His Triumphant 2006 Beacon Theatre Performance
Photo by Jim Dyson/Getty
Music
Features
Robert Plant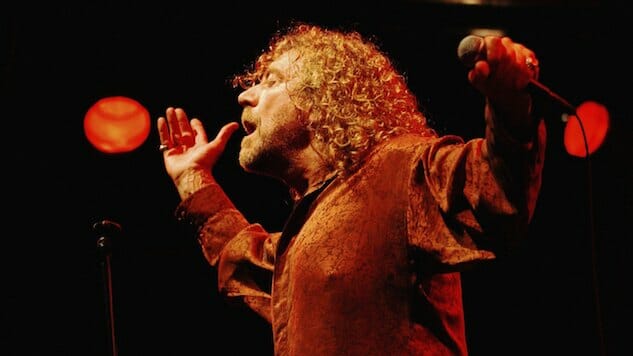 Legendary Led Zeppelin frontman and now solo artist Robert Plant turned 70 years old today. Widely known for his long curly hair, bare chest, electrifying stage presence and piercing rock vocals, Plant embodied the mythology of rock 'n' roll in every way, and he's still celebrated today as one of the greatest voices in the rock canon.
Performing as a solo artist since 1982, Plant has released 11 solo albums, most recently 2017's Carry Fire. Paste reviewer Lisa Nguyen wrote of his latest solo effort: "His sound is ever-changing, experimenting with the science of otherworldly instrumentation. But above all else, it's his wisdom that keeps him going, and by the looks of everything he brought to the table in Carry Fire, he's not stopping anytime soon."
Back in 2006, Plant performed a show at New York City's Beacon Theatre entitled "We're Doing It For Love," which raised money to benefit Love's Arthur Lee, who was uninsured and undergoing treatment for leukemia at the time. Plant performed Zeppelin hits like "What Is and What Should Never Be," "Ramble On" and "In the Evening" as well as covers from Love's 1967 classic album Forever Changes.
The house band backing Plant was called The Rant Band and it included Andy York (John Mellencamp's lead guitarist), Tony Shanahan (Patti Smith's bass player), Steve Holley (Paul McCartney & Wings drummer) and others. Ian Hunter and Nils Lofgren, who also appear in the performance, also performed sets that night.
The show features Robert Plant (vocals), Andy York (guitar), James Mastro (guitar), Andy Burton (keyboards), Tony Shanahan (bass), Steve Holley (drums), Johnny Echols (guitar) and Ian Hunter (guitar, vocals). Listen to an exclusive recording of Plant's full, triumphant Beacon Theatre set from 2006 below.