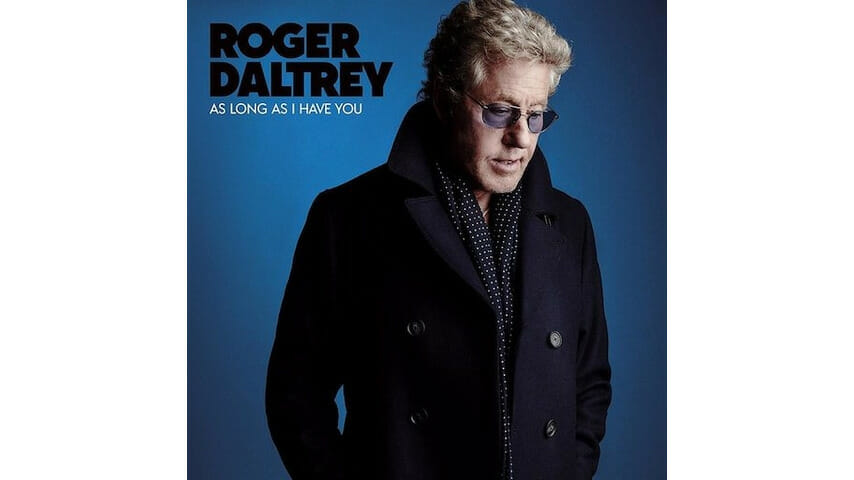 The idea behind Roger Daltrey's new solo album—his ninth overall and first since 1992—was originally intended for Daltrey's main gig, The Who.
As Daltrey explained to Billboard in June: "(About 10 years ago), I said to Pete (Townshend, The Who's guitarist), 'Rather than you having to sweat blood to write new songs, why don't we just record an album of what we used to play before we made it big and before you started writing the material?'"
Before The Who were The Who, Daltrey, Townshend and company played energetic covers of American soul and R&B songs in London bars. As Long As I Have You doesn't stick to that formula exactly, with Daltrey tackling old country, funk and pop songs here, too, as well as a couple of his own tunes. But the energy level of this set is high enough that you can imagine Daltrey channelling his early '60s self in the studio.
He sounds invigorated by the material, in other words. And his band—which includes Townshend on seven tracks—pumps out a consistently tight and muscular sound. The lynchpin seems to be the title track, a version of Garnet Mimms' 1964 single that pairs Daltrey's inspired vocal work with a throwback backing chorus, Townsend's rhythm-guitar strut and a horn section that walks around the song like it owns the place.
It's an impressive start, and As Long As I Have You is stronger in its first half than its second. Daltrey echoes the current political and social unease with an impassioned take on Parliament's "Come In Out of the Rain" (titled "Get On Out of the Rain" here). His nuanced singing on Boz Scaggs' sentimental "I've Got Your Love" is a nice break from all the powerhouse vocal performances. And he beefs up Stephen Stills' "How Far," an otherwise mellow, strummy '70s country-folk song with a killer chorus. Built atop a foundation of sturdy acoustic guitar work and paced differently than its surroundings, "How Far" is a highlight of the album.
Elsewhere, Daltrey transforms K.T. Oslin's 1988 piano ballad "Where is a Woman to Go?" into an ambitious gospel song and executes a faithful cover of mid-'60s standout "The Love You Save" by Joe Tex. The two covers reinforce Daltrey's skills as a song selector: He saw the potential in Oslin's song, and he knew not to mess with Tex's. Credit to him.
There are a few misses on As Long As I Have You, too, most notably a version of Nick Cave's "Into My Arms" sung in Daltrey's lower register. Whether it's an effort to match Cave's rumble or an audition for his own Johnny Cash's American Recordings career phase, Daltrey sounds out of his element. He's better on Stevie Wonder's "You Haven't Done Nothing," but the arrangement feels hesitant and heavy handed, almost clunky.
The two originals on As Long As I Have You are sweet and measured. "Certified Rose" is a soulful tribute to Daltrey's daughter, and album closer "Always Heading Home" reflects on life and mortality, topics heavy on Daltrey's mind, no doubt, after his dangerous bout with viral meningitis in 2015. The song is a bit showtunes-y and it feels out of place with the 10 songs before it, but hey, at age 74, and with 50 years of The Who on his resume, Roger Daltrey has earned the right to end his solo albums however he wants.