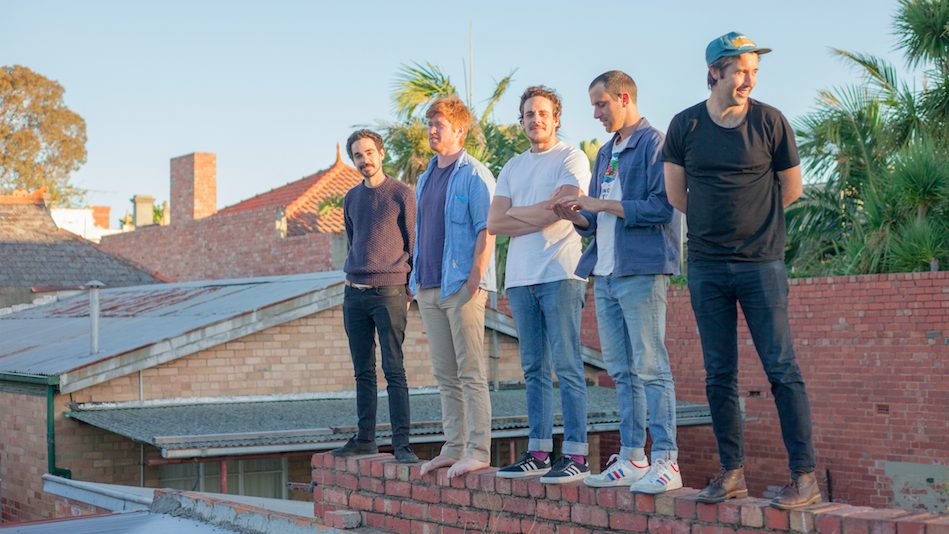 In today's musical landscape, traditionally centralized music scenes seem to be either shrinking, disappearing onto the Internet or simply becoming engulfed by industry hubs like New York, Los Angeles or London. Enter the dynamic indie scene of Melbourne, Australia, the country's second largest city has been continually churning out quality indie acts. The latest of which, is Rolling Blackouts Coastal Fever, a guitar-obsessed five-piece, whose r The French Press EP, was recently released on seminal Seattle label, Sub Pop Records.
Keen to push off both credit and pressure, Fran Keaney, one of the band's three singers and guitar players, quickly acknowledges that Rolling Blackouts C.F., with their sharp blend of jangly guitar pop and sneering Aussie songwriting, are a product of a positive musical infrastructure for Melbourne musicians.
"I think it's the combo of having a community of great venues and also a couple of radio stations that are really helpful for independent bands. Triple R has played us a bit and that's definitely had a big impact, keaney says. "There've always been tons of great bands all around the city that we're big fans of, or play shows with all the time, so it's not like we're the [only] ones making the scene what it is."
For American audiences, the band represents a new facet to Melbourne's distinctive sound, which in the last couple of years, has been characterized by the indie grunge of Courtney Barnett and the manic psychedelia of King Gizzard & the Lizard Wizard. Rolling Blackouts C.F. come out the gate with a certain youthful energy on The French Press, coupled with just the right amount of attitude and it serves to deliberately undercut some of the more polished sounds they work with.
There's something about the band that feels undeniable; a palpable musical chemistry running deep within each song, allowing a wide range of influences to be condensed down into something both fresh and familiar. You can find joy in the band's crafting of a strong pop song, and catharsis in the louder, more abrasive moments.
Oftentimes, the songs on The French Press evoke feelings of scenes — like riding a bike through suburban sprawl, or a backyard party as the sun sets on a hazy summer day — rather than other bands. And this vibe might come from the unique set of influences that the band brings to the table. Keaney cites Australian indie band The Go-Betweens along with surf music and classic rock like Neil Young as primary influences. What stands out, is that very little of what he names would line up with the comparisons American bands might make. The mix of sparkling guitar lines against acoustic strumming on a song like "Julie's Place" may call to mind the sun-soaked indie pop of a band like Real Estate to some, but the relentless, driving pulse betrays a more jagged edge.
That edge stems from a certain "Australian-ness" – a dry, almost detached mentality – in Rolling Blackouts C.F.'s sound, that counterbalances the beauty and sincerity in a way that makes American ears perk up. The band has described their music as "Soft Punk/Tough Pop", and that serves a mentality that Keaney says is still a guidepost for the band.
"When we started out, it was about writing pop songs. We had all been in rock bands, but we started out just sharing the songs that each of us wrote. When we got to playing as a band, and writing as a band, we ended up with more of that punk kind of energy. When we can do both at once, I think that's our sweet spot."
At least in spirit, Rolling Blackouts Coastal Fever are a classic garage band, harkening back to the likes of the Ramones. "We recorded the EP at our rehearsal space, which is where we did the last EP too [2016's Talk Tight, released on Australia's Ivy League Records]. I'm sure we'll wind up in a studio eventually," Keaney theorizes, "but this space really works for us. And if we were going to switch to something more 'professional' we'd have to establish a reason why we were doing it." When listening to The French Press, it's hard to conceive of what that reason could possibly be, but as the band sketches out plans for its first full-length album, Keaney recognizes that there's always the possibility things will change.
For now, Rolling Blackouts C.F. have their eyes set on one upcoming prize in particular, though."I think we're all just really looking forward to traveling around the States," Keaney explains, discussing a U.S. tour that kicked off at SXSW in Austin before they joined up with indie-pop group Tennis to open a run of shows.
The trip across the Pacific is a first for the band, though Keaney doesn't come across as particularly stressed or nervous about it. "We're really just curious to see how the U.S. crowds will react to our music. They should expect a lot of guitars."