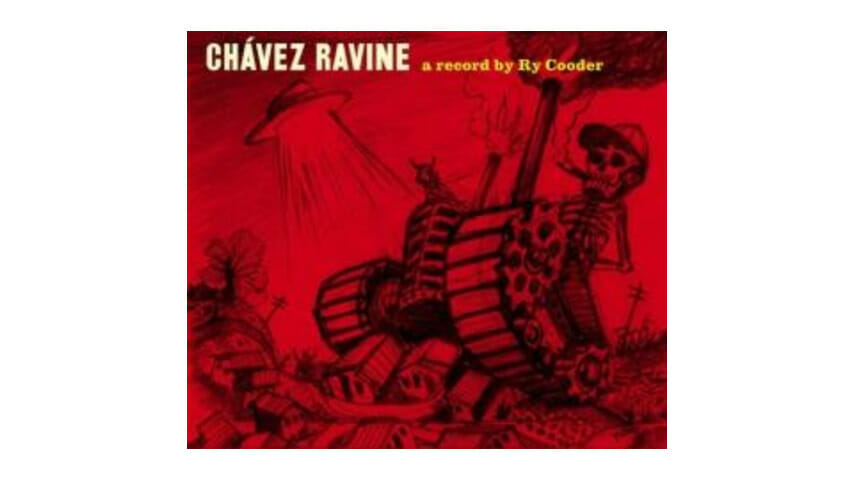 Buena Vista Social Clubber delivers an arresting feat of social and musical archeology
Field recordings of plantation blues or even doo-wop records from studios long shuttered always carry with them some patina of place and time, a certain sizzle in the analog static or a warm heat from adobe walls that seeps into a fretboard. When you hear it out of context, as some orphan on the radio airwaves, you can't quite figure out the story of what this stuff is or where it came from, but on some more subliminal wavelength, it tells you something about itself. Ry Cooder's genius is that he takes these cues as a challenge to explicate, lay bare—and, at his best, recapture—some of the meaning just outside the frame of three-minute 45s long lost to legend. The plot only gets thicker with a story like that of Chávez Ravine, a neighborhood lost to history, much like Cape Town's District Six. Chávez Ravine's story is not just one of social displacement, but the hint of the layers that sit, often invisibly, beneath our feet in every modern city.
Cooder's Chávez Ravine could've been a long, dry, pedantic history lesson but instead it's the kind of exploration that's both satisfying and scholarly in its ability to bring to life stories, times and places that are literally underfoot but dangerously close to being forgotten. Imagining the world of Los Angeles at the dawn of the 1950s, the protagonist alien (the spaceship kind, allowing for the obvious metaphor of course) hears an old Little Julian Herrera recording and goes looking for the scene, only to find that the neighborhood he seeks was bulldozed to build Dodger Stadium. Lovingly packaged with the photos used by Don Normark (whose book remains the definitive history of the vanished neighborhood) and a running commentary from Cooder, Chávez Ravine is as weighty as it looks and feels.
What makes the album so amazing is its ability to balance poignancy and fun. While there are still heroes and villains in the story (most obviously laid out in the point/counterpoint "Don't Call Me Red" and "In My Town"), Cooder pauses to consider those caught in the crossfire, the hapless bulldozer operator in "It's Just Work For Me," or the guy parking cars in the Stadium parking lot remembering his old house that now sits below "3rd Base, Dodger Stadium." Interspersed are moments of vintage genre exploration like the hypnotic "Chinito, Chinito," or the slinky "3 Cool Cats." Collectively, the songs here give you both the literal story and the feel of the thing—the hot summer nights in the dance club, the dull thud of shoes on the dirt roads between ragged but dignified shanties. When it's all over, it's as good as any monument, and the taste and skill with which Cooder executes this tender tribute is nothing short of breathtaking.