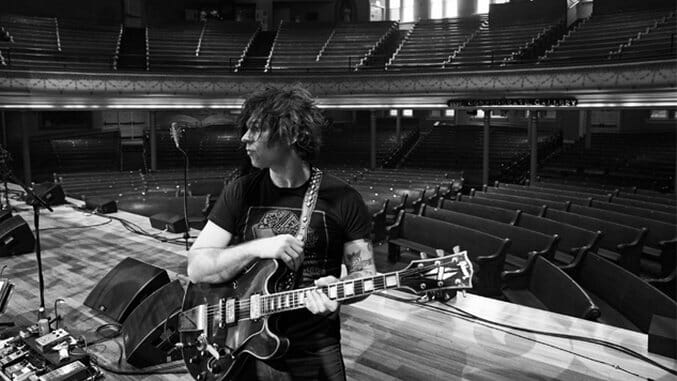 Barely out of his 30s, Ryan Adams already has a discography that can make your head spin. He's run the gamut from heartbreaking singer-songwriter fare to guitar-bashing punk rock, sometimes even on the same album.
The latest release Prisoner makes for Adams' 16th proper album, though he's put out well over 20 LPs if you count the Whiskeytown years and his various side projects. Over the past two decades he's both flirted with mainstream success and happily lived in its margins, consistently adding to his prolific output either under his solo banner, or with backing bands such as the The Cardinals.
If you're already an Adams fan, or just curious to crack his prolific catalog, we figured the release of Prisoner was the perfect time to dig in and put it all into perspective.
16. 29
Ryan Adams released a mind-boggling three albums in 2005, and by the law of averages, they weren't all going to be great. 29 was easily the weakest of the bunch, though the idea behind it was certainly ambitious. Adams recorded the album as he was turning 30, and wrote almost all the songs in-studio to represent a year in his 20s. It's a hard listen, and many of the songs seem to just meander. But, even a mediocre Ryan Adams album still includes some standouts, such as the title track and "Carolina Rain."
15. Easy Tiger
This marked Adams' first album after the release of 29, and although it wasn't perfect, it certainly got him back on track. Adams took his time on this one, and the album is a solid entry in his catalog. But, it pales when stacked up against his best works. Hitting in 2007, it found Adams settling into a comfortable corner of roots rock. At times he almost seems a bit too comfortable there, just going through the motions with tracks like "Pearls on a String" and "Rip Off." Highlights include "Halloweenhead," and the haunting album closer "I Taught Myself How to Grow Old."
14. 1989
Adams has never been afraid to tackle another artist's work, having recorded (and subsequently lost) an album's worth of bluegrass-tinged Strokes covers back in the day. But, his latest cover album actually made it out into the wild; in fact it turned out to be one of his biggest hits in the process. Adams covered Taylor Swift's monster hit 1989 and filtered every song through a Morrissey-esque lens, which sounds insane but works in its own very strange way. As far as concept albums go, it's certainly worth checking out, if only to hear the truly surreal version of Adams crooning "Shake it Off."
13. Demolition
Adams has shelves of unreleased material just sitting around, so in the early 2000s he decided to mine some of those recent sessions for what essentially adds up to a greatest hits collection from a bunch of unreleased records. The final product is unsurprisingly disjointed, though it does feature some standout tracks. The jaunty "Dear Chicago" is still a live favorite, along with "Desire." But, the generic rocker "Nuclear," and the silly sing-along "Tennessee Sucks," don't exactly stand up for repeat listens.
12. Ashes & Fire
This album finds Adams trying to literally embrace the role of a modern-day Bob Dylan, and in many ways, it actually works. Adams certainly hits his trademark grooves of roots rock, and the album is worth the price of admission for the album opener "Dirty Rain." Unlike some of his more dense works, Ashes & Fire makes for a relatively easy listen, which is also why it doesn't rank any higher. Adams' best work is challenging, and this album is just good. Not great, but good.
11. Cardinology
Cardinology makes for a great listen, but falls into a lot of the homogeneity that permeated Adams' releases in the mid-to-late 2000s. It's roots with a dash of 1980s rock thrown in, which is just fine. Most of the songs are good—heck, a few of them are even pretty great—but the record as a whole still falls into the middle of Adams' repertoire.
10. 1984
Though technically an EP, we went ahead and included Adams' 1984 because it still technically runs 10 full songs (they're just each only about a minute-long). Adams put this little slice of punk rock together as an homage to the punk material he cut his teeth on growing up. Adams has since described the churning 7-inch as his own take on Hüsker Dü. Adams dropped this project alongside his return-to-form self-titled record the same year, and it stands as a stark reminder of just how versatile he can be. The recordings are quick and dirty, but Adams' glee for the material shines, regardless.
9. Rock N Roll
This release marks Adams' most obvious attempt to be a straight-up rock star (see the title for reference), and was born out of an agreement between the artist and his label at the time. Adams had recorded the gorgeously ambitious Love is Hell, but his label Lost Highway wasn't interested. So, he cut a deal: Love is Hell would be split and release as dual EPs, and Adam would record a rock record to serve as that year's "proper" release. The result was Rock N Roll, and even though Adams was obviously a bit cynical about making the record, it's still pretty darn good. The influences range from Joy Division to The White Stripes, and Adams put together an album of pure piss and vinegar. "Note to Self: Don't Die" is basically a long lost Nirvana track, while "This Is It" could've easily been a Strokes B-side.
8. Prisoner
Adams' latest album isn't his best work, but it's certainly in the upper echelon. It doesn't take much to read between the lines and realize this record was Adams' way of processing his recent divorce, and though it's a heartbreaking catalyst, it's certainly inspired Adams' songwriting. This album is his love letter to a broken heart—focused and devastating—and finds Adams doing his best version of Morrissey. The highlight "Shiver and Shake" is guaranteed to leave you near tears.
7. Ryan Adams
Putting out a self-titled album this deep into a career is a gutsy movie, but Adams' 2014 release proved to be one of the most successful LPs ever, and for good reason. Adams finally reached a point where he needed to take a break, and this record was his long-awaited return following a three year absence. It did not disappoint. Buoyed by the single "Gimme Something Good" and self-destructive ballad "My Wrecking Ball," it finds Adam becoming the mood-rocker he was always meant to be.
6. Jacksonville City Nights
This release was a true highlight of Adams' extremely busy 2005, casting him as a country hero experimenting with the tropes of genre songwriting. No more "alt;" this is straight-up country. The album sees Adams fully embrace the genre and everything it entails, giving it a truly timeless feel. It could've been released in 2005, or 1965, which is much of its appeal. The songs are tight and contemplative, most notably his stunning "Dear John" duet with Norah Jones.
5. III/IV
Adams explored his alternative rock inspirations with this double album, which had every opportunity to be a bloated mess. Instead, Adams took full advantage of the extra space to craft one of the best rock records of the year. His love for The Replacements is palpable, but this is Adams figuring out exactly what type of rocker he wants to be. The geek rock romp "Star Wars" is a song that only Adams could write, and he thrashes with the best of them on the rollicking album closer "Kill the Lights."
4. Gold
Fresh off his critically adored debut Heartbreaker, the pressure was on for Adams to deliver a follow-up that could take that adoration and break through to mainstream audiences. It didn't sell quite as many copies as the label would have liked, but Gold largely pulled it off from a critical perspective. "New York, New York" became an anthem of sorts for the Big Apple in the wake of 9/11, while "When the Stars Go Blue" is among the most beautiful songs Adams has ever crafted. The album as a whole might be a bit too polished at times, but tracks like "Harder Now That It's Over" put you right in the middle of a broken heart and serve as a reminder that Adams was still more than capable of baring his soul on a major label.
3. Love Is Hell
Split into EPs, then later reassembled as a proper album, Love Is Hell is one of the most ambitious projects Adams ever attempted. Trying to shed his alt-country label, he put together an album that is equal parts Radiohead and The Smiths. The dark rocker "World War 24," and crooning "English Girls Approximately" represent just how diverse he can be in one setting. The highlight, oddly enough, isn't even a song that Adams wrote. Love Is Hell features his acclaimed cover of the Oasis hit "Wonderwall," which he stripped down to the bone and turned into a barely-recognizable ballad.
2. Cold Roses
This marked Adams' first release after Love Is Hell and Rock N Roll, and found him easing back into the edges of alt-country with gusto. It feels almost like a lost album (well, double-album) from Adams' former band Whiskeytown, and that's a good thing. This double LP finds Adams at the perfect time, almost rediscovering his love and excitement for the genre that made him a critical darling in the first place. Cold Roses is a near-perfect Ryan Adams record.
1. Heartbreaker
Considering the fact that Adams has released so many records, it's hard to believe his first solo effort is still his best. But, it's true. Fresh out of Whiskeytown, Adams hunkered down to craft what would become a bona fide alt-country masterpiece in Heartbreaker. It was raw, emotional and genuine. Most of the tracks from this 17-year-old LP are still stalwarts at Adams' live shows, most notably The Rolling Stones-esque "Shakedown on 9th Street," the sweet ballad "Oh My Sweet Carolina" and the bluesy jam "Come Pick Me Up." Adams has put out some impressive collections over the years, but they all pale when compared to where it all began.