Ryan Adams is Covering Taylor Swift's 1989 In Full
Photo by Paul Thomas/Getty
Music
News
Ryan Adams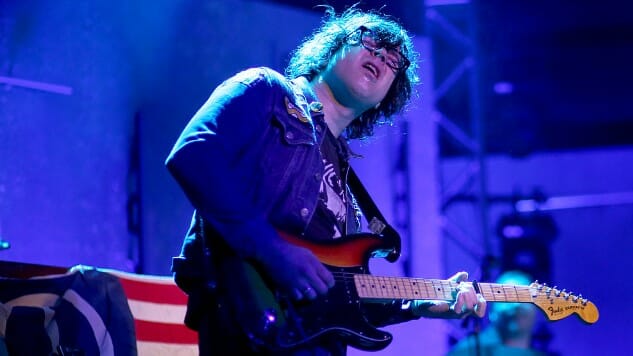 Taylor Swift's substantial fanbase has a distinguished new member: none other than Ryan Adams.
Adams announced on Twitter that he plans to cover Swift's 1989 in full, as per Spin. As of early this morning, Adams has already recorded renditions of the juggernaut album's first three tracks: "Welcome to New York," "Blank Space" and "Style." Judging by the bits and pieces Adams has shared so far, Swift's songs are hardly recognizable in the folk troubadour's more-than-capable hands. Safe to say Swift was excited to hear about Adams' plans:
@hasief@TheRyanAdams is this true??????? I WILL PASS OUT.

— Taylor Swift (@taylorswift13) August 6, 2015
Adams matched Swift's admiration with some of his own, paying her songwriting skills a high compliment: "Badass tunes, Taylor. We're sandblasting them and they're holding steady." Presumably, Swift has been awake and celebrating ever since:
@TheRyanAdams Cool I'm not gonna be able to sleep tonight or ever again and I'm going to celebrate today every year as a holiday. I'M CALM

— Taylor Swift (@taylorswift13) August 6, 2015
Ignoring Swift's precarious position on the edge of hysteria, Adams shared a clip from his take on "Welcome to New York," 1989's opening track. "Guaranteed saddest version of Welcome to New York ever – or your tears back," he wrote in a related Instagram post. Here's a taste:
Welcome to NY @taylorswift13pic.twitter.com/XkiORLfnH9

— Ryan Adams (@TheRyanAdams) August 6, 2015
Adams is hardly the first artist to take on Swift's songs: Screaming Females, Stephen Malkmus and the Jicks, Vance Joy and Alessia Cara have all made 1989 tracks their own. But it's no stretch to say that Adams' cover is shaping up to be the best and biggest yet.
Follow Adams on Twitter to keep up with his 1989 covers. We'll continue to track Swift's descent into madness—happy Ryan Adams is Covering 1989 Day.