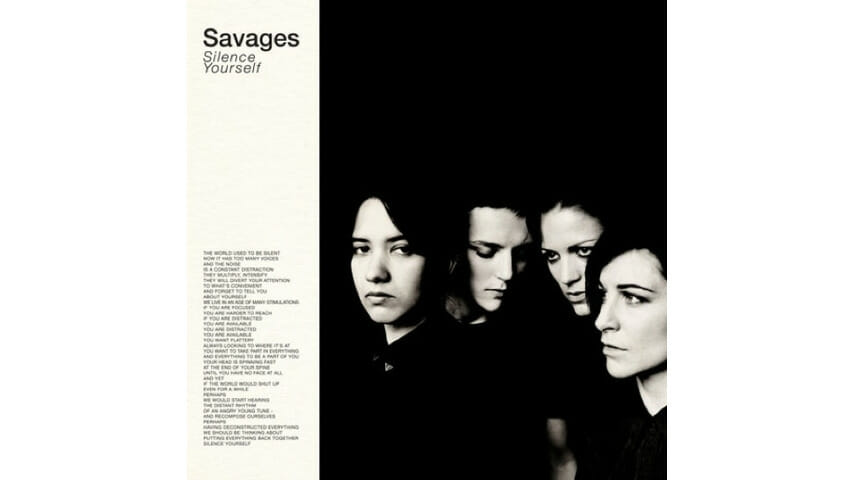 If you go to Savages' website right now, something strange happens. "Shut Up," the band's opening song from their debut LP, Silence Yourself, begins playing without asking for your permission, while a black-and-white image of the band dissolves to reveal the song's lyrics. It doesn't require you to read into anything, just for you to read something, but if you follow along, you discover that some parts are left out. "Shut Up" offers a final minute of climactic rhetoric, ending with a repeated "bullet to the sun" image.
Why leave it off the lyrics? The intensity of frontwoman Jehnny Beth's vocals manifest in a slight vibrato, not indicating insignificance. The band's angle, which is defined without subtlety on the same website, is that of focus, of being discerning with your attention so that it is harder for the world to penetrate that focus. Essentially, they want to change the way we experience everything, a statement of purpose so giant that it renders discussions of lyrical exclusions inert. Even the four-piece, all-female's most seductive academic reading, as a feminist text, seems to be underselling the scope of their philosophy, though I'm sure the band will stir up some inspired and enlightening work from writers versed in feminist theory.
But, as much as we can intellectualize the work of the London band, a song called "Shut Up" to lead off the album generally accomplishes its titular goal, and there isn't much to wrap your head around there. The album, in fact, seems to be about not using your head and protecting what you have inside already, turning your focus to the instinctual aspects of humanity.
And, as this final line of "Shut Up" is obscured, even the lyrics sitting in front of you don't exactly make the songs transparent. "Hit Me" is written as a persona piece from the perspective of porn star Bella Donna, and we know this because the song's subtitle is "A Song For Bella Donna." The rest of the tracks, though, are much more ambiguous, and not in the way of a band that doesn't want to take a stand. Ambiguity in a sense is the heart of Silence Yourself—a cry to hear the words, to feel the passion, to go out and speak your own personal words, to inspire more genuine empathy and understanding in world.
Of course, Savages wouldn't be worth attention solely based on the idea being more selective with our attention. The music is a logical derivative of post-punk that draws on Joy Division, Siouxsie and the Banshees, Bauhaus and any other of the greats from that period that you picture draped in black and never smiling. And, in a whirlwind of sexuality, violence and gender roles, the most contemporary connection to draw is something like Metz, minus the screaming.
And while the genre distinction is far from unique, Silence Yourself satisfies both in its details and its scope. A song like "No Face" features calculated guitar effects and tones, ranging from blown-out fuzz to a more precise, tin-plated sound, shifting deliberately throughout the song, both Gemma Thompson's guitar and Ay?e Hassan's bass weaving around each other in a well-rehearsed dance. But, just as carefully put together as that song, and every other one on Silence Yourself is, the listener can step back and just let Beth's sweeping declarations that "You have no face" whip them into a furious, super-charged musical possession; fueled by art, ready to drive fast or fuck hard or anything else that requires amplified confidence.
In the end, the lyrics, the meaning of the "bullet to the sun," they are there if you want them, but essentially, Savages hold the content and secrets and real meaning of Silence Yourself to be theirs. It's the expression, in the form of "you will" shouted over and over or a clumsy jazz clarinet solo to end the album, that aims to inspire. Hear the immediacy of the music and live your life in the same manner. This might all sound a little abstract, and, well, Savages as a band is a little abstract, but Silence Yourself evokes very real sensory and emotional connections, leaving it up to you to get something out of it.