SXSW 2019: Watch Say Sue Me Perform Live at the Riverview Bungalow in Austin
Image via YouTube
Music
Features
Say Sue Me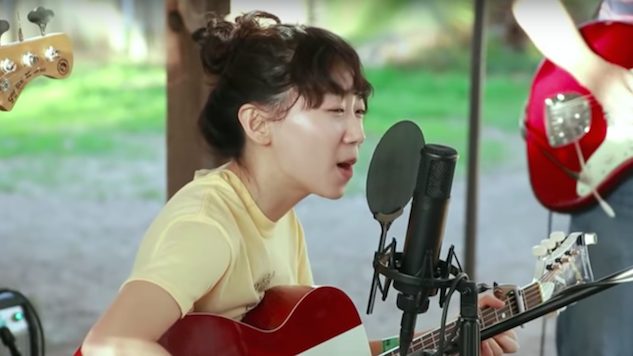 South Korea's Say Sue Me stopped by the Riverview Bungalow in Austin, Texas for a Paste session at SXSW. The dream-pop outfit performed four songs—"But I Like You," "Old Town," "Summer Night" and "Let's Don't Say Anything"—two from their 2018 LP Where We Were Together and two older songs.
Paste featured Where We Were Together on our list of 10 Great Albums You Might've Missed in 2018. Paste wrote of the album:
If one thing's for sure, it's that South Korean rock four-piece Say Sue Me made one of the finest dream pop albums in recent memory. The young quartet's latest album, Where We Were Together, is brimming with bright, visceral jangle pop tinted with moody post-punk, '60s girl group pop and '90s indie rock. Sumi Choi's frosty vocals are garnished with sunny guitar riffs as their lyrics capture the polar opposites of the emotional spectrum…Say Sue Me don't revolutionize the pop song structure, but while many dream pop bands favor sonics and aesthetic over songwriting, Say Sue Me bring the focus back to those things that will keep you coming back for more—sugary melodies, immediate hooks and affecting lyrics ("I'm afraid of making new memories without you"). This isn't an album that's going to sound kitschy or unfashionable in 10 years like other bands that spend too much time fiddling with their guitar pedals or that try to sound like the next Bandcamp sensation. Where We Were Together is peppered with ecstasy-filled peaks of pure guitar joy, soothing, melancholy vocals and unforgettable, luminous melodies that will rattle in your brain long after the needle leaves the grooves.
Watch Say Sue Me's full Paste session below.