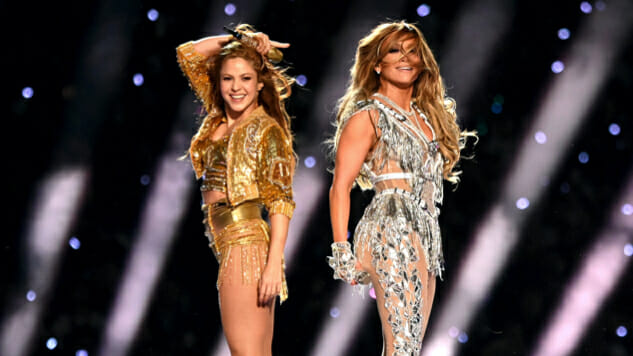 Jennifer Lopez, Shakira, Bad Bunny and J. Balvin took the Super Bowl halftime stage Sunday night in what was an undeniable celebration of the eclectic-ness of Latin music, along with ample commentary on the reality of life in this country for Latinx immigrants and citizens.
J.Lo donned a double-sided U.S./Puerto Rican flag cape, while her 11-year-old daughter, Emme, sang a short rendition of Bruce Springsteen's "Born in the U.S.A." Lopez also had a children's choir accompany her, each child in a small, spherical structure—perhaps meant to symbolize the very-real child imprisonment going on at the U.S./Mexico border.
The show was uniquely bilingual, with guest acts Bad Bunny and J. Balvin performing in Spanish on "I Like It/Chantaje" and "Mi Gente," respectively. But it was clear that this wasn't specifically catered to a predominantly Spanish-speaking or Latinx demographic—it instead argued that Spanish-language and Latin music is deeply ingrained in American popular culture, whether it be from Colombia or Puerto Rico, which is a protected U.S. territory, though with limited rights (such as the right to vote, which is not reserved for Puerto Ricans).
Actually, the percentage of Latinx viewers of the Super Bowl and players in the NFL is pretty low. According to the NFL, only 9% of viewers this football season were Latinx, while less than 1% of football players in the NFL are Latinx.
It's true that other Latinx artists have performed at the halftime show—Gloria Estefan, Arturo Sandoval and Christina Aguilera have also been featured in the show—however, this is the first time where two Latina artists have shared the stage during the show.
Especially considering the fact that Donald Trump (the man directly responsible for the reprehensible conditions on the border and who recently enacted a new rule barring low-income immigrants from becoming citizens) premiered a new campaign ad during the Super Bowl, the effect of his presidency on the Latinx population in this country should not go overlooked.
You can watch the full halftime show featuring Shakira, J.Lo, Bad Bunny and J. Balvin below.