Watch Sharon Van Etten's Enigmatic Video for "No One's Easy to Love"
Images via Jagjaguwar Records
Music
News
Sharon Van Etten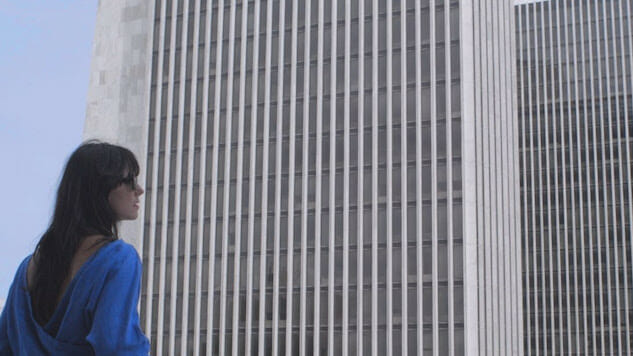 With her enigmatic voice at the forefront, Sharon Van Etten has released the video for her track "No One's Easy to Love."
Featured on her latest album Remind Me Tomorrow, "No One's Easy to Love" sees Van Etten showcasing her unique, powerful vocals. With a steady yet mellow synth riff, Van Etten croons about the pitfalls of love.
The video, directed by Katherin Dieckmann and shot in Empire State Plaza in Albany, N.Y., features cinematic shots and an overall melancholic feel. With neutral shades of grey and stone etched throughout the video, Van Etten is the focal point with her contrasting bright blue and red shirts. The video is seemingly abstract but has a cinematic quality with its fluctuating wide and close-up shots.
The video isn't the first time Dieckmann and Van Etten have worked together, either. Dieckmann directed the video for "Jupiter 4," as well as photographed the cover art for Remind Me Tomorrow.
"Happy to share another video I made with my dear friend Katherine Dieckmann. Stark, simple, raw," Van Etten said in a statement. "She allowed me to be myself as she took the reins with capturing my performance in her favorite part of downtown Albany."
Van Etten has also released videos for "Seventeen" and "Comeback Kid," which are both singles off Remind Me Tomorrow, as well.
Watch the video for Van Etten's "No One's Easy to Love" below, revisit her 2010 Daytrotter Session further down and find out where Remind Me Tomorrow landed on our list of 2019's best albums (so far) right here.