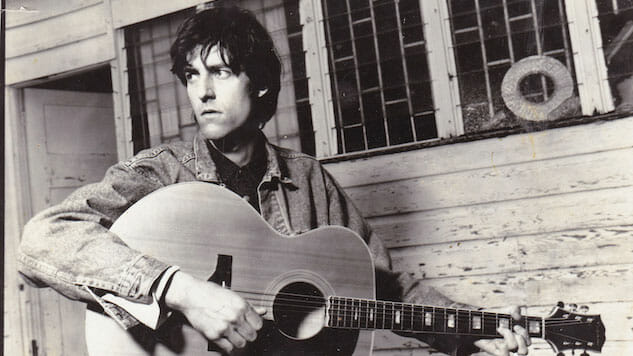 Simon Bonney doesn't have to worry about trying to make a living from his music. The Australian-born singer-songwriter has his job managing aid programs for non-profits around the world to keep he and his wife afloat. It's work that has allowed him to bounce around the world, letting new songs come when the mood strikes or inspiration hits.
As comfortable and content as he sounds when we recently spoke with him, things weren't always so simple for Bonney. Through the '80s and early '90s, he scraped by, making music with his post-punk band Crime & The City Solution (one version of the group made a brief on-stage appearance in Wim Wenders' 1987 film Wings Of Desire; another contributed to the much-loved soundtrack of that same director's Until The End Of The World). After that band's dissolution, he and his wife, musician Bronwyn Adams, moved to the U.S. and let the roots music of his newfound home infect his own songwriting over two marvelous but underappreciated solo recordings, 1992's Forever and 1995's Everyman. But things stalled out soon after he recorded a third solo album and he put music on the shelf for a while to support his family.
While another version of Crime & The City Solution briefly came together earlier this decade, Bonney's purposefully kept himself out of the grind of the modern music industry. But he's about to pop his head back aboveground this month with a run of shows performing alongside Mark Lanegan (tour dates listed below) and the forthcoming release of Past, Present, Future, a fantastic collection that pulls tracks from his two previously-issued solo albums and a few tunes from his unreleased record, Eyes Of Blue. Put together, the tracks flesh out a previously sketchy portrait of an artist that, in spite of better-known fans like Lanegan, should be more widely known. Bonney's songs of existential woe, institutional ruination and personal anguish are presented with the dusty heat of a Morricone soundtrack or Dylan's creaking abstractions from the '70s.
Paste spoke with Bonney via Skype from his current home in Thailand about bringing this music back into circulation after 20 years, wrestling with the creative muse and how the outside world affects his art.
Paste: You're living in Thailand these days. What took you out there?
Simon Bonney: Taoism was something that interested us. We went there to look into that. Then we found a house that was built by feng shui masters and we thought it seemed like a nice place for us to stay for a while, so we did.
I ask that because you've lived quite the nomadic life, moving from your native Australia to the U.S. and Berlin and beyond. What inspired that constant movement?
I do end up in strange places. Or unexpected places. Chance more than anything else. For the last decade, I've lived and worked in Papua New Guinea, the Marshall Islands. Most recently in Bangladesh. I think I'm most interested in traveling to new place and seeing how they differ from where I've been before. What the similarities and connections are between places and people. Obviously, Papua New Guinea has its roots in tribal culture and have a different emphasis on relationships than we would have in the West. That's interesting to experience.
How do you see that travel and living in these different places feeding into your creative work?
I'm sure it does. America had a major influence because America is the dominant world culture. You grow up with it in Australia. You can not but be influenced by it through television and movies. So to then go to live there and experience it through an Australian's eye, something that you've grown up with through an almost mythical aspect to your life. I think very much the same ways with Wim Wenders with his road movies in America were a reflection of growing up in Germany with this American culture that is very familiar and yet it's distant because it emanates from a place you haven't lived in. It's an interesting experience for anyone who does that to go actually live in the country that produces the mythology.
The other countries…they do. The recent ones have had an impact upon me. They will come in the new songs. All my travels, I write about what I'm experiencing. Two things that interest me are the macro view—the power dynamic between nation-states and powerful people and the people they govern—and the micro, which is the relationship between a set of individuals within small family groups or between people in a relationship.
This new release does feature some unreleased material but is mostly songs from your other solo albums. Are you thinking of this as a kind of overview for people who may be unfamiliar with your work?
That's exactly it. It just seemed like the right time. I had some space work-wise. I wanted to take a year off to re-center and gather myself, confronting some of the work that I've done. There was this third record that was called Eyes Of Blue that was recorded in Detroit in the '90s that had not been released. It got close on many occasions. The music industry kept imploding and each time it did, it got harder to release it. I went to Daniel [Miller, founder of Mute Records] and asked him to release this and he kindly agreed.
Also, I think that for me personally, "Everyman" which I was able to recompile back into one song, lyrically it's about those for whom the future is filled with trepidation with the effects of globalization and decreasing work opportunities…people seeking to hold onto their identity who feel that there's not a place for them in the future. That seems to be more relevant now than when I wrote it in the '90s. That also felt like a good time to bring that out.
Having lived and worked in as many different places as you have and has seen some of the worst situations with your work, how has that been to see the world come to more starkly reflect this song of yours from 20 years ago?
I think that's yet to be understood by me. What I've done over the last decade, you'll feel that in the newer songs. However they get into the new songs, they will make themselves known to me in the writing process. Songs take on a life of their own. The older songs were very America-centric. They relate to being in America and having children in America. I went on to, after music, while still living in America, act out some of the songs as my life went in that direction. I ended up driving trucks and feeling the insecurity of being an independent contractor that many people in America do.
Detroit, where you recorded the Eyes of Blue material has been something of a musical homebase for you. What was it about that city that drew you to it?
There's a certain lowkeyness about Detroit. Also Dave Feeny who runs Tempermill Studios there, I like recording with him. The last two records that I've done—both the Crime record and Eyes of Blue—were both recorded in this studio. If I record new material, it will probably be with him. It's comfortable. We just stay with friends. It's not like I go out that much there. It just sort of feels like home. It still has that feel that Melbourne, where I spent a lot of my life, it's got a small tight-knit community that's protecting itself from the broader community. Detroit's like that. It can be quite a harsh city and within that you've got this small community of musicians that stick together and form this counter-community. It feels very supportive.
One of the newer songs on Past, Present, Future was a cover of Scott Walker's "Duchess." Its release is sadly a little fortuitous with his recent passing. But it seems like you weren't necessarily a fan of his work before, that this was introduced to you by Matthew Smith, who played on the sessions for Eyes of Blue.
Someone asked me to write some words about his death and I thought it would be disingenuous because I'm not that familiar with his work. I've heard that song, obviously, because it was played for me and I thought, "That would be an interesting one to do." And I did love the fact that I had no idea exactly what it is he was trying to say. The words certainly conjure up images. But as far as an understanding of his narrative, I wouldn't claim to have one. But it's not important. I don't think songs have to be that specific. They create mood and he certainly created mood with that song. I've heard some other songs by him, his earlier stuff. But no, I heard him in the background and sometimes it comes to the foreground but not in the same way that bands that have influenced me like The Velvet Underground.
From what I've read about you, it seems that your interest in making music and writing new songs tends to wax and wane. Has that always been the case for you?
I was pretty dedicated to being a musician up until the end of Everyman and then life took me down a different road. The third record couldn't get released and I had young children. From that time, that was the mid '90s, I went back to Australia and went to university and went off on a completely different journey. It's always been possible for me to do things outside of music. For some of my contemporaries, that's not the case. Rowland Howard was a musician…I don't think Rowland could have held down a 9 to 5 job. Maybe he could have been something else in the arts, but he had to be an artist. He didn't have a choice. I enjoy art. There's some things I don't like about it, but there are other things that I find equally interesting to pursue. And so I don't want to write if I don't feel inspired to write. I haven't been in a number of years. But with this record coming out, I've begun writing again. It's been very refreshing. It's been really nice to sing and play the guitar.
It's good to hear that you don't feel it necessary to force it and that you can let your life outside of the music world feed into your work and vice versa.
I think, realistically, it's unrealistic for me and many people these days to imagine that I'm going to sell a lot of records or make a living out of music. In a way, that frees up, for me. If I was to think about it, I'd feel disappointed for younger musicians. It must be incredibly hard to financially be able to support yourself being a musician. But, for me, I have other things that I do. At the minimum, I can put a SoundCloud account up and just record songs and put them up in there and not be dependent on having to generate income. That certainly puts me in a comfortable place as far as what I do once this record comes out and after the tour is finished. If there are other shows to play, great. If not, that's fine.
As for the future, you've talked about wanting to do two new albums; an acoustic album and an electric album. Is that still the case?
Yeah. It's fluid, so it could end up being all electric. We've had a few minor bumps on the road in realizing that, but the house we've got in Thailand, I'd like to record some acoustic songs there because there's some amazing acoustics. You just stick a mic up and it sounds amazing. But there are some electric songs that I'd like to record, probably in Detroit. I'll just have to feel my way around that and be open to how they eventuate. And how I can make that happen with financial considerations. And also just to work out where I want to go: down the SoundCloud route or pursue it in a way that would take up more of my life. I just haven't decided.
Simon Bonney U.S. Tour Dates w/ Mark Lanegan:
May 5 – Nashville, TN – Mercy Lounge
May 7 – Chicago, IL – Bottom Lounge
May 8 – Detroit, MI – The Shelter
May 11 – Baltimore, MD – Ottobar
May 13 – Boston, MA – The Sinclair
May 14 – Brooklyn, NY – Warsaw
May 15 – Philadelphia, PA – Underground Arts
May 16 – Asbury Park, NJ – The Stone Pony