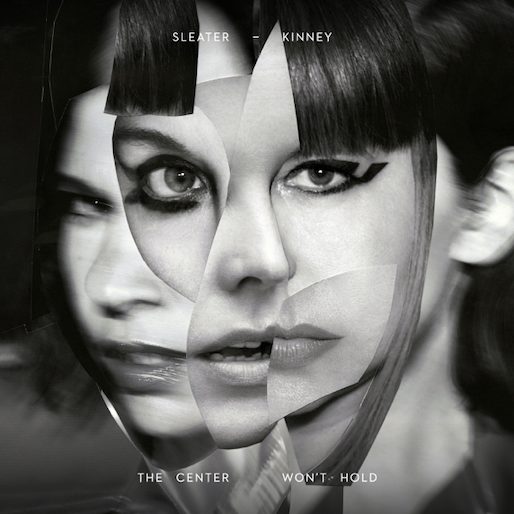 There is no room for nostalgia in Sleater-Kinney's reunion. The band's excellent 2015 reentry point, No Cities to Love, was not exactly a rote run-through of past glories. And the trio (now duo) did not spend 2017 going around playing Dig Me Out on some obligatory 20th anniversary run. It barely even feels like a reunion at this point—how has this band not always been here, making its bass-resistant racket and soundtracking our slide into right-wing authoritarianism?
"We… wanted to make sure what we created didn't consist of anything broken, that it was three whole selves with the same hunger," Carrie Brownstein wrote of reuniting in her 2015 memoir. The Center Won't Hold, the band's ninth album, buzzes with that trademark hunger, the requisite urgency, except here it's channeled into glitzy flirtations with synth-rock, industrial, and glam instead of punkish abandon. It is both quintessentially Sleater-Kinney and entirely unlike any record they've made before—which makes it a thrilling listen even during the rare moments that don't quite gel.
Like 2005's The Woods, The Center Won't Hold finds Sleater-Kinney bringing in a big name producer to jolt their routines and play more than a symbolic role in the record-making process. Except this time, the friendly intruder is art-rock maestro St. Vincent, not Dave Fridmann. And unlike The Woods, which was largely tracked live—all the better to reimagine the band's sound as a ferocious Zeppelin-esque roar—Center finds Sleater-Kinney more inclined than ever to utilize the studio as an instrument.
That's apparent during the first seconds of the immense title track, which opens in a whirring loop of percussive machinery drones. Before Brownstein's voice comes in, desperate and pleading, you might think you had queued up a Nine Inch Nails project by mistake. And it is especially apparent during an odd, slithery number called "RUINS," which climaxes with apocalyptic imagery ("Eat the weak and devour the sane") and heady synth freakouts that resemble something Brian Eno might have conjured on Remain in Light. It's an intriguing, if plodding and overlong, experiment.
I won't speculate as to whether the album's heightened incorporation of programmed drums contributed to Janet Weiss's recent departure in between its recording and release. It is striking to hear a tinny drum machine lead the way on "LOVE," or burbling synths hovering around the backbeat on the infectious Corin Tucker-sung highlight "Reach Out," but the band is hardly going full Zooropa. This is a rock record, and Weiss's propulsive drumming remains central—just check the title track's explosive denouement.
Brownstein sings lead on more than half of these tracks. She has never sung with more vigor or swagger, and Center has some of her catchiest tunes to date: "Can I Go On," which boasts such an energizing groove you almost don't notice it's about battling malaise, and "Restless," a quasi-ballad cousin of "Modern Girl." Later, the Portlandia star shepherds the band through a disarmingly poppy major-key chorus on "The Dog/The Body." (Only "Bad Dance," a noxious punk experiment replete with handclaps and a guitar riff slightly reminiscent of the "Mahna Mahna" song, falls flat.)
At its best, The Center Won't Hold is an urgent and deliriously impolite record about powering through exhaustion, despair and the ambient dread any feminist feels pretty much constantly in 2019. "RUINS" and "Bad Dance" both contain overtly apocalyptic lyrical references: "Never have I felt so goddamn lost and alone," Tucker wails on "The Future Is Here," her voice rising in intensity with each successive syllable.
Tucker's songs have always been more direct, more plainspoken—there was 2002's "Sympathy," her plea to God to protect her premature newborn, or 2000's "#1 Must Have," a staunch critique of corporate commodification of feminism. She takes the lead on this record's deeply unexpected and moving climax, a Rihanna-inspired piano ballad written about Christine Blasey Ford. "She stood up for us when she testified," Tucker sings of the woman who rose to describe a sexual assault at the hands of Brett Kavanaugh. It's a welcome moment of vulnerability on an album that otherwise presents a sleeker, modernized modification of the Sleater-Kinney sound.
And it's not some trendy gesture; as Brownstein noted in a recent Guardian profile, "we've been addressing the #MeToo movement and shitty patriarchal systems of injustice and subjugation since 1995." Full of transformation and deserved indignation, The Center Won't Hold is the first Sleater-Kinney album since the rest of the world started to catch up.