Sleigh Bells Release Edgy Cover of Lead Belly's "Where Did You Sleep Last Night"
The cover debuted in the recent trailer for Reed Morano's The Rhythm Section
Photo by Chris Vultaggio
Music
News
Sleigh Bells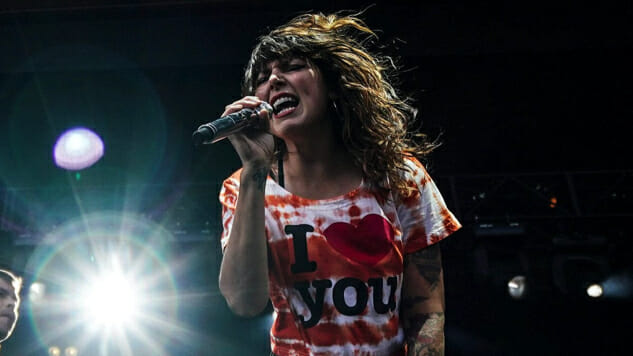 Under the sound of car crashes and explosions in the trailer for Reed Morano's The Rhythm Section last month, you may have heard some familiar lyrics in a very different tone. As personally requested by Morano, rock group Sleigh Bells (Alexis Krauss and Derek Miller) covered the Lead Belly classic "Where Did You Sleep Last Night" for the film, and it retells a well-known story in the gritty-pop band's signature style.
The track opens with a raspy and haunting edge to Krauss' voice against the glimmer of the guitar. The drawn-out beginning of the track tricks us into a near-silence before we plummet into the drum-heavy sector of the track, Krauss' voice a steely equal to the percussion. After the cardiac intensity of the middle, the energy drops off to a twangy acoustic ending that harkens back to both the Lead Belly original and famed Nirvana cover. The band takes us through a narrative journey of both sound and lyrics through their rendition, making it a fitting cover for what looks to be a gritty action film.
Miller and Krauss first meet Morano in 2013 on the set of the video for their titular track to their album Bitter Rivals, and kept in touch over the years. This summer, Morano made the request for the band to cover the famous track, which made the duo feel "apprehension" over tackling a song immortalized by Cobain, but they "decided to give it a shot," they explain in a statement.
"Reed and her team made an incredible trailer, and we're happy to share the full version of our cover today," the band add.
Listen to the track solo or in the intense trailer below. Paste last caught up with Sleigh Bells back in 2017—check out our interview here.