Are We Ready for the Early-2000s Radio Pop Comeback?
Soccer Mommy's new album has that distinct turn-of-the-millennium sound. Meanwhile, an actual 2000s teen star returns. 20 years ago, both LPs would've been hits.
Photos by Michael Hickey/Getty & Mark Davis/Getty
Music
Features
Soccer Mommy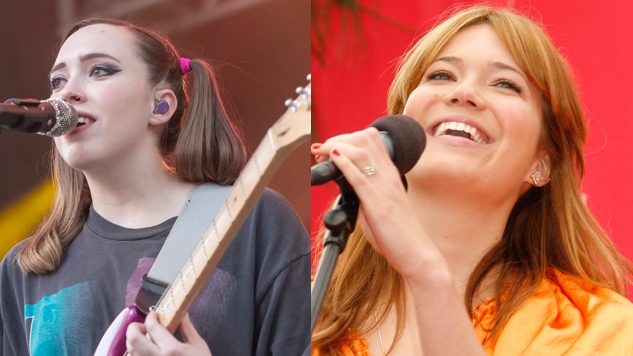 In a recently published interview with The New York Times, actress and musician Mandy Moore said she knew, in 1999, she was in "distant fourth" place in the race for the new millennium's crowned princess of pop. Ahead of her were, of course, Britney Spears, Christina Aguilera and Jessica Simpson. Moore was a double-threat actress with a good-girl persona.
If you were alive during this era of popular music, those names may spark the sonic memory of a mellow wash of post-hip-hop, post-grunge teen pop. If you're alive right now, you may have recently heard a similar combination of glossy production and slippery synth from Soccer Mommy, aka the indie-rock band fronted by Nashville singer/songwriter Sophie Allison. Almost everyone writing about Allison's new album color theory, out now on Loma Vista Recordings, has compared it to late-1990s/early-2000s radio pop (our critic also rightly likened it to '90s alt-rock), including Allison herself: In a recent episode of Song Exploder, she compared swirling single "circle the drain" to the music from her childhood, including Sheryl Crow's "Soak Up The Sun."
The song has been heralded by music publications and fans everywhere (including Paste) as one of the catchiest—and best—songs of the year so far. But if "circle the drain," a hypnotic hook fest, had been released, say, 20 years ago, around the time of Spears' reign alongside boy band titans like *NSYNC and the Backstreet Boys, just as follow-ups like Michelle Branch and Natasha Bedingfield were taking over with their own twisty pop hits, it would've also been a radio smash. During this week in 2000, Faith Hill's "Breathe"—a country song, but, still, in that same mellow pop vein—was sitting at number three on the Billboard Hot 100 chart. It would later come out on top as number one for that year. Two years later, in 2002, Avril Lavigne's "Complicated" (also one of Allison's cited inspirations) peaked at number two. In the late-90s and early 2000s, sad, curious women ruled the charts. It's just the way it was.
"Hey, I've been falling apart these days," Allison sings on "circle the drain." "Split open, watching my heart go 'round and around…" It's a moving metaphor for the cyclical nature of depression. But it's also a lot like that overly optimistic Crow tune from yesteryear—full of sunny acoustic chord progressions, chirpy drum machines, overwhelming electric repetitions and emo-like vocal inflections. Pop music can also be cyclical, it seems. If only the year 2020 allowed someone like Allison as much chart clout as Crow in 2002!
Another artist who's culling from the century's start is the aforementioned Mandy Moore, who has a leg or two up on the 22-year-old Allison just because she was actually a working musician during that time period. Movies like The Princess Diaries and A Walk To Remember elevated her to pop culture buzz word, and her albums So Real and I Wanna Be With You were MTV favorites.
Now, no longer a major-label plant being cultivated for teen pop stardom, or, as she also discussed in the New York Times, under the watch of her emotionally abusive ex-husband and creative partner Ryan Adams, Moore is back making the music she wants to make. And that music, as it turns out, sounds a lot like another early/mid-2000s pop trend: folk pop. Moore's new album Silver Landings is a steady blend of coppery Americana (thanks in no small part to Moore's current husband and folk/rock veteran Taylor Goldsmith, the Dawes frontman who co-wrote and performs on the record with Moore) and soupy pop. It's not at all the showy, watery fanfare of C'mon C'mon, but it still glistens with the poppy sheen that defined other folk-leaning pop singers from the early 2000s, like Colbie Caillat and KT Tunstall. Two decades ago, songs like "Tryin' My Best" (an Alanis Morissette-like rocker), the gauzy "When I Wasn't Watching" and the gentler "Stories Reminding Myself of Me," all Silver Landings highlights, could've easily been radio favorites.
Moore's new music, while occasionally recounting the darker sides of her rise to This Is Us fame and her unfortunate experiences as a woman in the music industry ("Easy Target"), is generally pretty uplifting. And while the majority of color theory is music of the depressive, devastated or self-deprecating variety, songs from these albums could exist on a playlist together. They could've played during the same radio hour in 2004. Another commonality: they sound almost nothing like anything on the Billboard Hot 100 today. Now the question remains: Will any other artists, indie or otherwise, follow Allison's and Moore's lead and make a 2000s-throwback of their own this year? There's no telling, but you can bet your CD collection we'll be listening closely to Alicia Keys' new album later this month. If anyone can join these two and make the 2000s seem even cooler, it's her.