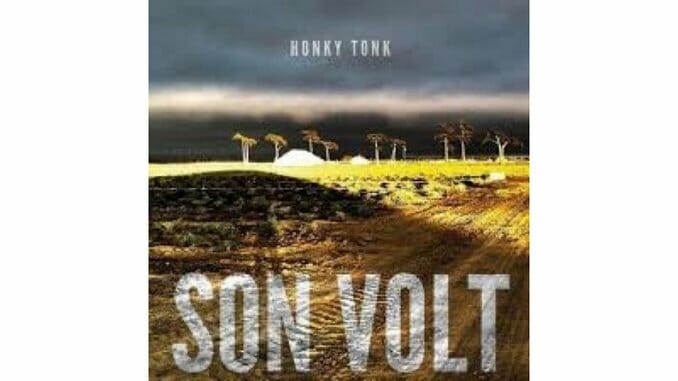 From the end of Uncle Tupelo to the first round of Son Volt to Jay Farrar's solo career to the new Son Volt, the band has been taking Americana traditions and playing with them and turning them into idiosyncratic sounds that allowed the group to move past the early alt-country movement and have sustained importance. This time around, Farrar focuses more precisely on honky-tonk (not surprisingly, given the album name Honky Tonk), even naming a track "Bakersfield." Farrar's been interested in pedal steel guitar playing, and this album emphasizes the instrument, played primarily by Mark Spencer with Brad Sarno. While the idea of the album sounds like perfect fit, especially considering it's a sound the band's touched on since its beginnings, the actual album plays a little flat, being something more unique than a genre exercise, but lacking the meat you'd expect from a Son Volt album.
The band's execution is a problem, but the tight playing accurately reflects the lack of risk-taking, and Honky Tonk remains too comfortable. It's not so much that Farrar adheres to convention (you wouldn't confuse this with, say, a Buck Owens collection) as that he doesn't do enough to put his own imprint on the music. "Hearts and Minds" opens the disc with a nice waltz, a good choice, suggesting the aesthetic to come. "Brick Walls" follows, with the sound and language of a traditional country number. Then Son Volt does that for nine more tracks. Each of these tracks is well-executed, fine music, but there's little surprise. Even that would be fine if there was more to latch on to. The mellow grooves sound classic without being redundant, but they never sound essential.
Even so, Honky Tonk has its appeal, and Farrar has clearly learned how to put together an album. The opening chords of "Barricades" provide a great transition out of the mid-tempo "Seawall," suggesting a build to come, but the track only partly delivers on that promise, offering more through tempo changes than through intensity. Smart and professional, the disc depicts its mood, providing a short, focused run. What it fails to do however is make it feel like this particular music matters, a feeling that came across on both American Central Dust and New Multitudes, and even on the Gob Iron album with its brief instrumentals.
There may be too much of form and plan here. Farrar had a new instrument and a genre of focus (rather than broader sweeps of "roots" or "Americana," whatever those terms really mean), and Honky Tonk handles those things well. Maybe this album needed to be made, but if Son Volt can roll this process into new explorations on a future album, that could provide fascinating music. As it, this recording feels more like a pleasant diversion rather than a necessity.