Getting Fired By Songs: Ohia
Or: The impossible math of early 2000s indie rock touring
Photo by Thomas Heath
Music
Features
Songs: Ohia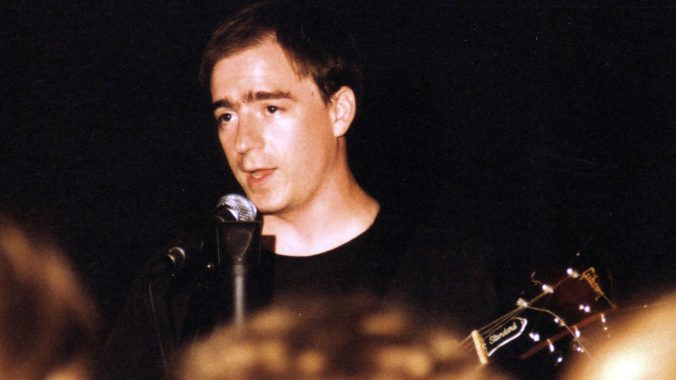 Jason Molina thought I was stealing from him. The final show of Songs: Ohia's fall tour in 2002 was in Seattle, where I was living, and Molina stayed at my house that night.
After the gig, we sat at my mediocre kitchen table and talked about the tour. Jason was in nondescript boots, and his clothes were in dark colors. The walls of my kitchen were painted highlighter yellow, the wrong yellow, and the floor was covered in primer-grey sticky tiles I installed on top of the old orange linoleum. I hadn't pushed the tiles together tightly enough when placing them, so they floated around a bit. Crumbs and cat hair filled the little gaps that formed when the tiles shifted. Out the window over the table, Jason's rental car, a Buick or Chevy sedan, was parked in the gravel the neighborhood had instead of sidewalks.
Jason told me tales from the tour, voiced a couple complaints about a venue or promoter, and sang praises of the fans and the cities. If you knew Molina, you knew him as a devoted myth-maker. We talked about the future, and touring more.
"Let's settle up your commission, yeah?" Jason said.
---
When I was a wee-baby agent, I worked from my half-finished basement, ripping cigs indoors under the low ceilings, holding a cordless phone with my shoulder and tapping away on Apple's first truly-tiny laptop. The goal was to represent a few artists who could sell out the Bowery Ballroom in New York City; 575 tickets.
I learned the job from Trey Many. I was the second employee at his independent booking agency which he ran with no help and no direction, making it up out of necessity for his own band and a few bands he loved flying too low below the radar to get a real agent.
"Man, it's tough, huh?" I said.
"We gotta build these bands. We need a few who can sell out the Bowery," Trey said.
We said this kinda stuff all the time.
Agencies make their money charging commission—typically 10%—of whatever the artist they're representing makes at a gig. In those days, I kept the lion's share of that little slice, and my overlord Trey took a laughably-low and unsustainable bite from it to cover agency expenses.
The Bowery Ballroom pays artists 55% of ticket sales. The artists Trey and I were booking charged anywhere from $6-$10 for a ticket. On a Bowery sell-out at ten bucks, the artist walked with around $3100, and I'd get $268.
With gas and food, maybe a cheap hotel, a parking ticket for the van during their time in the city, and paying us, the band will get out of town with a little dough left over, but they're heading somewhere which is not New York City for the next show. If you're a $3000 band at the Bowery, you're $500 or less in so many cities and towns. Let it be known: It was nearly impossible for bands then, and it remains ruthless today, but that's someone else's essay or exposé.
For Agents Adam and Trey, the earnest goal of a few bands forking over a couple hundred dollars after hitting the biggest market in North America—a market they might play twice a year if they're lucky—was delusional, but an argument could be made that delusions fuel the whole thing.
---
"Sure, we can settle now," I told Jason. "We'll email an invoice later."
It had been a co-headline tour with Damien Jurado. The two of them split the money down the middle, and flip-flopped who closed the show each night. Damien was booked by Trey, so it was an in-house package for the agency, but we wouldn't have known to call it that at the time.
Molina flipped a notebook open to a hand-drawn grid listing the dates and his payment each night. "I've got my take at $8775.37," he said. He unzipped a bank purse and pulled out a stack of bills.
"Great, so that's $877.53 to the agency," I said. "We can call it $875 even. Easy."
"Right, but this was a co-headline tour," Molina said.
"Yeah, man. Stoked we were able to pair you guys up," I said.
"And you guys represent Damien, too," Molina said.
"Yeah, totally. Trey will settle up with him," I said.
"So, we should pay 5% each," he said. "By my math, I owe you $438.77."
I blinked. I looked at Molina's notebook, and back at him.
"You can't double dip," he said. "You guys can't take 20%."
"So these numbers," I said softly, pointing at his ledger, "list what you made, as Songs: Ohia? Damien would have the same numbers for his take?"
"That's right," Molina said.
"Right, so if you each pay 10% after you've split the money, it's not double dipping," I said. "You know what I mean?"
"No. It'd be 5% each since you represent both of us," he said.
I blinked some more. I asked him if I could use a new page in his notebook, and scribbled down an equation. "Okay, so if we were commissioning before you guys cut the money up, taking 10% of the total, it would be this amount." I circled it.
Jason shook his head.
"But if we commission after your split it," I said, putting more dumb numbers down, "you can see it's the same total."
Molina wasn't interested. He took a rubber band off one of his stacks and started counting out bills. "Well this cuts into the tour profits big time," he said. "Doesn't seem fair that you're both taking 10%."
He didn't round down. When he got to $877 in twenties, a ten, a five, and some ones, he dug around in his bank pouch, then in his pockets, pulling together the change for the last 53 cents. He put the remainder of the cash back in the bank bag and put it into his backpack along with the notebook. "I'm going to hit the sack," he said, and headed to the spare bedroom.
I hadn't ripped Songs: Ohia off, but was devastated that Jason thought I had; that I would. I struggled to fall asleep, running through new ways to explain the math in the morning so we could say goodbye with an understanding.
When I woke up, the door to the guest room was open, and the bed had been made. Out the front window, I saw Jason sitting in his rental car, engine running, a map unfolded over his face. I scanned the house to see if he might have left a note or something, but nothing. I didn't go outside. I ducked behind the curtains when he collapsed his map, put the car in gear, and pulled away.
A few days later, after Molina drove across the country back home to the midwest, he called and told me Songs: Ohia was moving on, and would hire a new agent. It was a quick call with no room for discussion. Jason said he wanted someone who "sits in front of their fax machine all day." I've never unwrapped that riddle, but even then I knew it was a thin cover for lost trust.
Sometimes you get fired. To move on, you tell a story about how wrong the artist was, and how righteous your work and intentions were. You tell the story several times and build up a coat of anger over the soreness. Eventually, it's a core grievance, and if you're like me, you ride that shit for decades.
For 20 years, I thought this was a story about Molina being an asshole, or an idiot, but last week I asked Trey to dig into his old agency archives for the details of this tour. He sent the info, and now I see many reasons Jason might have felt badly at my kitchen table at the end of that run.
The routing was punishing; impossibly long drives with only two nights off across 23 days. They played a DIY art gallery in downtown Detroit in 2003. Maybe it was cool, but it definitely wouldn't have been encouraging. I see the Mermaid Lounge listed for New Orleans. That had to be brutal. I'd be stunned if more than 15 people were there.
There are some nice things happening on the routing, too, no doubt. Kevin Seconds promoted a show at True Love Coffeehouse in Sacramento. 7th Street Entry was in the mix in Minneapolis. I'm sure that stoked the guys out with the punk rock history in that little annex next to the big room, First Ave., with its Prince and Purple Rain. But, the average capacity of the venues was 285. The Bowery-size dream was not yet realized. The money was atrocious. Most of the tickets were $7.
I'm taken aback to see that the Seattle show included Low as the headliner. Low were bigger than Damien Jurado and Songs: Ohia, and with Jurado being from Seattle, Molina played 1st of 3 on the bill. A show with those artists together is magic in the rearview. Tragically, only one of them could play today in any city, but on the ground that night in Seattle, it would have been a blow for Molina to be made the opener.
I've poked around to see if Songs: Ohia ever made it to the Bowery Ballroom. I see no evidence of it happening. When Molina canned me, he'd not yet made the classic Songs: Ohia album Magnolia Electric Co., but I suspect he already had some of the tunes.
Mama here comes midnight, with the dead moon in its jaw
Must be the big star about to fall
Perhaps he'd already written it down. How could I have been mad that he was bad at math, my god.
---
Adam Voith is a booking agent, a writer, and the editor of the free magazine, Little Engines. You can find recent writing, photos, and more at wristslikesteel.substack.com.