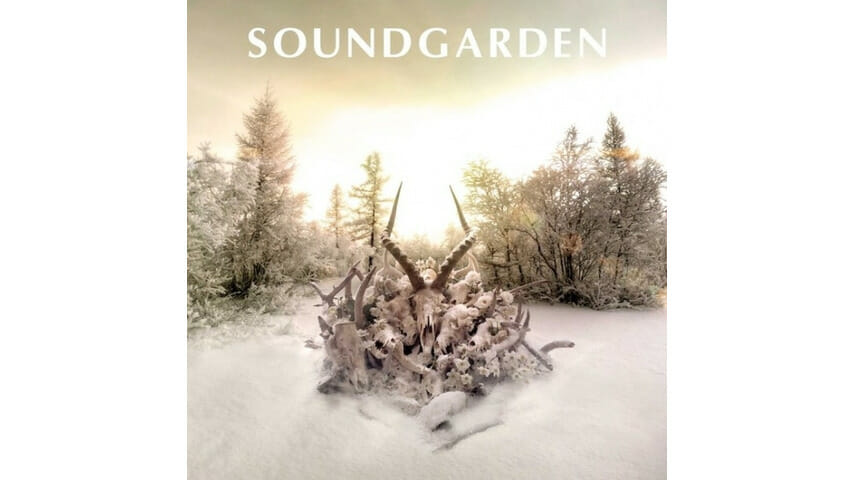 When grunge thudded and thundered onto the sludgy scene in the late 1980s, the music world was a different place. Sub Pop was pioneering the sound of the new genre that took influence from heavy metal and punk and that served as a simultaneously angsty and apathetic reaction to mindless pop pervading the airwaves at the time.
So even though Sub Pop is putting out fluffy Fleet Foxes records these days and the Pacific Northwest is now more recognized for hipster humor heralded by Portlandia, rather than as a hotbed for hardcore, in some ways, not much has changed in 15 years since Soundgarden released its last album. The same inane music has shifted from radio to YouTube, but rock has continued to find reasons to exist and roles to fill in a crowded musical landscape.
On the group's sixth studio album, King Animal, Soundgarden surprisingly and successfully resurrects the sounds of its inception. Kim Thayil's extreme fuzz and squealing solos, Ben Shepherd's hammering bass, Matt Cameron's powerful percussion and of course, Chris Cornell's trademarked vocal chord-straining howls don't just make appearances on King Animal, they feature prominently. Four out of the first five tracks ooze heaviness beginning with first single "Been Away Too Long," which serves as the self-aware and self-righteous homecoming song. In fact, the opening riff to "By Crooked Steps" hearkens back to 1989's Louder Than Love and "Blood on the Valley Floor" is almost reminiscent of "Outshined," off 1991's Badmotorfinger.
Later in the album, Soundgarden mellows out with the back-to-back and decidedly less stimulating "Black Saturday" and "Halfway There." However, the rhythmic album-closer "Rowing" serves as an effective grunge ballad in the vein of "Like Suicide" off 1995's Superunknown.
Comeback albums are notoriously difficult to conceptualize and actualize and King Animal took more than a year to create after the band spent a decade and a half on hiatus. While this record lacks the canonizing tracks like "Jesus Christ Pose," "Black Hole Sun," "Spoonman" and "Burden in My Hand," Soundgarden deserves to be commended for recapturing the feeling of grunge and reintroducing it today.