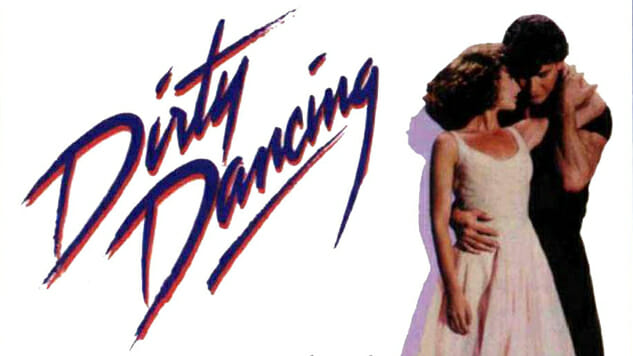 While 1987 might not be the first choice that springs to mind when thinking about which years have delivered the strongest soundtracks, the year certainly holds its own in the discussion due to its less-is-more approach to overall impact. What 1987 lacks in the quantity department, it more than makes up for in the adventurous quality of what's contained within each album's varied collection of songs. A look at the year's film-affiliated offerings reveals an interesting mix of trendsetting musical frontrunners, nostalgic throwbacks, and a couple left-of-center outliers whose true zaniness cannot be expressed through words alone.
In a year that saw era-defining releases from Michael Jackson, U2, and Whitney Houston holding court at the top of the album charts, it's important to remember that the sepia-toned soundtracks to La Bamba and Dirty Dancing both held the No. 1 spot for multiple weeks, as well. Something about the mid-century musicality of these retro-tinged releases really whipped the 1987 record-buying public into a frenzy, but audiences responded to the continuing mid-'80s rise of pop, hip-hop, dance, and pre-commercialized alt-rock as well. Occasionally, the old and new were even haphazardly blended together to try and reach both camps, which is the only explanation for the goofy, you've-got-to-hear-it-to-believe-it Back to the Beach soundtrack.
In honor of their collective 30th birthday, here are 10 must-hear soundtracks from 1987 to remind us all what a year in musical limbo truly sounds like.
1. Less Than Zero, Various Artists
As far as soundtracks go, the (mostly) Rick Rubin-produced Less than Zero excels at having both an incredibly diverse tracklist (e.g., Roy Orbison and Slayer) and also a wealth of stellar "you heard it here first" material. Four of the album's 11 songs hit the Billboard charts, including Public Enemy's "Bring the Noise," LL Cool J's "Going Back to Cali," and Poison's cover of Kiss' "Rock and Roll All Nite" (with all three songs debuting on this soundtrack). However, it was The Bangles' amped-up version of "Hazy Shade of Winter" (originally released by Simon and Garfunkel) that drew the biggest attention, climbing all the way to No. 2 on the Billboard Hot 100 and spawning a wonderfully prototypical "band performance plus movie scenes" music video that garnered heavy rotation on MTV. While the drugs-and-decadence tone of the film may not have resonated with all audiences, there was certainly something on the soundtrack for most anyone's musical tastes.
2. Who's That Girl, Madonna
While the charmingly flawed Madonna-led film tanked at the box office, the Madonna-led soundtrack earned the multi-threat artist two hit singles, a Top 10 Billboard 200 ranking, and worldwide album sales of over six million. While the soundtrack also featured songs from Scritti Politti, Club Nouveau, and others, it's solely credited and catalogued as a Madonna release. Of her four contributions, "Who's That Girl" topped the Billboard Hot 100 and "Causing a Commotion" got as high as No. 2 (just missing back-to-back number ones thanks to Michael Jackson's "Bad"). The soundtrack's release also coincided with her widely celebrated Who's That Girl World Tour, earning Madonna recognition for the second-highest earning female-fronted tour of 1987 and signaling her undeniable rise to superstar status. Combined with her chart-topping True Blue album released the year prior, Who's That Girl completed the 1-2 knockout punch that shaped and defined her as one of the decade's foremost pop culture icons.
3. La Bamba, Los Lobos
If you're unsure of the level to which '50s nostalgia reigned supreme in the mid-80s, just know that the soundtrack to La Bamba—a film about the all-too-short life of early rock pioneer Ritchie Valens—went double platinum and was the No. 1 album in the U.S. for two weeks in the early fall of 1987. Lest you think it was a fluke that occurred during some weird window of releases, just know that it overtook the Billboard 200 top spot from Whitney Houston's sophomore smash Whitney and was only dethroned by Michael Jackson's Bad. La Bamba features a standout collection of covers (usually faithful to the source material_ of some of early rock, blues, and rockabilly favorites, with Los Lobos handling the majority of the album's 12 tracks. The album's A-side is comprised entirely of Los Lobos masterfully covering Ritchie Valens songs, including "Come On, Let's Go," "Donna," and the title track, which gave Los Lobos their first No. 1 hit (both domestically and internationally). The album's B-side features covers from contemporary musicians who portrayed other '50s-era musicians in the film—Marshall Crenshaw as Buddy Holly ("Crying, Waiting, Hoping"), Howard Huntsberry as Jackie Wilson ("Lonely Teardrops"), and Bryan Setzer as Eddie Cochran ("Summertime Blues"). The album is rounded out with Bo Diddley's update on his 1956 single "Who Do You Love?" and two more tracks from Los Lobos. The only thing missing from this vibrantly sentimental collection is Santo and Johnny's classic instrumental "Sleep Walk" that's employed so beautifully in the film's heart-wrenching final scenes.
4. Walker and Straight To Hell, Joe Strummer
By the time The Clash had "officially" broken up in early 1986, Joe Strummer had his sights firmly set on film work. The same year, he contributed two solo songs under his own name (and additional music under a pseudonym) to the Sid and Nancy soundtrack, including film theme/cult hit "Love Kills" and "Dum Dum Club." However, it was 1987 that proved to be his composing coming out party thanks to his involvement in the soundtracks to two Alex Cox-directed spaghetti western send-up films, Straight to Hell and Walker. On Straight to Hell, Strummer submitted "Evil Darling" and "Ambush at the Mystery Rock" under his own name, alongside other tracks from The Pogues, Elvis Costello, and others. For Walker, Strummer actually composed the entire film score and recorded a lively 14-track soundtrack of the exotic, Spanish-flavored slink-and-strut that he would continually explore throughout the rest of his career with The Latino Rockabilly War and The Mescaleros. While Strummer crafted the Walker score almost exclusively as instrumentals, he did add his effortlessly cool croon to three of the album's tracks, including the film's theme "The Unknown Immortal."
5. Wall Street, Stewart Copeland
While Frank Sinatra's "Fly Me to the Moon" is probably the most recognizable song associated with Wall Street, ex-Police drummer Stewart Copeland's underappreciated score sonically drives home the film's themes of excess, class, instability, celebration, and deception. Using a variety of aggressive instrumental palettes and contrasting tempos, Copeland's percussion-heavy instrumentals rise and fall with as much surprise and drama as the '80s stock market trade on which Wall Street focuses. Just as the film's characters are in constant moral conflicts with themselves and each other, Stewart's use of antithetical instrumental pairings and contrasting melodic and rhythmic phrases creates a hypnotically tense listening experience that results in a pay-off that's well worth the investment. As an added bonus, physical copies of the Wall Street soundtrack also contain Copeland's frenetic synth score for 1988's Talk Radio.
6. Dirty Dancing, Various Artists
Much like the Stand By Me soundtrack did the year prior, the initial plan for the Dirty Dancing soundtrack was for it to be a fun oldies revival that simply helped set the tone and context of the film's story. However, somewhere along the line of the film's production, the decision was made to spice up the '60s sock-hop collection with some new, contrastingly modern sounding songs. While the 80s-flavored originals still seem a little jarring within the context of the film's mid-century sentimentality, it didn't stop them from overtaking radio and MTV at the time. Patrick Swayze's "She's Like the Wind" and Eric Carmen's "Hungry Eyes" were both Top 5 Billboard Hot 100 hits (charting at No. 3 and No. 4, respectively). The film's sonic cornerstone, the Bill Medley and Jennifer Warnes duet "I've Had The Time of My Life," hit No. 1 on the charts and won a variety of awards, including a Grammy, an Oscar, and a Golden Globe. The soundtrack spawned an "even more oldies" sequel (More Dirty Dancing) that was mostly panned, but did manage to resurrect the 1962 hit "Do You Love Me" from The Contours, giving it a second life on the charts (it went to No. 11) 25 years after its initial release. Overall, the Dirty Dancing soundtrack spent 18 weeks at No. 1, has been certified 11x platinum in the U.S., and has sold over 32 million copies worldwide.
7. Back to the Beach, Various Artists
When Annette Funicello and Frankie Avalon reunited for Back to the Beach, the '80s tongue-in-cheek take on '60s beach party movies, their willingness to pay homage with a campy wink carried over to the film's wacky (re: absolute bonkers) soundtrack. The majority of the album's tracks are playful updates on beloved surf songs, including Stevie Ray Vaughan and Dick Dale guitar duet of "Pipeline," Herbie Hancock and Dweezil Zappa electro-dating "Wipe Out," and Pee-wee Herman's yes-it-sounds-exactly-like-you'd-expect "Surfin' Bird." Frankie and Annette even get in on the action with their own tracks, as Avalon covers "California Sun" and Funicello revisits "Jamaica Ska" with Fishbone (who, like Pee-wee, also appear in the film). One of the soundtrack's more interesting inclusions is the decidedly anti-sun-and-fun track "Signs of Love," which is tellingly credited to 'Til Tuesday & Aimee Mann (even though the band's official break-up was still more than a year off).
8. The Princess Bride, Mark Knopfler
When he wasn't busy fronting Dire Straits, Mark Knopfler spent much of the 1980s composing film scores for a handful of movies, including Local Hero, Cal, Comfort and Joy, and Last Exit to Brooklyn. However, it was his fantastical score to The Princess Bride that seemed to legitimize him as a full-fledged composer, as opposed to just being viewed as a rocker with the occasional side hustle in film work. Mixing acoustic guitars with ambient synth work and the slightest touch of percussion, Knopfler created a sonic palette that beautifully worked in tandem with The Princess Bride's romantic and adventurous fairy tale tableau. The album's only non-instrumental, "Storybook Love," featured Willy DeVille on vocals (Knopfler was producing DeVille's album at the time) and the track earned an Academy Award nomination for Best Original Song.
9. Hail! Hail! Rock 'N' Roll!, Chuck Berry
There was no better way to celebrate rock 'n' roll legend Chuck Berry's 60th birthday than staging a tribute concert, inviting stellar guest musicians to play, and filming the whole thing for a documentary. Hail! Hail! Rock 'n' Roll captured the joyous event on both film and tape, and the resulting soundtrack to the movie is an energizing sonic snapshot of the evening's star-studded festivities. Rolling Stones guitarist (and Berry devotee) Keith Richards played bandleader for the evening, directing a group that included (among others) Berry's long-time pianist Johnnie Johnson and Rolling Stones sax player Bobby Keys. A revolving door of special guests also showed up to join Berry for a song or two, including Eric Clapton on the slinky sashay of "Wee Wee Hours," Robert Cray on the rollicking "Brown Eyed Handsome Man," Linda Ronstadt on the garage groove of "Back in the USA," and a few others. However, even with all of the star power represented between the band and special guests, the night unquestionably belonged to Berry, whose 60-years-young energetic performance and perma-smile attitude made the evening a dual celebration of both man and genre.
10. Beverly Hills Cop II, Various Artists
While the second soundtrack entry in the Beverly Hills Cop franchise didn't quite reach the chart-topping heights of the Grammy-winning first one, it certainly wasn't for lack of trying to repeat the formula. They did their best to recreate the magic with a repeat recipe of one part rock-plus-sax single (Bob Seger's "Shakedown" playing the part originally handled by Glenn Frey's "The Heat Is On"), one part dance-pop single ("Cross My Broken Heart" by The Jets charted just a tad higher than Patti Labelle's "New Attitude" from a few years prior), and one part Pointer Sisters (their new "Be There" didn't quite generate the buzz of their "Neutron Dance" single from the original). However, the biggest barrier to repeat success was the "Axel F"-shaped hole in the second soundtrack's tracklist. While Harold Faltermeyer returned to the franchise and created another certifiably '80s synth score, he didn't get a track on the film's soundtrack the second time around. In fact, apart from "Axel F," none of Faltermeyer's scores have ever been officially released under the Beverly Hills Cop banner. Besides that glaring omission, the Beverly Hills Cop II soundtrack provides a perfect snapshot of the quintessential mid-to-late-80s sonic status quo.