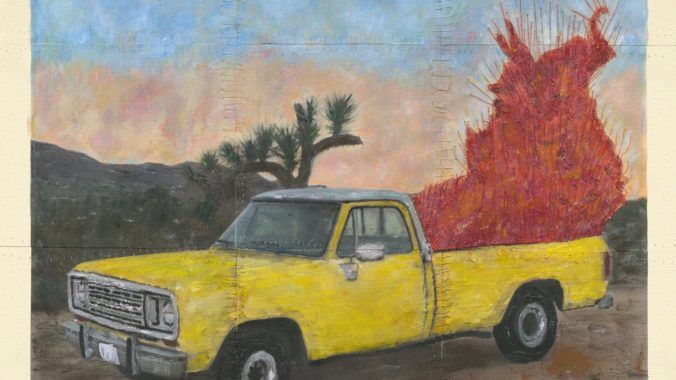 There's a superstition that saying "rabbit rabbit" on the first of the month brings good luck. It's one that Speedy Ortiz frontdemon Sadie Dupuis subscribes to. She's even kept a Twitter thread with the phrase going since February of 2018, and to click through each month's recitation feels like falling down a rabbit hole itself. Rabbit Rabbit is also now the title of Speedy Ortiz's fourth album, though it was never intended to be. According to a recent Fader interview with Dupuis, her bandmate Andy Moholt had commented that the honored phrase would make for a good album title.
The idea stuck in Dupuis' mind and, eventually, became a reality. Rabbit Rabbit is the first album from the Philadelphia quartet since 2018's Twerp Verse. Speedy Ortiz has re-emerged with some fundamental changes. Most notably, it's the first album to feature longtime touring members Audrey Zee Whitesides, Joey Doubek and Moholt as full members and contributors. The other most obvious change is in the music itself. Rabbit Rabbit sees the band writing some of the biggest and most gripping music of their career, all while still delivering the winding, twisting arrangements that drew fans to them in the first place over 10 years ago. Dupuis' lyrics are just as poetic in their presentation as before, but the slight confrontational strain from Twerp Verse is carried through to greater effect. Time away has only made Speedy Ortiz better.
One of the most subtly striking songs on Rabbit Rabbit, "Who's Afraid of The Bath" feels like a thematic successor to the Twerp Verse single "Villain." Where the latter depicted a malevolent but murky figure engaging in stalking behaviors, "Who's Afraid of The Bath" is less vague about it. Dupuis repeats warnings given to many non-men—"Don't wear a ponytail. If you can help it, don't go alone." She continues: "That clown doesn't work here anymore, but there's no way to stop him coming out to the gig if he paid for a ticket tonight," echoing the feigned futility expressed by those who don't care enough to try their hardest to ensure safety in music scenes. Musically, "Bath" plays up the eeriness with distant synths buzzing in the background and the guitars slow and lurching.
In the half-decade since Speedy Ortiz released Twerp Verse, the world has undergone overwhelming change, and it has dragged all of us along for the ride. The aftershocks from the pandemic have been widely felt and predominantly negative. There has been one stray silver lining, though. Pushed to the edge, workers have grown increasingly interested in organizing their workplaces. Fast-food chains like Starbucks have been unionizing en masse. Even today, longstanding labor rights institutions in Hollywood like SAG and the WGA are on historic strike. It's a victory that must feel just a little bittersweet for Dupuis, though.
During the pandemic, Dupuis and many other musicians organized with the Union of Musicians and Allied Workers to push for increased benefits for those impacted by the abrupt end of live music. Music remains a portion of the entertainment industry that has struggled to act with the same level of united effort, with musicians and their hanger ons, sometimes, prone to a self-serving careerism. Many of the singles from Rabbit Rabbit tangle with these music industry labor issues. "Scabs," a melodic and knotted song, takes aim at those who don't practice what they preach, and those who cross picket lines in the name of undercutting others for the sake of seizing opportunity. Its big, singalong chorus—a rarity for Speedy Ortiz—centers on a taunting question: "Who do you want to prove you're a big dog to?"
It's a question one could pose to the person sitting in a dive bar listening to "sob songs your buddy wrote" in "You S02." That song, bright, jagged and anthemic, is sonically invigorating—despite its wry, embittered worldview. Dupuis sings "Falling in love with LA / Where the cars cut you off from the right lane" with a delicious bit of acid in her voice. It's a balm on the soul if you feel similarly cynically about the City of Angels. "Plus One" explores a one-sided, often manipulative relationship by using vivid imagery of acid rain soaked puzzle pieces and a queasy anecdote about a day at the lake. It doesn't strike the same tone as "Scabs" or "You S02" until the very end. Dupuis closes it out with a tongue-in-cheek invitation to "call me when you need a plus zero." The guestlist requests are common for people tangential to bands and are rightfully annoying to anyone whose livelihood depends on their live shows. You can tell in Dupuis' delivery that this sentiment feels close to home.
"Brace Thee" and "Ghostwriter" close out the album as polar opposites that push against each other. The former is a gloomy, scorned, almost-shoegaze song that's reminiscent of Major Arcana closer "MKVI" in the way it stretches the usually Speedy Ortiz formula out into something more fluid. It's a mode the band plays in rarely these days, but the result is always something that snaps your attention back into focus. The lyrics of "Brace Thee" are delivered slowly, each word clinging to the one before it. When the guitars swell in the end, and Dupuis' backing vocals pierce through the noise, the catharsis is palpable.
"Ghostwriter" sees this drawn-out wonder and responds to it with uncharacteristic pep. As though suddenly a power pop band, this riff-heavy, hopeful song ends the record on a high note on multiple levels. By no means has Speedy Ortiz ever been a hopeless band, but Rabbit Rabbit signifies the growth they've undergone—that the record they've made after spending years chipping away at the idea that things can improve. The record ends on a note of exhaustion that many of us can likely tap into: "I'm tired of anger," Dupuis sings on "Ghostwriter." Perhaps it's just as simple as that.
Read our recent profile on Speedy Ortiz here.
---
Eric Bennett is a music critic in Philadelphia with bylines at Pitchfork, Post-Trash and The Alternative. They are also a co-host of Endless Scroll, a weekly podcast covering the intersection of music and internet culture. You can follow them on Twitter @violet_by_hole.