Catch Squirrel Flower If You Can
We sat down with the rising singer/songwriter to talk about her stunning debut, I Was Born Swimming
Music
Features
Squirrel Flower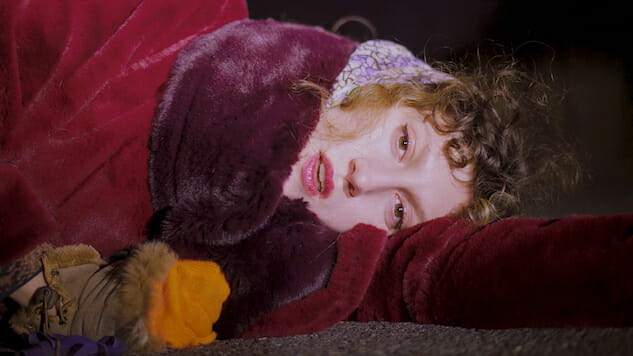 A lot of Squirrel Flower's debut album, I Was Born Swimming, feels like it was made for late-night drives. And that's not by accident—many of these 12 songs were written in transit. Whether Ella Williams is running down I-80 ("I-80"), cruising the turnpike ("Eight Hours") or driving through a wooded valley west of state ("Headlights"), she's constantly moving, heading nowhere in particular.
Sometimes that journey is quiet and tranquil, a relaxing yet slightly tense drive home. Other times, it feels like she's in the center of a storm as crashing, heavy guitars threaten to send her car into a tailspin. In a few instances, both moods exist on the same song.
"It's an album about movement and stillness and those two things in contrast and tension with each other," Williams tells me over a drink at Honore Club in Bushwick, a homey dive in Brooklyn meant to resemble a Midwestern bar, much like the places she frequented as a student at Grinnell College. "The imagery and the specific examples that I pick are from all different places and a lot of those places are physically driving and walking, swimming, running. I'm deeply affected by whatever landscape I'm in, wherever I am, and happening to live in Iowa for four-and-a-half years, my music was affected by that."
That tension Williams, who originally hails from suburban Boston, describes is on full display on album opener "I-80." It all begins with a cheeky lyric, sung in a breathy croon that equally resembles Sharon Van Etten and Mitski: "I tried to be lyrical, but lyrics failed me / So I gave up poetry and ran west on I-80." The instrumentals pick up as she gains speed and approaches a full-blown sprint, trying her hardest to outrun her problems. It all builds to a fever pitch just for everything to cut out as she catches her breath, admiring the view as the song transitions into a gorgeous arpeggiated acoustic guitar track.
The quiet-loud dynamics of that song in particular recalls the best of another songwriter from the past decade: Laura Marling. That British folk act, one of the most accomplished of her generation, would routinely write songs that start slow, make you feel you can fly, but pause right before you jump off the cliff—think 2011's "The Beast" or 2010's "Alpha Swallows." It's no surprise that Marling is one of Williams' favorites.
"I started playing guitar because of her," she says. "I taught myself guitar by learning her songs. That's why I play in open tunings a lot."
And like Marling, she's too coy to fully describe where these songs come from and who they're about. When I ask if the first person throughout the record is Williams or some other character, she keeps things purposefully vague: "Sometimes it is, sometimes it's a version of me that doesn't exist, sometimes it's not."
The songs throughout I Was Born Swimming are deceptively direct and frustratingly opaque at times, and that's exactly the point. Williams' lyrics describe the unbridled love and endless despair that dominate the thoughts of any teenager or young adult, but they exist in a dark and mysterious place, shrouded in fog.
"I think sharing exactly what the songs are about can take away from the magic and take away from the art," Williams says. "I write songs and I make music as a way to explore different ideas and think about different things, and it's sort of a lens with which to look at the world. It's not a realistic painting of a picture."
Sometimes these are little moments she's describing ("You pull me out of bed in the morning / Make sure I have my coat / Make sure I've got my shoes tied up" from the languid "Home"), and elsewhere they're profound statements about the gray area between self-confidence and insecurity ("I don't know what I could do if not this / And I think of you all the way back" from the more upbeat "Red Shoulder"). But she'll never give away the extent to which these songs stem from her real life experiences.
"My songs don't really function as diary entries," Williams says. "They aren't an accurate exact snapshot of where I was at that time. I think they're more abstract and because of that, I'm able to read my current self into them."
Since these songs aren't necessarily rooted in personal events—though "Headlights" describes a terrifying and very real drive through a "crazy fog storm" while on tour between Western Massachusetts and Vermont—older songs are able to interact with the newer ones. While the album was recorded in two separate sessions—the full band songs in October 2018 (while on fall break from college) and the solo tracks in February 2019, all mixed and largely produced by Gabe Wax (Soccer Mommy, Adrianne Lenker, Crumb)—some songs date back to when the now-23-year-old Williams was 18. The oldest is "Belly of the City," a gorgeous, melancholic solo fingerpicked electric guitar track presumably about one of those late-night drives home: "Midnight workers / I know the darkness of these roads as well as you do."
"Whenever I play ['Belly of the City'] live, it feels like it's jolting me because of how it sometimes feels so relevant to me," she says. "I think there are songs that I wrote long ago that still feel super relevant, and it's a really cool thing to perform those or record those and sort of gain advice from myself in the process and realizing that time and growth are not linear."
The path the album takes from its first to last song isn't linear either: Opener "I-80" is meant to convey escapism, while closer "I Was Born Swimming" alludes to Williams' birth inside a caul sac membrane filled with amniotic fluid. But they're meant to convey a similar feeling, both featuring the same guitar riff. "It starts with an inhale and ends with an exhale," she says.
With quite a bit of touring on the agenda and the release of a potential indie breakthrough (out today, January 31, via Polyvinyl) on her hands, it may be awhile until she can fully exhale again. But lucky for her, like the protagonist in "Eight Hours," the turnpike is where she thrives.
Squirrel Flower's debut album, I Was Born Swimming is out today, January 31, via Polyvinyl. Check her tour dates here. Revisit her 2018 Daytrotter session: