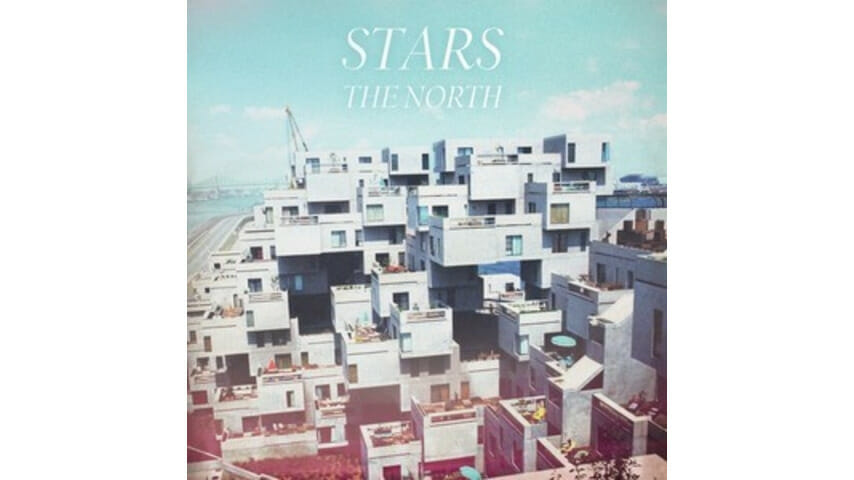 Recreating the formula that sparked 2005's Set Yourself on Fire, Canadian indie-rock band Stars has once again put its heart in the hands of love, heartbreak, drugs and producer Tony Hoffer. The North offers the same sense of depth and darkness that first propelled the five-piece into the limelight with singles like "Ageless Beauty" and "Your Ex-Lover is Dead," but with an increased sense of awareness and age. The band has grown. The music has evolved. But the message of feeling alive despite all odds is more apparent than ever.
"Now that you've grown so wise / Use that head and stop to think a little / Just cause you're crazy doesn't mean you're free," sings frontman Torquil Campbell on the opening track and first single, "The Theory of Relativity." The track, which bumps and throbs to an '80s bass line and synth, creates a separation between the watered-down radio hits that have become synonymous with recent pop. Stars is a thinking man's band, leading the listener down a winding road of mystic, self-medicated stories and melodies.
The beauty of Stars lies in the enchanting prowess of singer Amy Millan, whose call-and-answer vocals on "Do You Want To Die Together" are complimented by her falsetto-like voice on "Through The Mines." Together, Campbell and Millan offer two distinct and breathtaking styles that combine to make a single work of art. Nothing seems rushed or misplaced. And just like releases that precede it, The North offers yet another glimpse into the minds of a band that challenges the barriers of genre and songwriting. Strip away the music and there will still be a song.
"The world won't listen to this song / And the radio won't play it / But if you like it sing along / Sing cause you don't know how to say it."