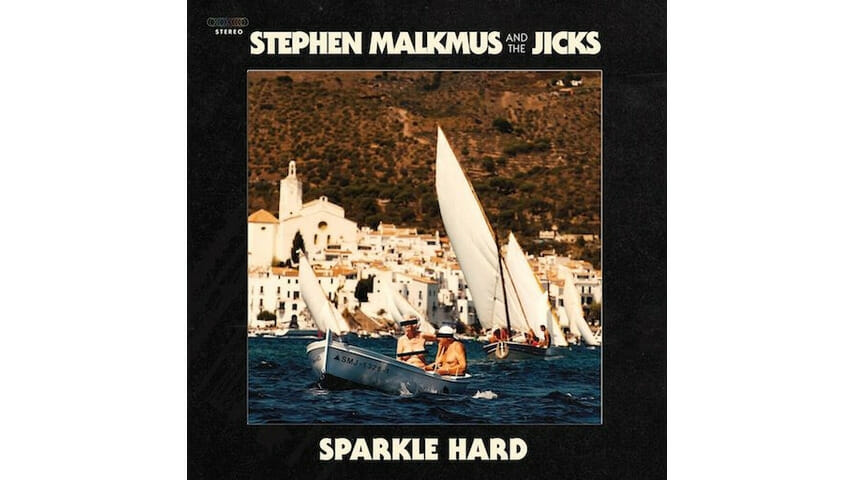 Let's take a moment to appreciate the press push behind Stephen Malkmus & the Jicks' new album Sparkle Hard. The publicists working the band's seventh album have done a bang-up job: Malkmus has been everywhere in recent weeks, from The New York Times to Stereogum to GQ Magazine, which called him "the Dad of Indie Rock". (Oh, here's Paste's feature story, too.)
It's interesting that this is happening now, because Jicks albums have never really felt like big events, and some are patchier than others. Over the past 18 years, Malkmus has always seemed content to unassumingly indulge his interests in psychedelic rock, nonchalant prog, kaleidoscopic pop and electric guitar solos rather than capitalize on the icon status he earned with his influential '90s indie rock band Pavement.
Fortunately, Sparkle Hard lives up to the hype. It is warm and approachable, filled with punchy songs, adventurous arrangements, a few admirable experiments and enough memorable moments to demand repeat plays. This is a top-tier Jicks album, alongside 2003's Pig Lib, 2001's self-titled effort, and 2011's Mirror Traffic.
As always, Malkmus and his mates have a way of making guitar-rock feel oblique and breezy. They offset the herky-jerky pace of "Future Suite" with synth zaps and a dizzying vocal coda. Lead single "Middle America" gets a lift from Malkmus' falsetto, the album's most likeable melody and the comfort of a strummed acoustic guitar. And "Brethren" starts out as a jumbled pile of dissonant parts, but soon forms into the kind of disheveled gem that would fit in perfectly on Pavement's divisive 1995 album Wowee Zowee. "So you flip-flop over again," Malkmus sings as an unexpected string section fades out behind him, "to the dark side of the coliseum. Down into a hole, into the cellar, here we go."
Elsewhere, the Jicks stretch out, mostly with great success. The vibes get heavy in "Rattler," with its collision of Auto-Tuned vocals and pulsing stoner synths, and the anthemic "Shiggy," which deserves heavy rotation on rock radio in some mossy, black-lit cave-world. Together, those two create a sort of well-placed and perfectly welcome black hole right in the center of Sparkle Hard. "Bike Lane" finds Malkmus getting political, with a tribute to "sweet, young Freddie Gray", the African-American man from Baltimore who died in police custody in 2015, between sludgy riffs. And "Refute" is a full-on exercise in twang, complete with fiddle, a Kim Gordon appearance and love stories built on Egon Schiele prints and "similar interests in similar books." It's more interesting than it is irresistible.
Sparkle Hard ends on a high note: Two songs merged into one track that recalls the wandering nature of classic Pavement. "Difficulties" is a beautiful ballad built on lush instrumentation that feels like a smeared, spacey cousin to one of Malkmus' best songs ever: "Church on White" from his solo debut. And then after about three and a half minutes, it shifts into a warped fuzz-funk rumbler called "Let Them Eat Vowels," which sounds like a jam captured to tape, with Malkmus tossing off rhymes and testing out sounds (which he does better than just about anybody.)
There's a story going around the Malkmus has an electronic album in the can, ready for release when his longtime label, Matador Records, is willing to release it. Here's hoping that happens, because "Let Them Eat Vowels"—and "Rattler," too—are evidence that he's got some weirder ideas kicking around that are worth hearing. In the meantime, the best Jicks album in several years will do quite nicely.