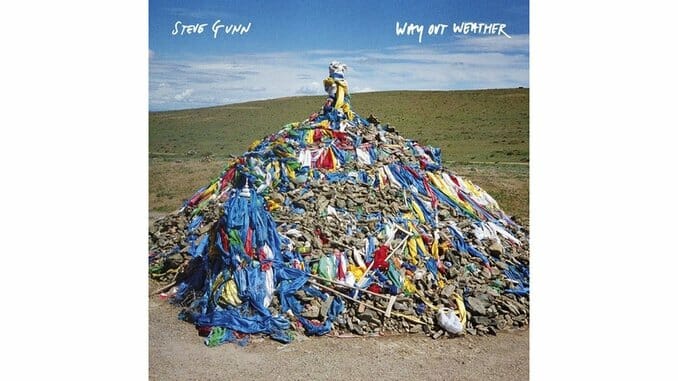 No matter the angle from which you perceive Steve Gunn's musical blossoming, his prolific output or his sprawling creative muses, it's likely you're going to find something profound about his ninth studio album, Way Out Weather. Hypnotic guitar layering aside, virtuosic understanding of tone and timbre forgotten, Gunn's newest expansion of his aural minefield is ripe with explosive pockets of brilliance that ought to finally expose him to a wider audience.
A good reason for that blossoming is evidenced in the all-encompassing nature of Way Out Weather. It's also his first with a full band. From introspective banjo-plinked ballads like "Shadow Bros"—which comes replete with all the twinkling intricacy of a music box—Gunn's veer toward more purposeful songwriting sounds natural, and his voice has transferred nicely to the role of baritone-as-bedrock for these busy tunes.
On the opening title track, Gunn's vision unfurls slowly with lap steels and ambient accoutrement, soon cascading into more slide guitars and a lulling, Appalachian meditation. The guitars chauffeur the journey, which is not to discount Gunn's formidably dreamy monotones, which slither throughout these intoxicating soundscapes.
The Far-East shuffle of "Wildwood" plays like a shamisen recital in a psychedelic-folk saloon. This song in particular is a perfect example of Gunn's uncanny ability to merge seemingly contrasting areas of tone and style, slathering internationally flavored sounds into one focused entity that's greater than the sum of its parts.
"Milly's Garden" sheds light on Gunn's understanding of more driving, jam-oriented thoroughfares, ostensibly noodling a menagerie of guitars intertwining and bouncing on and away from each other. It's a bit of a disservice to relegate it to strictly Dead Head homage, but Gunn's propensity for exceeding the five-minute mark on extended tunes like this exacerbate his innate understanding of the pastoral and its place within the canon of guitar-forward music.
This record sounds alive, breathing, organic and full of potential and exploratory ambivalence. Knowing Gunn's exotic inspirations, Way Out Weather is certainly only a snapshot of where his talents could lead him. Whatever you take away from it, it's most certainly a step in the right direction.