A Tale of Two Twangs: How Ground Game is Changing the Politics of Country Music
Photo by Dimitrios Kambouris/Getty
Music
Features
Sturgill Simpson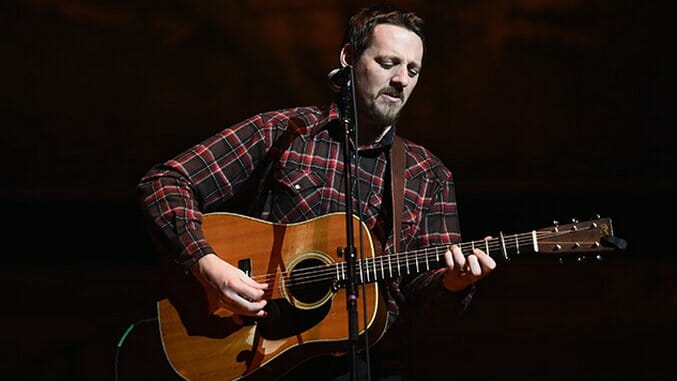 It is the best of times and it is the worst of times—it just depends on what kind of fan you ask. As Nashville grapples with the country music's gradual shift toward pop and R&B, it's also witnessing the revival of traditional music in the rise of Americana and a new generation of mainstream artists with serious writing credentials. Tonight, up-and-comers will join established country legends in celebrating 50 years of the Country Music Association Awards. But what do the CMAs say about the path to success in country music today, and what do they leave out?
The Country Music Association (CMA) itself was founded in 1958 as the first trade organization to promote a particular genre of music—a piece of trivia that makes sense when you consider how tight-knit the top-selling genre remains today. The CMA Awards began almost a decade later in 1967 and have been broadcast live each year since 1970. The show has celebrating icons in the making, bestowing the prestigious Entertainer of the Year Award to pioneers like Johnny Cash, Merle Haggard, Loretta Lynn (who was the first woman to be nominated or win in 1972) and Dolly Parton as well as signaling the genre's next generation of reigning stars by bestowing the honor upon chart-toppers like Shania Twain, Tim McGraw, Kenny Chesney and Taylor Swift.
The fanfare is not without its critics or its competition, and the latest questions about who belongs on the country stage aren't new—they just have data to back them up. As Americana and "alt-country" gain traction in the charts, the sub-genre's success in sales has begun to raise questions about why these artists, who sonically have plenty in common with the icons CMA and traditional country music were built around, aren't seeing any recognition on the awards show stage.
Posts from classic-leaning country artists, like the viral Sturgill Simpson post hurled at the ACMs or more subtle jab at the CMAs and country radio from Margo Price, may have drawn attention to the debate and inspired their fair share of headlines. But the way these artists are making a name for themselves offline is far more telling about the latest shifts in the industry—both in the music fans are responding to and the way that music is reaching new ears. Simpson, who is coming off of a sold-out two-night run at The Ryman last weekend and a best-selling major label album earlier this year, hit his big break in 2014 with his sophomore full-length, Metamodern Sounds in Country Music. It was an independent release that followed a modest reception for his debut, High Top Mountain, and came on the heels of relentless touring, all-nighters and years of physically demanding jobs on the railroad and in the Navy. His authenticity on the stage and in his music didn't win casual listeners—it built a base of diehard evangelists, and the support for his no-bullshit takeover of Nashville has only grown. It was after the landslide success of Metamodern on Thirty Tigers that he signed to Atlantic Records and released A Sailor's Guide to Earth, which debuted at No. 1 on the Billboard Country Albums chart.
But even the artists populating mainstream radio and awards shows are beginning to arrive there without—or at least, with considerably less—input from the well-established gatekeepers. Maren Morris, who ties Chris Stapleton and Eric Church for most CMA nominations this year, kicked off her career by self-releasing a digital EP that promptly went viral on Spotify, lending her millions of streams worth of leverage and recognition before she ever signed to a label or released standout single "My Church" to radio. And it's not just up-and-comers who have left Music Row scrambling to keep up with what the fans are buying—some of the industry's top-selling artists are already valuable case studies to this point. Take polarizing bro-country trailblazers Florida Georgia Line, whose marathon of No. 1 hits just might clinch another Vocal Duo of the Year award tonight. Their party-hard tunes are ubiquitous on terrestrial radio now, but the duo broke out as an independent act on Sirius XM's The Highway, selling 100,000 downloads of their debut single "Cruise" before Republic got wise and signed them to a record deal. (The song is now the top-selling country single of all time.) As technology makes independent music more accessible, the data for tracking an artist's potential for success has become more advanced, too, and more often we're seeing major labels ditching the idea of A&R in favor of artists who have an established sound—and an established base.
The genre's two camps may be polarizing, but the politics of country right now don't have to be anything like the politics of the country——there are no ballots to be cast, and you don't need to hate one side in order to love the other. You can belt out FGL's "H.O.L.Y." without having a moral obligation to throw out your well-worn copy of Metamodern Sounds. You can stumble upon Jason Isbell's catalog via Zac Brown Band's cover of "Dress Blues" and evolve into no less of a fan than someone who has championed his work since Sirens of the Ditch. And you can do something a lot more constructive than whining when your favorite artists aren't getting the airplay they deserve.
Music doesn't require you to cast a vote or make a choice to dictate which artist succeeds or fails. Success is subjective. There is no party line and there is no judgment day, and the system is less rigged than it has ever been. Seek out new sounds and lift them up with your conversations, tweets, likes, posts, streams, downloads and wallets. As sales for independent records and Americana releases begin to catch up with the establishment and labels turn to listeners for direction on future signees, there's hope for a more inclusive and well-rounded future—whether that future is on an awards show stage, at The Grand Ole Opry or over too much whiskey on an old back porch.