Sturgill Simpson Applies Brute Strength to Sound & Fury
Songs will accompany anime film by Batman Ninja creators
Music
Reviews
Sturgill Simpson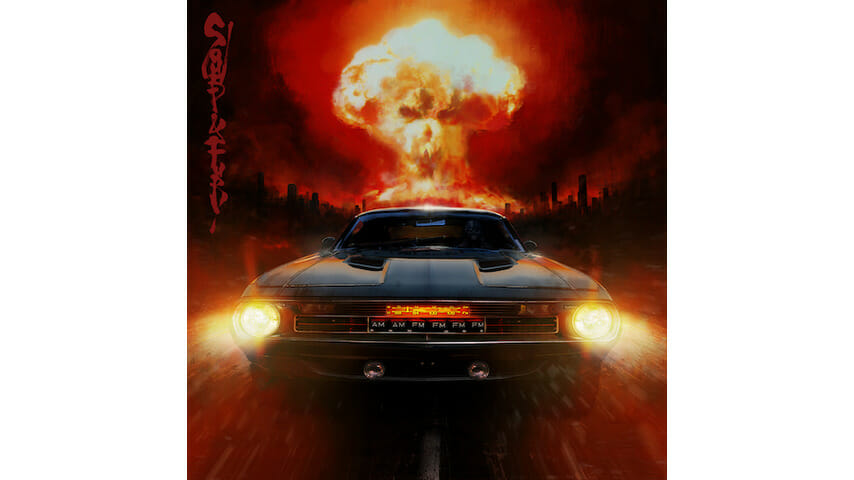 Subtlety is not a hallmark of Sturgill Simpson's sound, but he turned that directness into a strength on his 2016 album, A Sailor's Guide to Earth. It was a bold, sprawling collection of songs that drew on a mix of genres, and even most of the slower jams had an unrelenting intensity. But his full-bore aesthetic doesn't serve Simpson as well on his latest.
Sound & Fury is a brute strength record, full of needle-in-the-red guitars and vocals pushed to the edge of distortion, and sometimes past it. There has already been a lot of buzz about how this is Simpson's "rock" album, which is true enough, but it also misses the point: Though his 2014 breakthrough Metamodern Sounds in Country Music pegged him as a latter-day country traditionalist, Simpson was neck-deep in blues and soul on A Sailor's Guide to Earth. It's more accurate to say that while '70s-style outlaw country music was a starting point for Simpson, he's not willing to let it box him in for the sake of other people's expectations.
In fact, he seems to enjoy upending expectations. In that regard, Sound & Fury succeeds. If there's an overarching theme, it's that these 10 songs are loud to the point of blaring, and Simpson loads them up with musical touches from other styles and eras that are so prominent that he might as well be pouring them over your head from a bucket. The thunderous guitar riff powering "Best Clockmaker on Mars" makes room in the bridge section for a keening synthesizer part right out of Dr. Dre's early-'90s toolkit, while the fast, twitchy beat on "A Good Look" would have gotten club crowds moving in the late disco era. There's enough of that kind of borrowing on Sound & Fury that you can almost play spot-the-homage: a Keith Emerson keyboard vamp here, maybe, or a Prince drum fill over there. While they don't detract from the songs musically, they're sometimes a distraction while you try to remember where you've heard a particular element before.
The emphasis on brash sonics sometimes helps cover up some iffy lyrics. Over gurgling synthesizers, overdriven guitars and a pounding beat on "Your Song," Simpson offers dire metaphors for a withered relationship and alternates between pleading with a lover not to leave and pointing to the door. "You done me wrong, so here's your song / Now sing along," he sings in a couplet on the chorus that is just, well, bad. There's another questionable line on "Mercury in Retrograde," a song about struggling to come to terms with fame. Simpson lists off the pitfalls of a high profile life on the road, occasionally sounding more churlish about it than he (hopefully) intended, serving up this head-scratcher: "All the haters wishing they was in my band / Sorry boys, the bus is plum full." Silly question, but why would haters want to be in the band?
Looking for logical consistency in song lyrics can be a fool's errand, though, and the song itself is one of the stronger numbers on Sound & Fury, with a sleek rhythm track, a quietly burbling synth part that's as subdued as anything on this album and an occasional growling guitar lick. Elsewhere, volatile boogie-woogie guitar and a thrumming rhythm makes "Last Man Standing" the musical equivalent of a shot of adrenaline, and the band barrels through it like they're trying to escape a burning building. The flip-side of that tune is album closer "The Fastest Horse in Town," where Simpson drawls through a slow-motion haze of noisy, seething guitars that continues for seven minutes without really going anywhere.
In addition to releasing Sound & Fury in musical form, Simpson commissioned an anime "visual album" from Batman Ninja creators Jumpei Mizusaki and Takashi Okazaki that will stream on Netflix. (Okazaki was an interesting choice: the Afro Samurai mastermind had previously done artwork for Year of the Dragon, a 2013 album by the Seattle band Brent Amaker & The Rodeo—a group with the kind of western sensibility Simpson is moving away from). According to a plot summary on Netflix, the 41-minute film follows "a mysterious driver [headed] deep into a post-apocalyptic hellscape toward a ferocious showdown with two monstrous opponents." It's not clear in advance how these songs relate to a storyline like that, but maybe it will help Sound & Fury cohere into a tale signifying something more than the sum of its parts. On its own, the album is loud, sometimes cranky and also the least essential entry in Simpson's catalog so far.