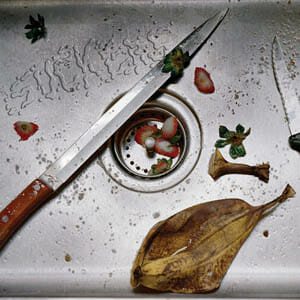 For a band like Suckers—one that specializes in pop music as weird as it is weirdly hummable—"maturation" is a dirty word. The Brooklyn trio made their name as art-pop freaks on Wild Smile, their intriguing 2010 debut, marrying psychedelic instrumental flourishes to sticky melodies, all framed within a production style that buzzed with details yet never relented to gloss.
But Candy Salad, their sophomore follow-up, is indeed a more "mature" album, at least sonically: Its surfaces are shinier and smoother than Wild Smile's, easier to imagine blasting out of your speakers as you fine-tune your car radio to a college indie-rock station. Candy Salad bears the sheen of a band totally entrenched in the recording studio, fiddling around with effects pedals and adjusting EQ settings for months on end—and in terms of pure songwriting, Suckers have emerged with surprising (and, at times, frustrating) discipline. "Nowhere" crashes out of the gate with reverb-soaked vocal harmonies and a standard three-chord indie-rock guitar chug, but it never quite congeals; the wonderfully hooky "Figure It Out" (which sounds like a lost Wolf Parade gem) fares much better: blissfully overlapping vocals, mind-numbing synth runs, and a guitar solo that seems to neither start nor end but simply exist, undercutting the song's driving pulse with a wail of static.
But on these especially straightforward moments (like the lightweight "Turn on the Sunshine"), it's tough not to get sucked in, even if something feels a tad…off. Part of Wild Smile's charm was its restless creativity, the feeling that any song could (and would) take a detour to a destination you weren't expecting. And considering that Quinn Walker is more of a captivating vocalist than an especially strong singer, the album's simplest moments tend to come off as slightly anonymous. But Candy Salad's mature focus also pays off—when the songs have more meat on their bones. "Chinese Braille" has an irresistible whistle-piano-synth hook, culminating in a spooky circle of laser beam guitars and gang claps. "Leave the Light On," meanwhile, is a gooey soft-rock epic, with a squelching synth-bass and towering layers of wordless harmony. Best yet is "Charmaine," a sensual synth slow-jam with a belted lighter-waiver chorus, Walker passionately moaning over flurries of digital tom-toms. It's a moment of pure exhilaration—the sorta moment Candy Salad could have used a lot more of.