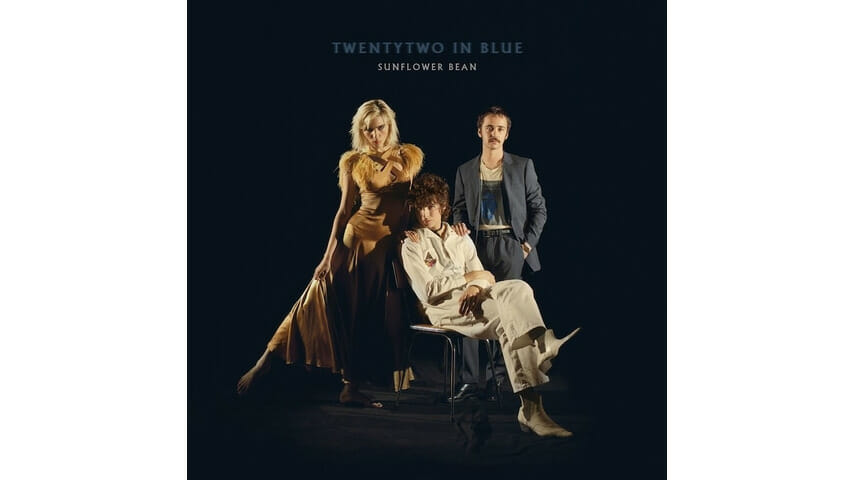 Twenty-two is the cool new age.
At 22, you're teetering on the line between youth and the looming reality of true adulthood. You've put the latter off as long as you can. But you're too old to cling to the former, really. Taylor Swift wrote a song about being 22. "It's miserable and magical," she sang, with great wisdom.
And this week, Sunflower Bean's second album Twentytwo in Blue comes out, when all three of its members—bassist/vocalist Julia Cumming, guitarist/vocalist Nick Kivlen and drummer Jacob Faber—are 22 years old.
Read: Sunflower Bean on Youth Culture, the Future of Rock, and Why Everything Isn't Spotify's Fault
Two years removed from their promising debut album Human Ceremony, the New York trio has grown up significantly on their sophomore effort. Toned down are a few elements that made Human Ceremony interesting: the dreamy guitar tones, the fuzzed-out riffs, the occasionally ragged arrangement.
In their place is a band that sounds more comfortable in its own skin, but also completely locked in, no doubt the result of two years of maturity and hundreds of live shows (including pressurized opening slots for bands like the Pixies and Best Coast).
You can hear the confidence radiating from opening track "Burn It," which swaggers in a classic-rock style as Cumming sings about the constant of change, as well as the title track, with its overcast vibe and gently gorgeous melody. "Independent, that's how you view yourself now that you're 22," Cumming sings, sounding at once graceful and stronger than ever.
Sunflower Bean also shows off its new perspective in a couple of politically minded songs on Twentytwo in Blue. Most overt among these is "Crisis Fest," which pits lyrics about military might and student debt against a snarling, bluesy arrangement. Elsewhere, "Puppet Strings" kicks off with a sort of arena-ready rock 'n' jock beat, before Cumming starts musing on the impermanence of love and dreams and stuff. "Everything now is synthetic," Kivlen sings, sounding more like a grumpy thirtysomething. "Your life is a lie, don't forget it."
All in all, Twentytwo in Blue spills over with well-crafted songs and sumptuous performances. "Sinking Sands" is a little bit country, while "Human For" is a little bit punky. "Memoria" sits somewhere near the nexus of Deerhunter and Fleetwood Mac (and that is a very good nexus to sit near). And closing track "Oh No, Bye Bye" brings back a bit of the buzz of Sunflower Bean's debut, in the form of lushly strummed guitars and a shared vocal that ends the album with one of its most interesting sounds. Here, Kivlen's baritone drone and Cumming's airy soprano play perfectly together as the song soars off into a short psychedelic coda.
They should start their third album in the same spot and see where it takes them. Maybe they will. After all, these are no average millennials. Sunflower Bean are wise beyond their years.