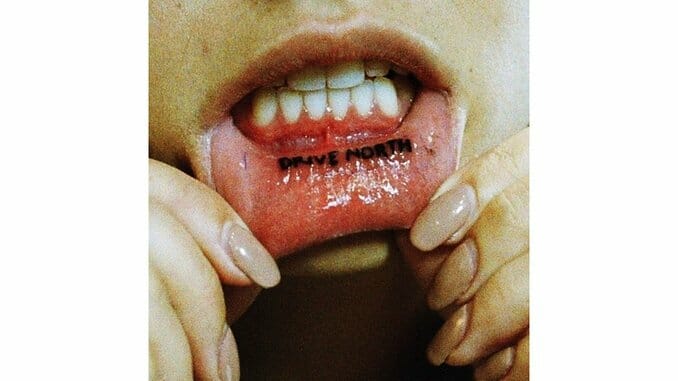 Always start with the single. That's a good tip with a new artist like SWMRS, a throwback punk band with Black Flag DNA and members who may or may not have listened to Japandroids. On Drive North – the single and the name of their debut album – SMWRS strip most of the pretentiousness of punk rock down to its core elements: They hate Los Angeles. They do abrupt chord changes. They wear leather. When the lead singer says "FU" to the record producer, the engineer, his bandmates, and the studio cat, it's awesome. The weird thing? It's the very last and best song on a somewhat inconsistent release with some serious Green Day parallels.
The title track descends into a mirky pit of name-checks for the towns they hate. Hey, I've been to Santa Monica. I agree it's not that impressive, especially when you consider the troublesome sewage problem. The traffic is terrible. The song is meant to be a bit ironic, though. Eventually, you find out SWMRS is based out of Oakland, and it suddenly makes sense. I'd start a punk band if I lived in Oakland. Also, when you hear it, you want to hear it again, especially that last FU part. They even manage to work in a minor chord here and there, for the win.
That energy and accusatory tone are part of the punk ethos, but on a few songs, the band breaks from the mold. There's a track about Miley Cyrus that's more of an ode to her illicit behavior. On "BRB" you get the sense the punk rock is more of a backdrop — the song is about relationship problems. Brothers Cole and Mac Becker share vocal duties, and it can be hard to tell which one is actually singing lead. In their bio, the band claims they started SWMRS after watching School of Rock. Right, right. Just about every song includes a chaotic guitar solo, so maybe.
Some of the songs don't quite work. "Miss Yer Kiss" starts out like a weak B-side from a high school indie band. It reminds me of a technique the alt-rock band FM Static used: Surprise everyone when you go "light rock" after blasting out the anthems. Also, the lyrics are ridiculous. We don't need to know the singer misses certain attributes of his girlfriend. On "Turn Up" you get the same treatment, a weak filler song that starts with an acoustic guitar and never goes anywhere. "Ruining My Pretending" has a similar vibe. The Miley influence is too pronounced.
Yet, the album redeems itself. Zac Carper from the punk band FIDLAR produced, and songs like "Figuring It Out" and "Uncool" twist the guitars, bass and drums around each other like linguini. You can't do this without some musical expertise. The drums, played by Billie Joe Armstrong's son Joey, add perfectly-timed fills that remind me of the savant-playing style of Spencer Tweedy, the son of Jeff Tweedy. SWMRS is no happy accident. There are a few weak songs, but for the most part, Drive North is a good collection of devilishly good punk songs.
None of this is too meant to be taken too seriously. "I don't want to be a fool, I just want to be uncool" from the song "Uncool" is not exactly profound. Don't expect the wordcraft of The Hoteliers or the nuclear fusion of Japandroids. This is straight-up punk: Pounding bass and drums, furiously played. It's the original screamo. For the most part, it rocks.